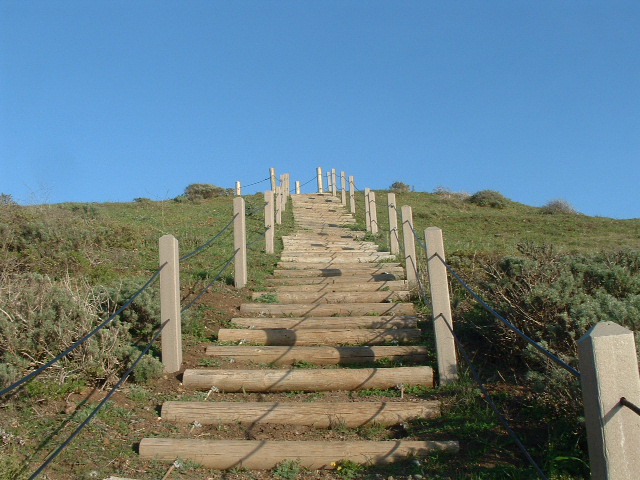 Today it is just a peaceful hiking retreat within the Golden Gate National Recreation Area. But this quiet spot was once a military installation standing ready in the event that war should come to the west coast. Though mostly gone today, one can still find traces of war in what has become a protected habitat.
The entrance road to reach Milagra Ridge is pretty easy to find at the intersection of Sharp Park Rd. and College Dr. in San Bruno. Parking is another matter. There are only a few roadside spots directly in front of the entrance gate and parking lots nearby are reserved for residents and visitors of the neighboring apartments, so you may have to backtrack to Highland Drive, which parallels Sharp Park Rd, and park there.
In the 1940s, Milagra Ridge was one of many locations in overlooking the Pacific Ocean to have gun batteries installed to protect the San Francisco Bay Area during World War Two. In 1956, the area was transformed into a Nike missile site, designated SF-51L, and would serve as such until 1974. In 1987, the ridge became part of the Golden Gate National Recreation Area.
When visiting Milagra Ridge, it is strongly recommended that you remain on established trails and that you keep your dogs leashed. This is because the ridge is an endangered species habitat. Specifically, it is one of the last places you can find the Mission blue and San Bruno elfin butterflies. So remember, walk lightly and be careful where you step.
Milagra Ridge is also the home of the North Coast County Water District Reservoir No. 23. The reservoir is surrounded by a fence and trespassing is not recommended.
Signs of the old World War Two guns are still visible. In fact, the entire bunker, though sealed, is relatively intact. If you have a flashlight, you can still peak in through the gaps of the large welded doors and get a glimpse of what the bunker once looked like for those stationed inside.
Signs of SF-51L, on the hand, are not as visible. Much of the old Nike site is long gone, however, the elevator doors which once lifted the missiles themselves can still see, though sealed off in concrete.
One of the main points for hiking Milagra Ridge, however, is the view you can get of Pacifica and the Pacific Ocean. On a clear day, you can even see as far out as the Farallon Islands.
Though small, Milagra Ridge has been blessed with a long history and gorgeous views. Because of this, it is well worth the possible parking problems and a great place to go for a short hike or to see forgotten reminders of the fear of war.