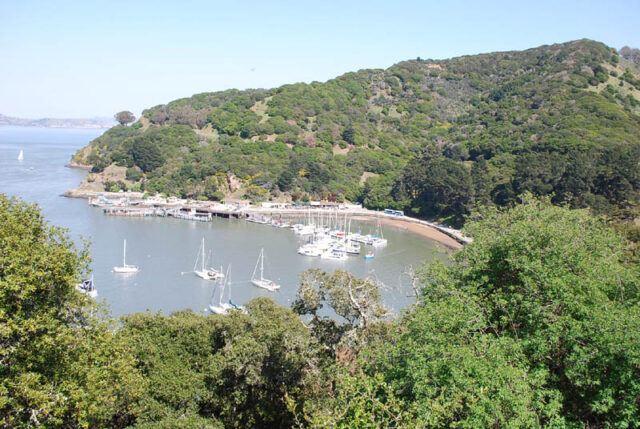 From Angel Island in the middle of San Francisco Bay, the views of the city, the bridges (all three of them), the rolling East Bay hills and the endless sight of ocean waters that sweep out into the Pacific are simply amazing.
So too are the miles of hiking trails that give visitors a chance to climb tall mountains and scour historical sights that once housed thousands of troops in wartime and welcomed thousands of immigrants from overseas.
From the Angel Island immigration station to Fort McDowell and Camp Reynolds, anyone – whether visitor or resident to the Bay Area – should explore the sights it offers.
The only way to get to the island is by boat. Ferries from San Francisco and Tiburon offer daily trips to the island, and a marina located on the island's Ayala Cove serves as a berth for private boats and yachts.
Today, the island is under the jurisdiction of the California State Parks system which maintains the 740 acres of island parkland.
We walked the perimeter roadway that loops around the entire island allowing visitors to stop by all the historic locations located on the island. It's a perfect day trip that allows anyone hoping to enjoy that perfect summer day exploring a precious San Francisco Bay Area landmark.
It also gave us a chance to inspect the remnants of a devastating wildfire that tore through the island in October 2008. The fire consumed a good number acres and spread fears that the historic landmarks could fall victim to the flames.
Thankfully, they did not.
Still, burnt tree stumps with their cores dug out by firefighters dotted a barren hillside along the southern crest of the island. It was evident that flames had incinerated what was once a lushly wooded terrain.
But there is also evidence of healing. New trees and plants are sprouting on the charred land. Old trees that survived the flames are shedding their soot covered outer bark. There's a great deal of promise around the corner for the historic island.
So pack a picnic lunch, bring the mountain bikes and hop on the ferry for a quick day trip to Angel Island. We did the perimeter walk in about 4.5 hours. There's also a tour tram leaving from the ferry boat dock that circles the island. Bikes and Segways are also available for rental on the island too.
If our trip to the island was any indication, we promise it'll be an outing to boast about.