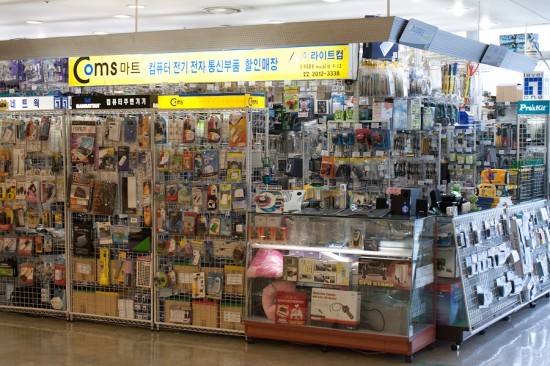 SEOUL, SOUTH KOREA — Nothing in North America can quite match the gargantuan size of the Yongsan Electronics Market in Seoul, Korea.
With its very own subway and Korea Train Express (KTX) station, the Yongsan market and station serves as a hotspot for deal-seeking Koreans and foreigners alike. Good deals — if you're careful — can be had on anything from computer components and camera gear to mobile phones and video games.
The Yongsan electronics market has been the epicenter for all things electronic in Korea since the late eighties when vendors started moving into the area en masse. Ten years later, the area was flourishing and is now said to be a direct competitor with Japan's famous electronics market Akihabara.
Akihabara has been around a bit longer (since the 1960s). Nothing, as concentrated as these markets, exists in any part of North America.
Over 5,000 vendors are stationed at the Yongsan Electronics Market. The market is made up of more than 20 buildings, with most of the vendors conglomerated in two interconnected multi-floor superstores. The I'Park Mall, one of the two largest buildings, shares one floor of its eight towering stories with the subway and KTX stations.
International cuisine — or perhaps "fast food" would be a better term — can be found on any of several floors. Hot day? Stop by Baskin Robbins for a "King Cup" (which is oddly still a single scoop) and pay only $2.08.
"I was surprised by how much they had," said Gene Carey, an English Teacher from New Jersey. He said that he didn't purchase anything during his trips to Yongsan, though he felt encouraged by the selection. "I know that if i did need to buy something, [Yongsan is] pretty much where I'd go," he said.
Bargain central
Just as is the case with any area well-known for its bargains, you can't simply waltz in and expect to get your items for cheap. Most vendors' prices start a bit higher than they're willing to settle for. To the vendors' advantage, prices are almost never posted or written for public viewing. If you ask for a price, vendors reach for their calculators and type it out.
Bargaining, especially across languages, usually takes place on the calculator screen. The vendor types out 500,000 (Korean Won). Too much. I type 450,000.
He shakes his head and laughs.
He types 495,000. I shake my head and type 475,000.
Last offer, take it or leave it!
He says no. I walk away.
The next shop is a bit more fruitful, and I get my 500,000 Won purchase for 460,000 Won.
In a case like this, you must be prepared to walk away, since these guys can sometimes be tough to strike a deal with. I was able to bargain the price of a wireless router down from 29,000 Won ($24.10) to 26,000 Won ($21.63). The only stipulation is that I had to pay cash.
You see this frequently: most bargaining loses its efficacy as soon as you pull out your bank card (even if it's a debit card). This may come as a foreign concept to many in the US, where credit card companies forbid vendors from charging more for using a credit card (usually skirted by calling it a "cash discount"). So, bring a thick wallet and do your bargaining talks before you discuss a method of payment.
Large brand-name electronics are a lot harder to bargain for, since many vendors pay a premium to have them imported from elsewhere. New products from brand names like Canon, Nikon, and Sony are very difficult to get for list price, much less a discount.
I ended up paying about $75 more for a Playstation 3 than I would have in the US if I'd bought online. Even Korean made LG TVs don't go for much less than what the vendors state. I was able to get 7% off of a small LG display at one vendor.
Cameras, cameras, cameras
Imagine Times Square photography vendors on steroids.
Sure, in Korea they're a lot less sleazy, but most of the stuff sold is still the same age-old junk. Deals are generally few and far between, but persistence pays off. You'll probably get tired of wandering the countless booths of vendors before they get tired of asking you to buy camera equipment.
Vendors will stock used lenses and sell them at a discount. There are some nice Canon L lenses available for hundreds less than what they sold for originally. Be careful, though, since used lenses can have issues that may not be immediately obvious to a non-professional photographer (AF issues, glass fungus, and so forth…).
Just be aware that you probably can't return what you bought, and explaining any issues that you have will be nearly impossible unless you speak good Korean or have a willing interpreter.
Before you spend all of your money on cameras at Yongsan, it would be wise to compare Yongsan's prices to the prices in the Namdaemun area of Seoul, the Digital SLR epicenter of the city. In Namdaemun, vendors are generally more specialized and knowledgeable about what they're selling.
Getting married? Starcraft fan?
Koreans have a reputation for their seemingly non-sensical combinations of stores and products. In the I'Park Mall,
 half of an entire floor is dedicated to its wedding halls. Last Saturday, I happened to see wedding guests outside of the halls immediately after a wedding.
I'Park Mall is home to the e-Sports stadium, home of all things geeky. In the e-Sports stadium, you can watch live games of Starcraft, cheered on by hundreds (if not more) Korean spectators.
"Only in Korea can young men be paid thousands of dollars to play a 12 year old computer game and be widely popular," said Adam Rogers, a guest English teacher from Canada. "When I say popular, I mean rock star level for some of the better players. This is something we as North Americans can never understand, as the computer game players are far more often associated with their parents basement than major corporate sponsorship."
Load up that wallet and be prepared to spend a whole day at Yongsan if you want to see everything they have to offer.
"The Yongsan Market is a little intimidating if you're just browsing around," said Joseph Gutierrez, a guest English teacher and blogger. "If you know what you're looking for and how much you're willing to spend, then you can find a great deal."