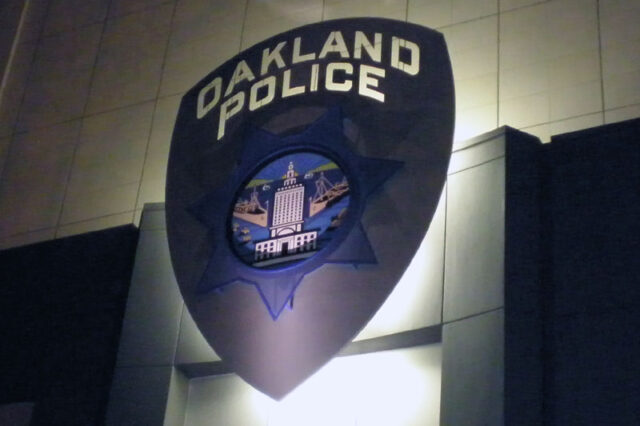 (7/13) — UPDATED 17:45 PDT — OAKLAND — Mayor Ron Dellums announced Tuesday afternoon that after continued negotiations, Oakland officials and police union leaders were unable to reach a last-minute agreement to avoid the layoffs of 80 police officers.
The two sides met well into Monday night and continued their discussions behind closed doors today to try and hammer out a compromise as the 5 p.m. Tuesday deadline loomed.
The Oakland Police Officer's Association had agreed to city proposals that officers contribute 9 percent of their salaries toward their pensions — a move that would save $7.8 million and is something other unionized city employees already do — and that the retirement age be pushed back for future hires.
But at issue was a police union proposal that the City Council ensure no officers hired before March 21, 2009 will be laid off for the next three years. Council President Jane Brunner said the city simply couldn't afford to make such promises given projections of even worse budget problems in the future. Instead, the city offered a one-year moratorium on job cuts.
In a press conference tonight Brunner said the city's final offer was to allow police union members to pay 4% of their pension now and an additional 3% come July 1, 2011. Because the union had already agreed to pay 2% beginning January 2013, officers would have contributed the 9% the city sought, Brunner said.
But representatives held out for the three-year layoff moratorium.
Among the 80 positions cut are all 63 problem-solving officers. The department has said to fill in the patrol positions cut, certain units will also be eliminated, including one dedicated to gang-related violent crime and another that regularly checks in on parolees.
Oakland Police Chief Anthony Batts has said his officers will focus on 911 calls reporting violence and will be unable to respond in person to 44 non-emergency crimes.
Lower-priority crimes represent nearly a quarter of all calls for service each year, and with fewer officers focused on them, the department will now ask residents to report such crimes online or make a trip to police headquarters in downtown Oakland if they don't have Internet or computer access. These include vandalism, burglary, theft, embezzlement, vehicle collision and stray animals.
Batts said many of the officers laid off were among those who responded to last Thursday's protests downtown after former BART Police Officer Johannes Mehserle was convicted of involuntary manslaughter for shooting unarmed passenger Oscar Grant.
Rocky Lucia, an attorney for the police union, called today "a very dark day for the Oakland Police Officers Association."
He said the union plans to continue negotiating with the city to rehire the officers. "We're not going to let these guys go without a fight," he said.
The city has the highest violent crime rate in the state and allocates about 75 percent of its general fund to public safety. In an effort to cut spending given the city's $32.5 million budget shortfall for the 2011 fiscal year, the City Council said it could not avoid cutting law enforcement because it comprises such a large portion of the budget, and voted June 25 to cut the 80 officers.
The police department now has 695 officers, a number below that which is required to collect the annual $20 million from Measure Y.
Brunner said she hopes the OPOA will help the city pass a ballot measure which will waive that requirement for three years. If the city doesn't raise money come November, officials have said an additional 122 officer layoffs could take effect January 1.
On Monday, city spokeswoman Karen Boyd said it had miscalculated the effective date of the layoffs and was previously incorrect in saying they could have taken place midnight Tuesday.