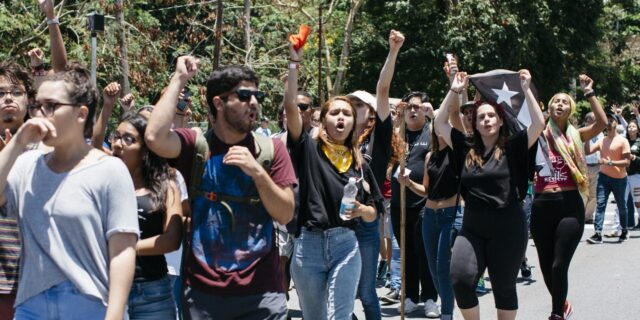 (7/9) — UPDATED 14:15 PDT — OAKLAND — A large, peaceful gathering of people in Downtown Oakland following former BART Police Officer Johannes Mehserle's conviction for involuntary manslaughter was followed by violence as the sunset.
Oakland Police Chief Anthony Batts blamed the violence, which included looting shops and setting dumpsters on fire, on a small group of about 50 anarchists.
Mehserle was convicted by a Los Angeles jury for killing unarmed BART passenger Oscar Grant on the Fruitvale BART station platform New Year's Day 2009, but acquitted of second-degree murder for the killing. He faces five to 14 years in state prison.
When the verdict was read shortly after 4 p.m., hundreds began gathering in Downtown Oakland at 14th and Broadway to express their feelings on the verdict, with many saying that Mehserle should have been convicted of murder for Grant's killing.
Karen Williams, a young woman who lives downtown, wanted to view the protest but asked what change protesting could really effect. "Is the protest going to do anything?" she asked. "It can't do anything because they already decided the verdict."
Dante Jones was one of a group of protesters donning an Oscar Grant face mask. He said he protested as a means to get his voice heard at his outrage over black men being killed by law enforcement. "We have been protesting for years. Ain't no change we can do, but somebody's got to hear it."
But as the most peaceful gathering broke up around 8 p.m. and the sun began to set, trouble set in.
A group of people broke into and looted a Foot Locker store on Broadway, taking shoes and clothing and leaving debris scattered in the street.
Several other downtown businesses suffered broken windows and other damage during the rioting, including several banks, restaurants, Sears, Oaksterdam, Rite Aid and 24-Hour Fitness.
A crowd pushed toward a police line set up at 12th and Broadway, shouting at the police officers.
Police, who had sealed off most of the intersections along Broadway, eventually declared the assembly unlawful and began making mass arrests of those in the streets around 9 p.m.
Batts told reporters at a 10:30 p.m. news briefing that about 50 people were arrested, though he expected that number to double before the night was over. Oakland police officials later confirmed the total number stood at 78 arrests — with about 75 percent of those taken into custody coming from outside Oakland.
As the night wore on, unrest spread, with rioters lighting a fire to dumpsters, setting off fireworks, throwing bottles at police gathered at 17th and Broadway and looting a Whole Foods Market at Harrison and Bay.
Many of the rioters wore masks, hoods and black clothing, and officials suggested they have organized groups out to cause trouble.
At one point, a police flash-bang device hit a news van and exploded, causing damage.
The majority of the trouble appeared to have subsided by midnight, leaving police and business owners to clean up the damage — including graffiti, debris strewn in the street, and broken windows — throughout the night into this morning.
Residents vent at peaceful gatherings
At the earlier rally at 14th and Broadway, many speakers took advantage of an open microphone to express their feelings on the Mehserle verdict.
Some initial tense moments, including stone-throwing and an incident where a woman was struck by a police car backing away from protesters, subsided into a peaceful event, with sign-holding protesters and a marching band among the crowd.
The woman, who did not appear to be badly hurt, declined medical assistance.
A group of people hung a large banner reading "Oakland Says Guilty" on a street light downtown, expressing the feelings of many who wanted to see Mehserle convicted of murder.
One speaker told the crowd "the verdict is unfair," saying that Mehserle "got
away with murder because he's a cop."
Another said, "We have to keep fighting until we get true justice."
Among those in attendance was Oscar Grant Sr., the grandfather of the shooting victim, who asked those present not to "dishonor" Grant's memory through violence.
At the rally, Downtown Oakland resident Tamara told the Beat that Mehserle should have received life in prison. "The system is broken, he shot him in the
back and killed him for no good reason."
At a 7 p.m. news conference, Oakland Mayor Ron Dellums praised Oakland residents for protesting peacefully.
Several community centers also opened their doors to allow residents to express their feelings on the Mehserle verdict.
At Youth UpRising, one of those centers, Deja Lynch of Oakland said the verdict "was unfair," but said he had told his friends to "keep the violence down."
Jackie Johnson, events manager for Youth UpRising, told the Beat that "there was a lot of anger" over the verdict, until word that the jury had found Mehserle personally used a firearm — a finding which would increase his sentence — filtered in.
She said that anarchists stopped by the center and tried to cause problems. "They were really trying to agitate and push people's buttons," she said.
Johnson was disappointed by the violence elsewhere in Oakland. "Now all the attention is on this and nobody's really thinking about what this verdict actually means," she said.