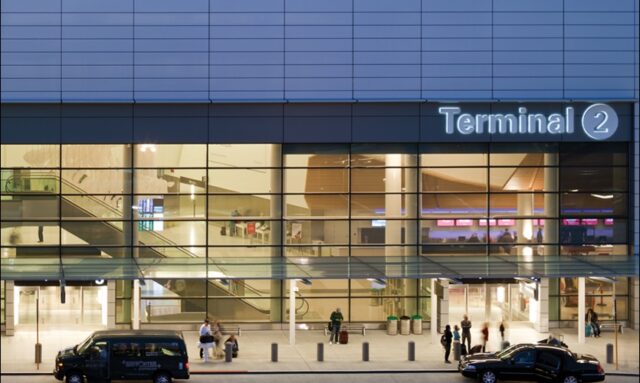 San Francisco International Airport's Terminal 2 is, like many other airport terminals built in recent years, an aesthetic wonder. High ceilings, vast open spaces, ample natural lighting, and artwork combine to create a welcoming environment for travelers — a far cry from the gloomy passenger terminals of old.
But what really sets this terminal, reopening to passengers Thursday after a $383 million renovation project, apart from others is the attention to details — like power outlets and taps to fill water bottles — that the modern traveler will appreciate.
Departures lobby short on check-in counters, long on space
The experience begins as you walk through the doors into the lobby of the departures level — a vast, high-ceilinged area flooded with natural light and decorated with a sculpture by artist Kendall Buster.
But unlike other modern terminals from London to Shanghai — including SFO's own International Terminal, which replaced Terminal 2 as the home to international flights when it opened in 2000 — the central space is not dominated by checkin counters. Indeed, apart from flight information boards and the escalator down from the AirTrain people mover system, there is nothing at all between the doors and the entrance to the security checkpoint.
All this means that, if you have checked in online and don't have bags to check, you can walk straight from the curb or AirTrain to the security checkpoint with a minimum of fuss — evidence that the design, by the architectural firm Gensler, has been conceived with the needs of the modern business traveler in mind.
The two surprisingly small checkin counter areas, meanwhile, are tucked away on the sides, some distance away from the center of the lobby. Anchor tenant Virgin America, previously housed in the International Terminal, has its checkin area on the right, while American Airlines has its checkin positions on the left.
The reason for the relatively small number of checkin counters, however, is immediately apparent — both Virgin America and American have installed rows upon rows of automated self-checkin machines right in front of the counters. Clearly, the airlines expect their passengers to check in using the machines, saving everyone time — and reducing the airlines' labor costs.
Two small, well-lit lounge areas provide seating, and a Starbucks Coffee is the only concession available pre-security.