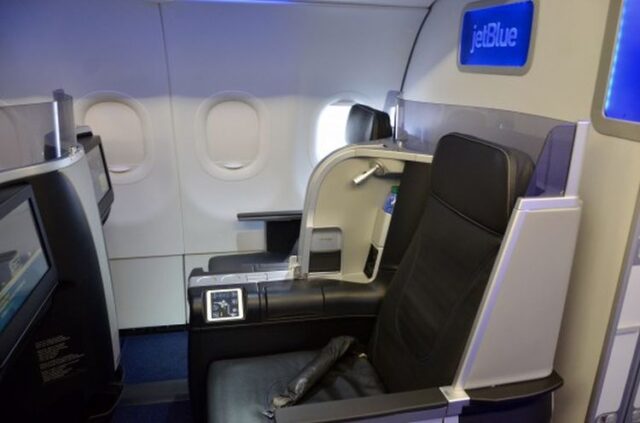 Amid rumors it may be interested in buying Burlingame-based airline Virgin America, JetBlue is aggressively expanding its popular premium "Mint" product to flights from Boston's Logan Airport to San Francisco and Los Angeles.
Last week, New York City-based JetBlue began flying one of its three daily Boston-San Francisco flights using a Mint-configured Airbus A321 aircraft. The two other frequencies will be flown by Mint planes by Fall 2016.
Mint will begin flying from Boston to Los Angeles in October.
Mint planes feature 16 lie-flat seats located in the forward cabin, 41 "Even More Space" extra-legroom seats and 102 regular economy seats. JetBlue competes with Virgin America and United Airlines on the Boston-San Francisco route.
"There is a very high number of travelers specifically between San Francisco and Boston, and my understanding is that's a lot of tech traffic," said Philip Stewart, JetBlue's manager of corporate communications. "We looked at the number of people traveling on that route and felt that Mint would be a great fit for a route that's underserved with a fully lie-flat product."
The Mint product is not new to SFO, or to the airline. The lie-flat seat equipped Airbus single-aisle jets have been flying between the San Francisco Bay Area and New York's John F. Kennedy Airport since 2014. JetBlue also operates Mint on some East Coast flights to Barbados and Aruba.
"It was new territory for JetBlue, but we're pretty happy with the result," said Stewart of the airline's introduction of Mint.
JetBlue's premium cabin menu features a Tapas style dining option developed in part by acclaimed New York City restaurant Saxon + Parole. Fliers can choose small plates featuring, for example, Pork tenderloin porchetta, grilled ahi tuna and zucchini & ricotta lasagna.
Another popular feature amongst travellers: four of the 16 lie-flat seats are solo suites that give travelers greater privacy and direct aisle-access.
"I think the privacy that keeps you in a single seat was another distinguishing competitive advantage we wanted to throw in there," said Mariya Stoyanova, JetBlue's Director of Product Development. "And we don't offer that at another premium price that you'd think of. Everything [in the Mint cabin] is priced the same."
JetBlue prices Mint seats starting at $599 one-way. Travelers in all cabins can access a self-serve snack galley stocked with free snacks and soft drinks. The galley, which the airline calls the Marketplace, is located between the Mint cabin and regular economy section. The self-serve galley is exclusive to JetBlue's Mint fleet.