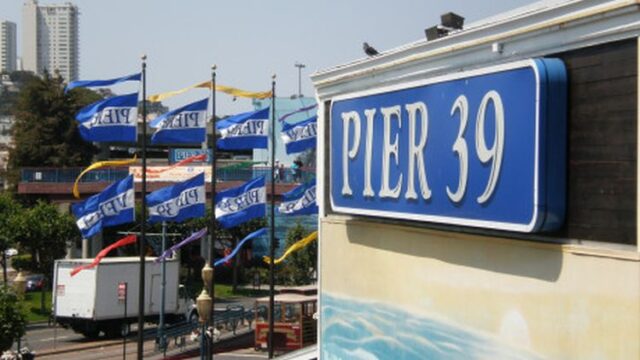 It is the obligatory tourist trap for San Francisco.
We're talking about Pier 39, the city's bay-side travel destination that is proudly self-promoted as the world's most-recognizable and most-visited destination. So without further delay, here's the California Beat's roundup of the majestic pier and visitor's attraction.
There really is no other way to describe San Francisco's Pier 39 but as an outdoor waterfront shopping mall.
There are shops selling San Francisco-related trinkets (because every household needs a Cable Car magnet!), boutique stores specializing in California wines and fine chocolates from all over the world (including local trademark Ghiradelli), and dozens of seafood restaurants serving up (mostly) overpriced San Francisco Bay crab.
Then again, almost everything at Pier 39 is overpriced
Still, most people don't come here to buy stuff but to soak up the free amenities this place offers.
First, there's the distinct first-hand experience of American consumerism in action. Believe me, visitors from 
all over the world get a kick out of, and often partake, in the consumption of those "Only in San Francisco" treats – the sourdough bread from Boudin's, wall-sized posters of the Golden Gate Bridge, and my personal favorite, the snazzy t-shirts with the witty quotes on them.
Then there's the fantastic company. At the height of the tourist season, you'll be able to rub elbows, literally, with camera-toting visitors from all over the world. Listen in on the dozens of languages being spoken at Pier 39, and you'll soon realize why San Francisco is today's cosmopolitan hot spot for world travelers.
But it must be the spectacular views of San Francisco Bay, Alcatraz and the Golden Gate that people find at the northern walkway of the commercial pier that gets people to come back. Throw in the barking sea lions lounging around on wooden barges in the breakwater to the west, and you've got the perfect background to fill your camera's memory card.
Like most major projects, Pier 39 was not built overnight. In fact many people in the city were opposed to its construction. However the pier's developer, San Francisco native Warren Lewis Simmons, refused to give up and after several years of working to gain support, succeeded in opening Pier 39 on October 4, 1978. Though Simmons ultimately sold the pier in 1981, he later went on to found many other companies including Chevy's Mexican Restaurant in 1986.
For years, Pier 39 has been the destination as visitor central. Why? Because if you'll notice, there are very few locals who frequent Pier 39 – everyone wandering around the storefronts is from everywhere but San Francisco.
It's the tourists who wine and dine at Bubba Gump's seafood restaurant at the very end of the second level of Pier 39. Weekend waiting times at this bustling restaurant can be up to an hour 
depending on how many people are in your party. Inside, you'll enjoy sweeping views of San Francisco Bay and the East Bay hills in an active dining environment that is lively and festive in this dining chain establishment that is in essence, based off the Oscar award-winning film Forrest Gump. The servers will come up to you and ask movie trivia questions. Everything, from the posters on the wall to the shrimp-heavy menu, has something to do with the movie. Think of it as a piece of Hollywood in San Francisco. (Hey, it is California after all!)
If you'd rather see the fish in action rather than sitting on your dinner plate, then you must visit the Aquarium of the Bay, a miraculous collection of every breed of sea life held in a large underwater fish tank. Visitors stroll through a glass-encased tunnel via a moving escalator to view the sealife. You will see the most amazing creatures – schools of exotic fish, seahorses and starfish, and a everyone's favorite, a Great White Shark. Admission information can be found in the Online Resources section at the bottom of this page.
Head downstairs and you'll find that a farmers market selling scrumptious looking produce including bright red California strawberries and accompanying chocolate sauce for dipping. Other fruits and produce, including gigantic peaches and seasonal ripe all-natural sweet treats, are plentiful here. Consider the farmer's market the healthy alternative in a place surrounded by ice cream vendors, doughnut shops and Willy Wonka-esque places to buy chocolate.
Speaking of chocolate, head towards the Chocolate Heaven chocolate shop, where big barrels of San Francisco's very own Ghiradelli Chocolate are sold, along with other delectable delicacies that make this place the city's candy haven. (If you want Ghiradelli Chocolate for cheap, you're going to have to head for their factory store, across the bay in San Leandro – where the company actually makes chocolate.)
Inside, dig your fingers through the barrels of rich milk, semi-sweet and dark chocolates from every corner of the world. If you're 21 and over, keep an eye out for those liquor-filled chocolate treats
 – a scrumptious (and intoxicating) elixir of creamy milk chocolate with a punch of alcohol that gives your palate a mixed sensation and a strong belt of booze.
Finally, do not miss the barking sea lion habitat on the western tip of Pier 39. It's a unique and often humorous glimpse at the fascinating marine mammal life of San Francisco Bay – a precious ecological treasure that has, in recent time, come under increasingly tough times. Call these sea lions what you will, lazy, fat, loud, cute, adorable they play an integral role in the vitality of the Bay and of Pier 39. The management has proudly marked the wooden barges the sea lions sit on with their own logos, so everyone who views your photographs knows exactly where you shot them – powerful marketing point to drive other visitors to their attraction. Keep in mind however that everyone else visiting will be trying to see and photograph them from the same place as well so it may be a bit crowded.
There are just too many shops to describe in this online space, each with their own unique trinkets that will allow you to bring a piece of the city, however small it may be, back home.