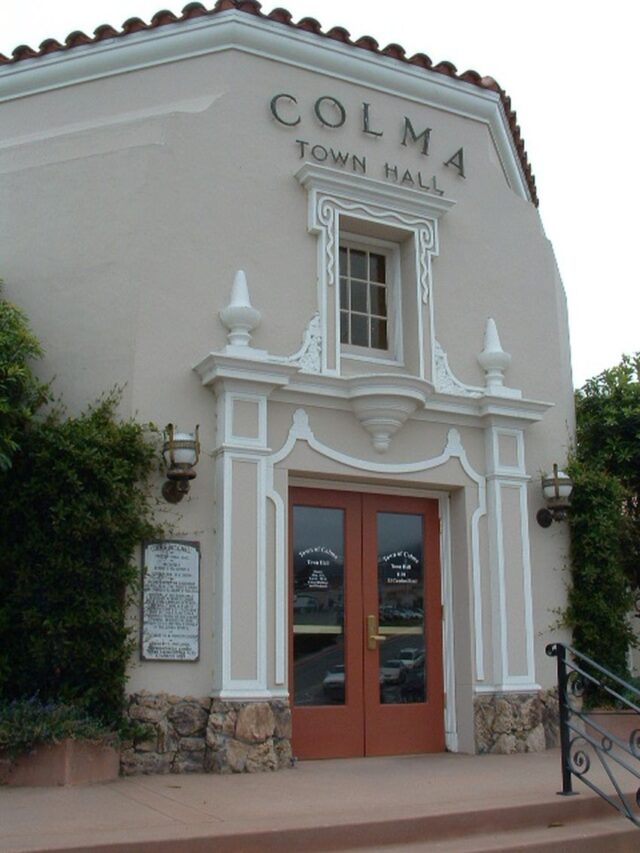 By Roy Morlidge / Beat Staff Writer
Colma was incorporated in response to growing hostility from the city of San Francisco towards its cemeteries. As a result, it quickly became known as a city of the dead. Many of the state's leading pioneers and notable personalities have today found final peace here and this is the reason many people come to visit Colma.
There is another side of Colma that few people outside of the Bay Area know about.
This is the Colma of the living. On the Northwest corner of El Camino, Real and Serremonte Blvd sit Colma's city hall. Built in the late 1930s, city hall would serve a variety of functions in its life ranging from a traffic court to a post office. During World War Two, it would even be used by the Army Corps of Engineers. Just across the street on the Northeast corner is the new home of the Colma Police Department.
While it is primarily known for its cemeteries, Colma is also known for its abundance of auto dealerships. 
Located up and down Serremonte Blvd, you can find most of the major car manufacturers represented here on auto row.
Several large chain stores can also be found throughout the town allowing you to be able to find most of your shopping needs. Among the stores one can find are a Target, Home Depot, and Babies R' Us. At the Southwest corner of El Camino Real and Serremonte Blvd, which once was occupied by K-Mart, is a large Kohl's store. Meanwhile, literally overlooking Greenlawn Memorial Park is a Best Buy.
One of Colma's more controversial businesses is that of the Lucky Strikes Casino. Located at 1700 Hillside Blvd, the card room was opened in 1998 amid numerous protests and objections by many residents who felt that it didn't belong in a city of cemeteries.
Not far away at 2001 Hillside Blvd. is the Cypress Hills Golf Course. Built-in 1963 on land that was formerly part of Sunset View Cemetery, the 9 hole course is open to the public year round.
However of all of Colma's, places for the living, none perhaps has more historical value than that of Historic Old Molloy's Tavern. Located at 1655 Mission Road across the street from Holy Cross Catholic Cemetery, the tavern was originally built in 1883.
For those who don't drive or are hoping to save money on gas, Colma is a very easy place to get to the courtesy of its BART stations. Just take BART to the Colma station and from here, you can easily take buses going to a wide variety of locations including Serremonte Shopping Center, Daly City, Pacifica, Skyline College, and down El Camino Real.
Over the years, Colma has become more accepting of living. While the cemeteries will continue to be the city's major claim to fame, its proximity to shopping and public transportation make it a great place to visit for most of your shopping needs. And as a popular saying in Colma goes, "it's great to be alive in Colma."
In Part Two, Roy explores more of this fascinating city. He'll take you to some of the historic cemeteries that put this unique town on the map. Check back soon!