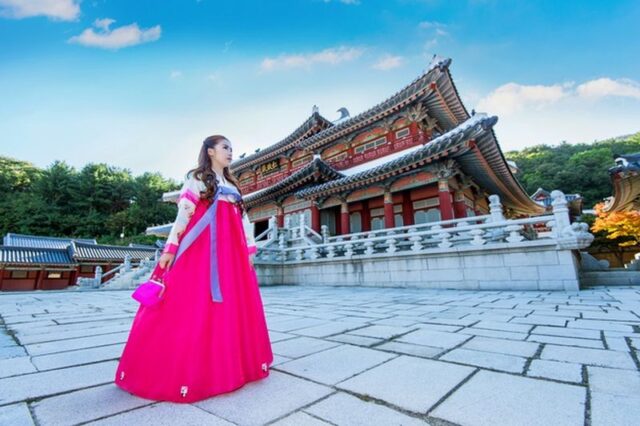 For those who don't know Hanbok is a traditional Korean dress that embodies grace, elegance, rich and curved beauty. Hanbok is special because it goes beyond just beauty and also shows all of Korean history, culture, etiquette and spirit. The word Hanbok was firstly used at the end of the 19th century when western culture was introduced and it had a task to distinguish Korean clothes from Western ones.
The Hanbok we know now isn't the same as it was in the early and mid-Joseon Dynasty. The difference is in the Jeogori in women dresses that were larger and long shaped while men were dressed in a coat of full Korean dress attire or robes. Over time these clothes changed into something that is worn only on special occasions, while there is a modernized Hanbok that can be worn every day.
As we already mentioned it is composed of Jeogori which is uniform for both men and women, a Chi-Ma for women and Ba-Ji for men. Hanbok, unlike suits made to fit your body, is made to express the richness and the softness of the clothes and are loose so they do not press on your body. With Hanbok Koreans also exhibit different textiles, embroidery, gold patterns and colours that demonstrate the richness and honour, prosperity of the offspring and good health and long life.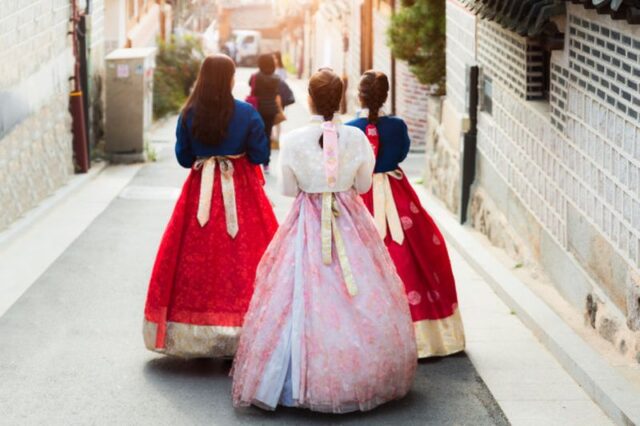 It is very difficult to find these anywhere but there is one place that is an authentic Korean Shop that offers these at great prices. If you are looking for some original traditional Korean attire go check them out at Joteta.com.
If you want to wear a Hanbok you have to know a few things, because not everyone can wear this and wear it the way they want. There are a few rules that you need to know and here they are.
Women's Hanbok consist of a few pieces, as we already mentioned, but there is an undergarment dress piece, if you like, that has to go on first and what most people ask is what to wear beneath that? Well, that kind of depends solely on you. You don't have to wear anything beneath since it is out of a very thick and quality material, or you can opt for shorts, jeans another skirt. It is a personal preference and something that is left to you to choose however you feel comfortable.
The traditional Hanbok calls for taking off underwear for the top part where the breasts are to press them firmly and achieve that stylish look of the traditional costume. For the modern Hanbok, this is not necessary but, again, it is still your personal preference and what you feel comfortable with. The next part that should go on are the socks or Beo-seon and here you also have rules. To honour the tradition, you should make sure that seam allowances on the feet are turned straight outward.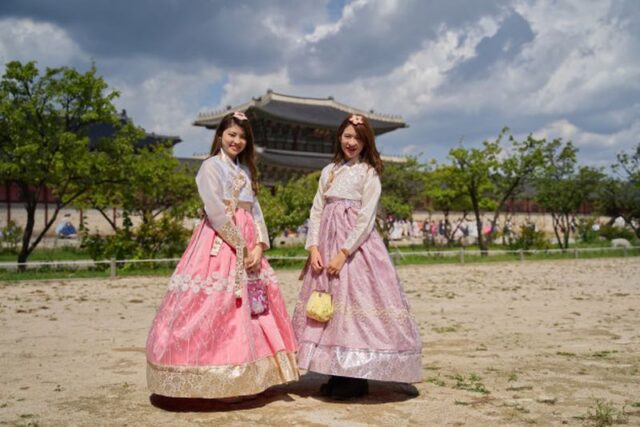 The skirt that will go on top of the undergarment should have a split down the middle and it should be tied in a crossed pattern. Pull the string on the left between the shoulder strap on the right and then you should tighten and straighten up the hem of the skirt to the left. To tighten everything up and according to tradition you should pull the skirt string forward and make sure that the jacket is very firmly attached by tying the string aside from the centre of the chest. Lower the skirt by one or two pulldowns to avoid the skirt swirling backwards. It is of utmost importance that everything holding the skirt up is correctly and firmly tied. Anything flimsy or lose isn't according to tradition and isn't tolerated, especially by old women that are old-fashioned.
The next thing that is supposed to go on you is Jeogori. This piece is also important and should be carefully placed. If you are doing this for the first time and you are not sure everything is correct it is a good rule to have someone with a bit more experience helping you, or at least checking up on what you do. Jeogori should be worn by straightening it to the left side and the short fastening ribbon on the right should be on the long fastening ribbon on the left and tied only once. After that, you can make a sort of a bow that looks neat by folding the bottom fastening ribbon to the left and it should be wrapped with a short fastening ribbon on top and then pulled to the side. To finish with the Jeogory you should firmly pull it downwards to tighten it up and diagonally fold in the leftover on the chest from the side neck to armpits.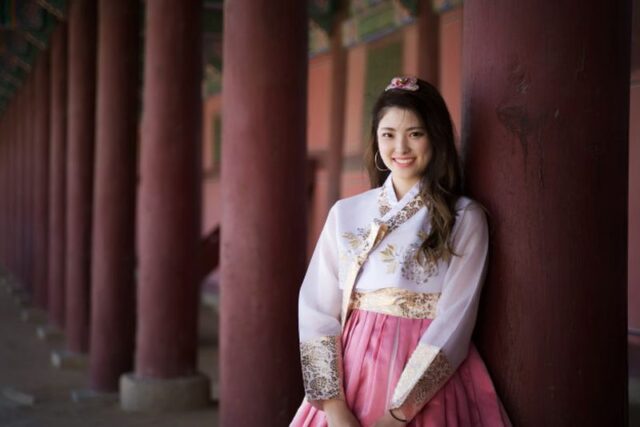 The thing that covers all is the final piece of the Hanbok and it is the coat that goes on top of the Jeogory and plays as a skirt. It should also be similarly tied as the Jeogory and straighten. To finish everything up there are shoes and a cap that is also traditional but different for every ceremony you attend.
The Hanbok is a true masterpiece of clothing and it has multiple purposes, or rather it is worn according to a ceremony you are attending. This is the reason there is no just one Hanbok for every occasion and it truly awesome. Dolbok is worn on your first birthday for praying for good health and longevity. A special kind of Hanbok is worn when you announce that you have grown up and ready to get married – Come-To-Age-Ceremony. There is something special though in a wedding ceremony and the Hanbok you wear then. Men wear a hat called Samo, a round collar robe called Dallyeong and a belt called Dae. That entire apparel is called Samoguandai. Women wear Nokwonsam which is a green ceremonial robe and a Korean bridal crown called Jokduri.
This is a truly unique Korean costume that embodies the identity of Korean people that still keep alive the life, culture and etiquette of their ancestors and they are doing it very successfully through the Hanbok.