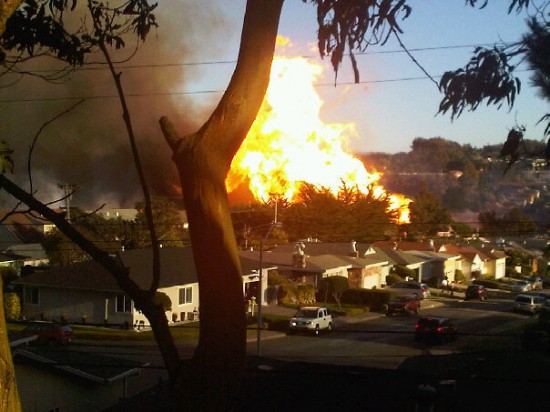 (9/11) — 21:24 PDT — SAN BRUNO — Cadaver dogs discovered the remains of three more victims of the deadly natural gas pipeline explosion and fire in a hillside Peninsula neighborhood Saturday, raising the death toll from the incident to 7, the police chief for the city of San Bruno said.
Six people were still missing, Chief Neil Telford told reporters at a press briefing Saturday evening.
Search and rescue crews from throughout the Bay Area guided cadaver dogs through the charred remnants of homes in the neighborhood Saturday looking for remains of people who were still missing, authorities said.
The dogs discovered the remains of the three victims while searching a home near the site where a 28-foot portion of a major natural gas transmission pipeline owned by Pacific Gas and Electric Co. exploded, creating a crater that measured 167-feet long by 26-feet wide, a National Transportation Safety Board spokesman said.
The blast uprooted cement and asphalt above the pipeline and threw the severed piece of the line 100-feet from its original location.
The explosion and fire has destroyed 38 homes and damaged 8 others, according to official estimates. On Friday, the San Mateo County Coroner's Office identified three of four victims who were killed in the blast as Jessica Morales, 20, Jacqueline Greig, 44, and her 13-year-old daughter Janessa Greig. The fourth victim's identity has not yet been released.
Saturday's discovery brought the number of fatalities to 7. Coroner's officials have not yet released the identities of the three additional victims, but online reports suggested that they had been missing since Thursday evening when the explosion occurred and was from the same family.