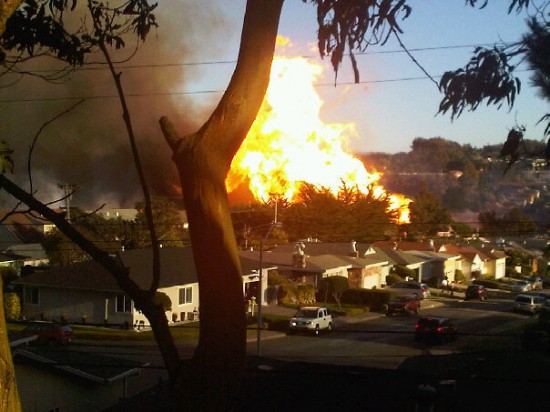 (9/10) — UPDATED 05:53 PDT — SAN BRUNO — A massive gas-fueled blaze which residents said looked like an apocalypse tore through a San Bruno neighborhood Thursday evening, igniting a six-alarm fire that destroyed at least 53 homes and damaged at least 120 more by nightfall.
As of press time, six fatalities and at least 55 injuries due to the fire were confirmed by emergency personnel.
The fire was 50 percent contained as of 10:45 p.m, and San Bruno Fire Chief Dennis Haag said later he was confident fire crews would be able to prevent the fire from spreading further.
Residents said they first felt the ground shaking before hearing a loud explosion that obliterated a residence near Claremont and Glenview Drives in San Bruno's Crestmoor Canyon neighborhood around 6:12 p.m.
A large fireball that witnesses said shot up more than 100 feet into the sky ignited neighboring structures, quickly engulfed dozens of homes in an area sandwiched between Highway 280 to the east and the Golden Gate National Recreation Area's Crystal Springs Reservoir to the west.
San Bruno residents are being asked to check in with authorities to confirm they are okay, either in person at the evacuation center or via phone to (650) 616-7180.
Evacation Center Information: San Bruno Veterans Center, 251 City Park Way
Evacation Shelter American Red Cross Hotline: (650) 259-1750 OR (888) 443-5722
GIVE BLOOD: Visit Blood Centers of the Pacific or call (888) 393-GIVE
Latest updates: Follow @californiabeat on Twitter
Authorities said the fire was triggered by an explosion in an underground natural gas pipeline, described as 24 inches in diameter. Pacific Gas and Electric said the utility company owns the transmission line in question, though PG&E President Chris Johns said a cause for the line's rupture has not yet been determined as flames in the burn zone are preventing emergency crews from going to the origin of the fire.
In a press conference at 11:30 p.m., Johns said the gas flow from the transmission line has been capped and residual gas flowing through distribution lines to individual homes will be sealed off "shortly." Electricity will be restored to homes in the area around 2:30 to 3:30 a.m., he said.
Johns also said the company will cooperate in the investigation of what caused the gas line to rupture, and could not confirm reports of a gas smell in the neighborhood before the explosion.
Fire officials say it will be "at least tomorrow" before they finish searching the affected area for victims, adding that as of 11 p.m., they had been unable to get near the source of the explosion. They said there "could be more" evacuations overnight. Witnesses and emergency personnel said the explosion left a crater 15 feet deep and 25 feet wide at the epicenter of the blast, located at Earl and Glenview Drive. One witness said there was a severed pipeline at the bottom of the crater, which is filled with water, which authorities believe is from a water line ruptured from the blast.
San Bruno city officials are asking residents of the area to check in to confirm they are safe, either at the evacuation center at the San Bruno Veterans Center or by calling (650) 616-7180.
Initial reports that turned out to be erroneous indicated that there had been a plane that had crashed into the neighborhood. No plane was reported missing, the FAA later clarified.
Firefighting experts indicated that the fire, void of thick black smoke typically associated with airplane crashes, was instead caused by natural gas.
Both the city of San Bruno and the state of California have declared a state of emergency in the area. The disaster prompted a region-wide response for firefighting resources to help attend to the multiple homes that were on fire. Fire crews from as far away as Lake and Santa Cruz Counties sent firefighters to the scene. 100 firefighters from Alameda County raced to San Bruno after the request was dispatched.
Cal Fire dispatched a helicopter and plane to perform air drops of water and fire retardant on some portions of the neighborhood and surrounding wooded area that were engulfed by flames, unusual actions for an urban neighborhood.
Injured residents, who described a scene of chaos, inundated local hospitals. At least 15 patients were admitted to Kaiser Hospital's South San Francisco campus. Another 16 patients were sent to Mills Peninsula Hospital, and "numerous" patients were sent to Seton Medical Center in Daly City, which briefly went into "Code Triage" — calling all available nurses and doctors to work.
The most seriously injured patients were transported to San Francisco General Hospital and Saint Francis Memorial Hospital's burn unit, which was tending to four critically burned patients as of press time. Two burned patients were brought to SF General, the hospital said.
Area blood banks issued an emergency appeal for blood donations, particularly of type O-negative blood, which can be given to people of any blood type and is therefore used during emergencies. Burn victims can need many transfusions of plasma, a component of blood, as part of their treatment.
The American Red Cross said it is providing emergency shelter for people who were evacuated because of the fire. It is operating three temporary housing locations: one each at the Bayhill Shopping Center, Veterans Memorial and the adjacent senior center.
The San Bruno Petco is offering to temporarily care for any lost or evacuated pets displaced by the fire.
All schools in the San Bruno Park School District will be closed tomorrow, school officials said.