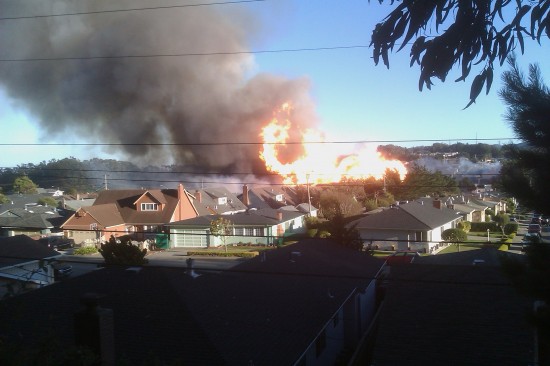 UPDATE: 00:30 PDT — We have a full writeup of the day's events posted now.
There are several street closures still in effect, including Skyline Blvd. between San Bruno Ave. and Sneath Lane, and the San Bruno Ave. and Skyline Blvd. offramps from Highway 280.
A few reminders:
San Bruno residents are being asked to check in with authorities to confirm they are okay, either in person at the evacuation center or via phone to (650) 616-7180.
Area blood banks are in need of blood donations, especially of type O-negative blood. Call (888) 393-GIVE or visit the website of the Blood Centers of the Pacific for more information.
Evacuation Shelter American Red Cross Hotline: (650) 259-1750 OR (888) 443-5722
That's it for the California Beat's live blog. Follow @californiabeat on Twitter and visit our website for continuing updates on this story.
UPDATE: 23:35 PDT — All San Bruno Park School District schools will be closed Friday, the school district announces.
State Lieutenant Governor Abel Maldonado, the state's acting governor (Governor Schwarzenegger is in China), will be visiting the affected area Friday.
UPDATE: 23:02 PDT — San Bruno officials are asking residents of the affected area to check in with city officials, either in person at the shelter at the Veterans Center or by phone to (650) 616-7180, to let them know that they are safe.
Millbrae's fire chief says it will be "at least tomorrow" before firefighters finish searching the affected area for the missing. He says they have been unable to enter the area closest to the explosion so far.
Officials say there "could be more" evacuations tonight.
UPDATE: 22:41 PDT — Two more fatalities have been reported, bringing the death toll so far to three.
UPDATE: 22:35 PDT — A California Emergency Management Agency spokesperson says that at least 53 homes have been destroyed, with at least 120 more damaged. He says the fire covers an area of 10 acres and is about 50% contained.
UPDATE: 22:15 PDT — A state of emergency has been declared in San Mateo County due to the explosion and fire.
UPDATE: 21:59 PDT — A press conference on the explosion and fire is expected shortly.
The American Red Cross has provided new phone numbers for those looking for shelter or assistance: (650) 259-1750 or (888) 443-5722.
Reports from the site of the explosion say a massive crater has been left behind.
UPDATE: 21:37 PDT — PG&E is now acknowledging that one of its gas transmission lines was involved in tonight's incident, though the company says that "a cause has yet to be determined."
UPDATE: 21:31 PDT — Reports say at least one fatality was caused by the explosion and fire.
UPDATE: 21:09 PDT — Emergency radio traffic is reporting that several new fires are beginning to start in new locations in the Crestwood area of San Bruno.
Kaiser South San Francisco said that they were treating 15 patients. Two patients with major burns are being treated at San Francisco General Hospital. Saint Francis Memorial Medical Center in San Francisco is also treating two patients, according to hospital staff. Seton Medical Center and Mills Peninsula hospital were also treating an unknown number of patients.
The Blood Centers of the Pacific have also issued an emergency request for blood donations.
UPDATE: 20:28 PDT — Officials estimate that at least 30 homes are burning or have been destroyed in a massive explosion and six-alarm fire that continues to burn in the Crestwood Area of San Bruno right now.
Voluntary evacuations have been ordered for streets surrounding the explosion site. An evacuation center has been set-up for displaced residents at the Veterans Recreation Center at 251 City Park Way in San Bruno.
PG&E reports a large power outage for more than 5,000 customers in San Bruno. According to published reports, local hospitals including the South San Francisco Kaiser Hospital and Seton Medical Center are treating "numerous" patients for injuries from the explosion and fire.
UPDATE 20:00 PDT — Firefighters throughout the Bay Area including 50 from Alameda County have been asked to provide mutual aid for the San Bruno fire and explosion.
A Pacific Gas and Electric spokesperson said crews were identifying and attempting to shut off a natural gas line believed to have triggered the explosion and fire, although officials have not yet officially pinpointed a cause.
At 8:00 p.m., television news helicopter footage showed several dozen homes on fire and air dropping helicopters and aircraft dumping retardant and water on many properties.
UPDATE 19:43 PDT — The San Bruno Senior Center at 1555 Crystal Springs Road has been established as a evacuation center for people who have been displaced by the fire.
The six-alarm fire is still burning in the neighborhood as of 7:43 p.m., and evacuations have been ordered for many surrounding streets neighboring the explosion site.
The San Bruno Police Department is asking the public to stay away from the area because of safety and access issues for emergency personnel.
UPDATE 19:34 PDT — Multiple patients have been admitted to several area hospitals in San Francisco and San Mateo Counties with severe burns resulting from the explosion. Cal Fire has ordered 100 firefighters to respond to the scene to help calm the flames, which experts said appear to be caused by natural gas from an underground pipeline.
Authorities and PG&E have not confirmed the information.
At least a dozen homes continued to burn out of control in the area of Sneath Lane and Skyline Blvd. The California Highway Patrol has closed northbound traffic on Highway 280 at Skyline Blvd. because the fire.
UPDATE 19:15 PDT — Firefighting experts say that the fire appears to be consistent with a natural gas explosion. Authorities have not yet said what caused the explosion and subsequent 6-alarm fire that continues to burn at least a dozen strucutures.
Fire retardant dropping planes from CalFire have been brought in to douse some of the flames. Authorities have not yet released information about injuries or possible fatalities from the explosion.
UPDATE 19:01 PDT — At least a dozen homes are on fire near Earl Ave. & Glenview Dr. in San Bruno after a large explosion and six-alarm fire burning out of control now. Hundreds of emergency personnel from San Mateo County are responding to the area.
Neighbors report that the explosion happened after a plane in distress crashed into their neighborhood.
San Francisco International Airport officials said that all of their commercial flights were accounted for, and that they did not believe the incident was caused by a flight taking off or bound for SFO. A spokesperson for the FAA said he did not believe the incident was caused by a plane crash.
(9/9) — 18:35 PDT — SAN MATEO COUNTY — A large explosion and five-alarm fire is burning near West San Bruno Ave. and Skyline Blvd. in San Bruno right now, according to the San Bruno Fire Dept.
Witnesses who live in the area report that several structures are on fire, and that the fire was preceded by a large explosion reported at 6:12 p.m.
Television news helicopter footage showed at least a dozen homes fully engulfed by flames. Firefighters were in process of evacuating residents from the neighborhood. Heavy smoke was seen pouring out of the neighborhood, sandwiched between Highway 280 to the east and the Golden Gate National Recreation Area to the west.
Initial reports which authorities have not yet confirmed was that there was an aircraft that crashed into the area. Multiple emergency response agencies from around San Mateo County are responding to the incident.
MORE TO COME.