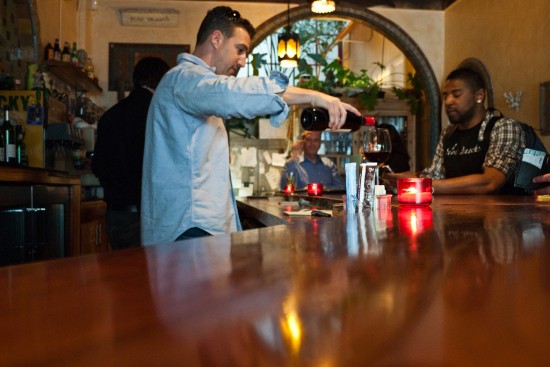 After a long period in the doldrums, Downtown Oakland is coming to life again.
And it's being resurrected thanks in part to restaurants like Spice Monkey, a busy Webster St. spot that draws a loyal crowd of suit-and-tie regulars along with casual locals looking for a great spot to eat.
It's located inside a beautiful art deco era building that once housed Oakland's historic Howden Tile factory. Remnants of the old factory — and the ceramic tiles it used to manufacture — are located all over the restaurant.
It's a tip of the hat to the history that still lives within the walls of the restaurant along with the old-style architecture that makes Spice Monkey's ambiance truly charming.
The first thing I noticed when I walked through the door was the preserved indoor fountain spewing water from a spigot built into the floor of the restaurant.
There is a beautiful redwood bar, an eclectic assortment of the aforementioned tiles throughout the restaurant and a gorgeous fireplace that occupies one wall.
There is comfortable bench seating dressed up with vibrant colored pillows along with the front window and several tables throughout the cozy dining room. They also feature rotating work from local artists as part of the decor.
The restaurant owners, Kanitha Matoury, and Guy Karmi are among the most friendly people in Downtown Oakland and have a down-to-earth sense of humor. Their wait staff is attentive, efficient and accommodating.
The food is just as magnificent. Each dish is made from scratch, including their spices which tangles with your taste buds with every bite.
"Our main focus is making every dish from organic, local herbs and vegetables. We make our own spices, which are dried and blended," Karmi said.
Spice Monkey has been open for nearly two years in Oakland. Karmi said the restaurant has worked hard to consistently provide their customers with flavorful, organic dishes and lively entertainment after sunset.
They call their cuisine "eclectic fresh California fusion."
On a recent visit, my guest and I shared the crispy samosa twist appetizer: curried potatoes, carrots, peas, crisp 
wonton with chili-lime sauce. I found it original, interesting, and delicious.
I ordered the BBQ pulled pork 'hand-wich': slow roasted pork with bourbon BBQ sauce served on an Acme torpedo roll. It comes with a side of "monkey potatoes" and zesty slaw. It had the perfect amount of pulled pork and sweet-savory BBQ sauce. The zesty slaw was well-seasoned.
My guest ordered a four-cheese roasted veggie pizza: veggies, pickled red onions, olives, feta, mozzarella, cheddar, Parmesan and red wine marinara sauce. Great pizza!
All of the ingredients were fresh and the crust was light and crispy.
You'll always want to try the poppin' popcorn: popcorn, fried chickpeas, seaweed, seasoning. For curry fans, you'll enjoy this tasty snack. Among their signature dishes: the slow-roasted pork, a yummy and filling main dish that regulars frequently order.
Their diverse menu has something for everyone. It offers vegetarian, gluten-free and vegan dishes. They have a good selection of beer, including a flavor of the month and a half off bottles of wine on Tuesdays.
There is a spacious second story loft for parties. They also host a variety of events such as vinyl record sales, music concerts and speed dating.
Spice Monkey's warm ambiance, inviting atmosphere and great food, service, and ambiance all at very reasonable prices is a clear win for me. It's a great place for lunch or dinner, or just to enjoy a glass of wine or beer after work with friends.
The Spice Monkey is located at 1628 Webster St. (between 15th St. and 17th St.) Contact them at( 510) 268-0170 or online at www.spicemonkeycafe.com. To get information about upcoming events checks out the calendar on their website.