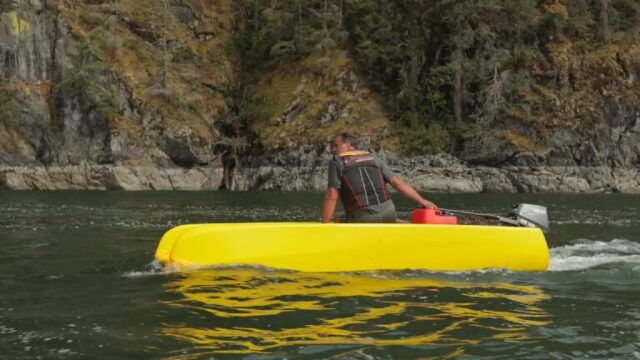 While you are on your watercraft, ever wanted high speed? Well, you can achieve high speed by converting the catamaran into a monohull with the help of hulltimate. It is a boating system which provides the watercraft high speed and also absorbs shock with the conversion of catamaran into a monohull. This boating system can also be converted into types of boats as well.
People wish to travel fast on waters that may be rough or maybe smooth but they are not really able to do it with stability. The Hulltimate is the ultimate boating system that allows you to travel on rough waters fast, yet with stability.
So, no more swinging here and there while you are on your watercraft. This boating system also provides you with greater balance and control.
The hulltimate from kickstarter.com is the advanced and modern version of the Polynesians sailing, the Polynesians sailed in twin-hulled boats across the Pacific at a high speed. It comes with various accessories with which you can get different experiences.
The goal of Hulltimate is to use an old method of sailing, with an ancient design boat, and advance it so greater stability and high speed are achieved even of rough waters. They also aim at making boating affordable.
Now a question arises that who can use hulltimate? Anyone can use it including, professional boaters, families, fishermen, sailors, vacation rentals and any other people who are fond of boating.  Also, people who have to travel through rough waters to cover distances can use it.
Some of the key features of this boasting system are as follow:
The hulls have a 2x2x12 shipping size.
Hulltimate doesn't require any struggle with maintenance because it is very easy to operate and function. You don't need to go through hassles for its maintenance.
The boating system can be easily transported, it can be strapped to the roof of a truck or car.
The system is manufactured with durable materials.
The weather doesn't affect the boating system, the varying atmospheric conditions do not harm the system.
Hulltimate is durable and long-lasting.
The best thing about this boating system is that it is a universal fit.
Benefits of Hulltimate are as follow:
It is inexpensive, unlike other boating systems which are super expensive, this boasting system is affordable so people can get their hands on it and enjoy stable rides.
The biggest benefit of this boating system is that it provides you a greater speed along with stability so you can travel through the rough waters without losing speed.
Stability is another major issue while traveling across rough waters, however, it can be achieved with this boating system.
This boating system is lightweight and is easy to transport, you can strap it on top of a vehicle and you will be able to travel with it.
Unlike many other boating systems, this boating system is safe to use.
This boating system consists of a two-piece hull which is designed expertly to make sure that it is affordable. It is a simple modular addition to the boat which allows you to achieve faster speed and stability. It is adaptable and innovative, yet inexpensive.
If you plan on going to weekend adventures, sailing, vacationing, fishing or just go boating for a day, you can use this boating system to achieve a higher speed.
The best part is yet to come and that it is, the hulltimate can be customized, it comes with a sailing kit, planning kit, sailing kit, trailer kit, barge kit, tent kit, fishing kit, and suspension kit.
Ease of transport, low cost, patented and adaptability are some of the competitive advantages. This boating system is one of its kind it is affordable, it is easy to transport, it is safe to handle, and above all, it is fast.
If you are planning to go on a vacation, or if you plan on crossing the pacific, then this boating system is all that you need. It can be customized in different ways; you can take advantage of the accessories to customize your boating experience. With this safe boating system, get ready to enjoy the waters with high speed and stability.