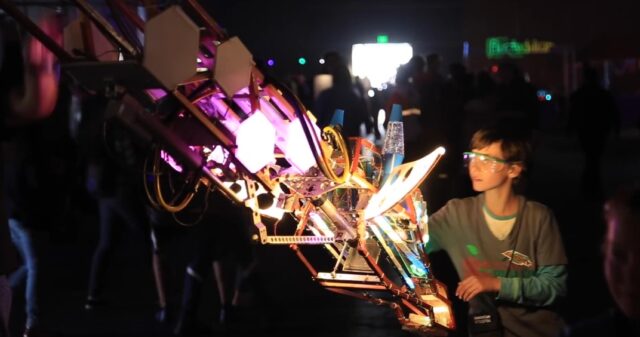 SAN MATEO, CALIF – From May 20 to May 22, the San Mateo Event Center became a temporary Mecca for makers: nerds, builders, hackers and geeks alike.
For the price of admission, visitors get to experience everything from fire-breathing metal dragons, to drone racing and video games. This is not a faire to be watched from afar, as nearly every exhibit is interactive; attendees are just as much a part of the faire as the exhibitors.
The Maker Movement is a culture of industrious do-it-yourself enthusiasts who set up shop in their homes, garages, or community spaces. Not everyone shares their creations, but many do, with the goal to inspire others to learn and build. Since 2006, the Maker Faire has been drawing people from around the country.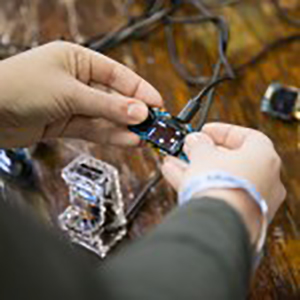 Whereas San Mateo hosted the only Maker Faire in 2006, other US cities such as Austin, Irvine, San Diego, Pittsburgh, and Austin have all held Maker Faires since 2013. International cities have joined the Maker Movement as well, with faires popping up in Barcelona, Newcastle, Hannover, Tokyo, Paris and Hong Kong, among others.
Projects at the Maker Faire range in complexity from the strikingly simple to mind-boggling complex. One maker, a twelve-year-old student, designed a sensor and a program to remotely alert users if they left their garage door open. Another maker showed off a giant electric giraffe, equipped with wheels, motors, and an interactive light and sound system. No two Maker Faires – or projects – are the same.
Maker Fiare is a kinesthetic learner's paradise, as sight, sound, texture, and numbers turn sometimes incredibly technical subjects into a project anyone can work with – and learn from. Your own curiosity is the limit: If you didn't know what a stepper motor is, or why a resistors are a necessity in any LED-based project, makers are eager to share how and why their projects work. Being proprietary is not exactly common or encouraged.
Over 150,000 people were expected to attend the 2016 Maker Faire in San Mateo.