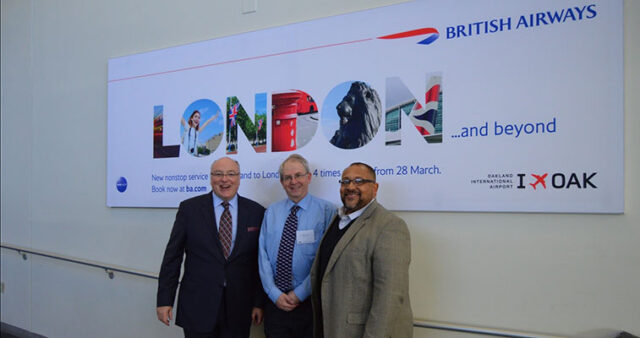 OAKLAND, CALIF. — The launch for Norwegian Air Shuttle's latest flight from Europe to North America came with a message from the company aimed directly at budget-conscious fliers and the airline industry: we're not done expanding.
The low-cost international carrier began serving Oakland, California from London's Gatwick Airport May 12.
The flight will operate three times a week on Norwegian's Boeing 787-8 Dreamliner, with 259 seats in Economy and 32 seats in the airline's premium economy cabin.
The flight marks a major milestone for Bay Area travelers: all the region's three international airports are now served by a non-stop flight to London.
British Airways began a daily flight from its Heathrow hub to Mineta San Jose International Airport May 4. In addition, British, Virgin Atlantic and United Airlines all serve Heathrow from San Francisco employing a mix of wide-bodied aircraft.
Norwegian already served Oslo, Norway and Stockholm, Sweden from Oakland.
Expansion Plans
The launch comes as the airline is undergoing an unprecedented growth spurt across the Atlantic. In July, Norwegian will begin serving Paris's Charles de Gaulle Airport from New York-Kennedy, Los Angeles and Fort Lauderdale.
Norwegian currently operates 10 Boeing 787 Dreamliners, eight -8 versions and two of the larger -9s. The airline has 30 more Boeing 787-9s on order, and plans to put the new jets to use on new international long-haul routes, which may involve an expansion at Oakland.
"You'll probably see Paris, Barcelona, Rome, those places in the years to come," said Lars Sande, Norwegian Air Shuttle's Senior Vice President of Sales.
"We will grow in the U.S."
The ambitious expansion plans come as its long-haul wholly-owned subsidiary, Norwegian Air International, obtained temporary approval from the U.S Department of Transportation for traffic rights across the Atlantic.
The application was fiercely opposed by rival U.S. airlines and unions representing pilots and flight attendants, who in December 2013 formally asked the D.O.T. to reject NAI's application.
Pilots held a protest at the White House on May 12, urging the Obama Administration to intervene.
"It's time for the White House to step up, enforce our agreements, and support U.S. jobs and deny NAI's application," said Capt. Tim Canoll, president of the Air Line Pilots Association.
The ALPA has criticized Ireland-based Norwegian Air International for taking advantage of Ireland's lax labor laws and EU membership to operate long-haul flights from Europe using crews on Asian employment contracts.
"I would say they need to do their homework a little bit more," Sande said of the protests. "Most of our long-haul crew is based in the U.S., we have crew bases in Fort Lauderdale and New York and most of the crews fly on the routes in and out of Europe will be either American or from other places in Europe."
Sande said compensation for crew members is commensurate with the industry. He noted almost 85 percent of transatlantic traffic is flown by members of the three leading airline alliances, OneWorld, SkyTeam and Star Alliance. He said the outcry was motivated by anti-competitive sentiments.
Sande said he was confident U.S. regulators would permanently approve NAI's request for a foreign air carrier permit.
"We will grow in the U.S.," he said. "No doubt about that."