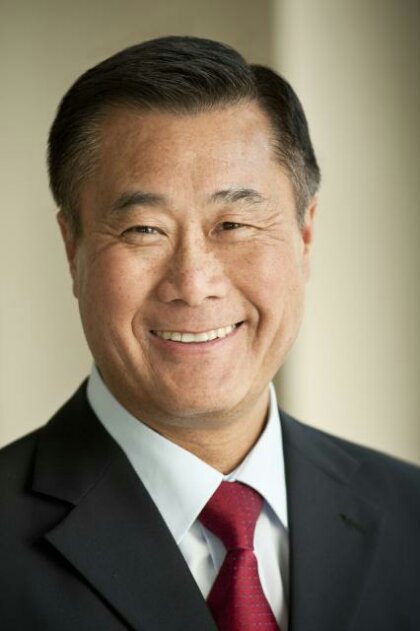 FBI agents arrested 20 people Wednesday — including state Sen. Leland Yee (D-San Francisco) and notorious gangster Raymond "Shrimp Boy" Chow — as part of a sweeping organized crime probe including allegations of arms trafficking, bribery, drug dealing, receiving stolen goods and money laundering.
Yee — charged with arms dealing and six counts of wire fraud in connection with soliciting campaign donations in exchange for political and official favors — could face decades in federal prison if convicted.
Yee offered to broker arms deal, FBI alleges
In a complaint unsealed Wednesday afternoon in federal court, the FBI alleges that Yee and adviser Keith Jackson — a former San Francisco school board member — solicited donations for his political campaigns from undercover FBI agents in return for various favors, including introductions to state officials, a proclamation honoring the Chee Kung Tong association which which Chow was intimately involved, and — ironically for a politician with a long track record of supporting gun control measures — even setting up arms deals.
At a January 22 meeting between Yee, Jackson and an undercover FBI agent, Yee "said 'we're interested' in arranging" a weapons buy from an arms dealer who Yee said "sourced the weapons from Russia," the FBI alleges. Later, after that deal fell apart due to what Jackson said were "matters related to world affairs," Yee and Jackson introduced the agent to Dr. Wilson Lim, who Yee said was connected to rebels in the Philippine state of Mindanao. Yee eventually offered to pass on to Lim a list of weapons to be supplied by Lim's Filipino contacts in exchange for $6,800 in donations to Yee's campaign for Secretary of State, the FBI affadavit alleges.
At one point, during a meeting on February 25, Yee allegedly told the undercover agent he was unhappy with his life and said he wanted to hide out in the Philippines. "There is a part of me that wants to be like you. You know how I'm going to be like you? Just be a free-agent out there," Yee said.
Other parts of the FBI affadavit detail attempts by Yee and Jackson to raise money for Yee's unsuccessful 2011 campaign for mayor of San Francisco and his statewide campaign in 2014 by promising official favors.
In September 2012, Yee and Jackson offered to make phone calls to the state Health Department on behalf of FBI agents posing as software company owners in return for a $10,000 donation to help retire leftover debt from Yee's mayoral campaign. "Just let me know who you guys are meeting with […] so I'll make the call right away," Yee told an undercover agent. When the undercover agent was slow to make the promised contribution, Yee complained to Jackson during phone calls recorded by the FBI, saying on one occasion "this guy is just jerking us around, man. Two months and [unintelligible] nothing."
Later, in June 2013, Yee and Jackson met with FBI agents posing as medical marijuana businessmen at a meeting which they agreed to record on both audio and video. One of the FBI agents took an envelope containing $11,000 in cash and put it on the table, saying it was a contribution in return for a meeting with another state senator. At the end of the meeting, Yee told Jackson to take the envelope, the FBI alleges.
Chow at center of investigation
It was through Raymond "Shrimp Boy" Chow — who pled guilty to federal racketeering charges in 2000 in connection to his role in the Hop Sing Tong's criminal activities, but in recent years insisted he had gone "clean" — that the FBI's undercover agents were introduced to Yee and most of the other defendants in this case.
Chow, who became a leader of the Chee Kung Tong in 2006 after his release from prison, directed the organization's criminal activity, according to the FBI. Chow told an FBI agent that he "knew of and approved all criminal activities within his organization," and that he arbitrates disputes within the organization, the affadavit alleges.
According to the FBI, Chow's associates laundered more than $2.2 million in money for undercover FBI agents between March 2011 and December 2013. Chow, his lieutenant George Nieh, and associates also helped undercover agents sell supposedly stolen liquor and cigarettes, and introduced agents to a marijuana growing operation, the FBI alleges.
Chow, who is charged with five counts of money laundering and three counts of receiving stolen goods and cigarettes, also now faces decades in federal prison if convicted.
Yee released on $500,000 bail
At a hastily-arranged hearing in federal court in San Francisco Wednesday afternoon, the defendants — arrested in FBI raids earlier that morning — appeared in street clothes to hear the charges against them.
Yee, one of the few defendants to have hired his own lawyer, was released on $500,000 bail and required to surrender his passport to authorities. He will appear again in court on Monday. Afterwards, Yee's attorney Paul Demeester said he had not yet had a chance to review the charges in detail.
Of the remaining defendants, seven — including Chow, who Magistrate Judge Nathanael Cousins ruled was a "serious" flight risk — will be held until bail hearings scheduled for next Monday or Tuesday, while the remainder were released on $100,000 bail. All will appear in court on Friday to confirm their legal representation or have lawyers appointed for them by the court.