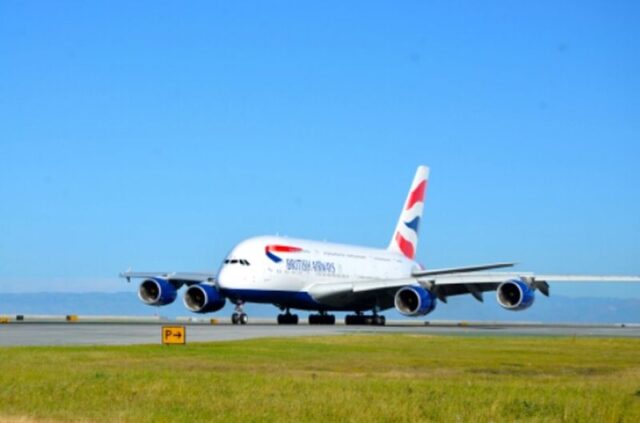 In the highly competitive fight to win market share on the San Francisco to London route, British Airways may hold a key none of its competitors currently have: the world's largest passenger jet.
The airline began flying its double-deck Airbus A380 between the two cities Sunday, a move British Airways officials said was done in response to increased travel demand from the booming technology sector in the Bay Area and in Great Britain.
"San Francisco and London are two great cities," said Doug Caines, Vice President of Business Development for British Airways. "We looked at the size of the market and San Francisco has always been very important."
The Airbus A380 will replace an older Boeing 747 on the airline's evening flight into and out of San Francisco. British Airways' afternoon flight will continue being served by a 747.
The switch comes with a big increase in the number of seats offered by the airline: its Airbus A380 seats 469 people, 124 more than the Boeing 747 it replaces. It's Business Class cabin, Club World, will grow from 52 flatbed seats to 97.
The number of First Class seats will remain the same: 14. On the Airbus A380, the airline has installed it's newest and perhaps its most luxurious version of its top-tier seat: a semi-enclosed suite with more personal stowage and space than the previous generation of its First Class seat.
Passengers in BA First on the A380 will also be treated to a five-course "tasting menu" that includes braised pork belly and Char Siu Duck. Each entree comes especially paired with a glass of fine wine.
Those flying in Economy class, World Traveller, will also enjoy the Airbus A380's amenities, including the airline's latest seatback in-flight entertainment system and power outlets.
Regardless of class of service, Caines said, everyone will benefit from the plane's quieter engines and cleaner cabin air. The Airbus A380s come with advanced air conditioning filters, and the air is cycled every three minutes.

"Passengers have been very positive about the plane," he said. "We're very happy."