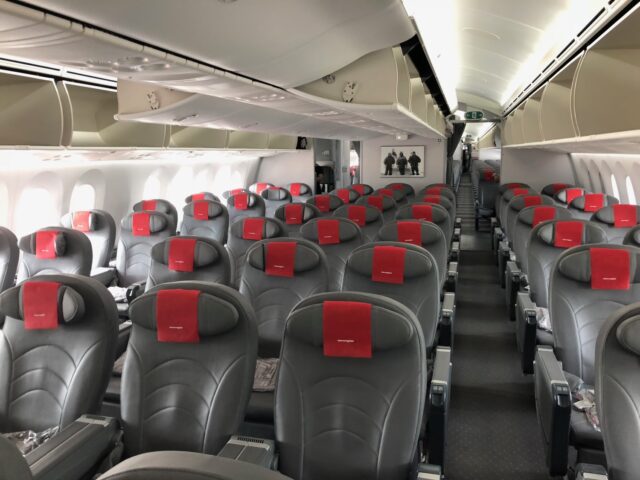 OAKLAND, CALIF. — Norwegian Air Shuttle understands very well who flies on its airplanes.
The low-cost long-haul carrier has made inroads in the United States with its rock-bottom fares and a la carte pricing that's marketed towards budget-conscious leisure travelers.
On the launch of its newest North American flight from Oakland, California to London-Gatwick, the airline showed off its Boeing 787 Dreamliner's 32-seat premium economy cabin to invited guests, including members of the media, travel agents and people in the travel industry.
The recliner-style seats, similar to a living room armchair, are located at the front of the plane in a 2-3-2 configuration. Each 19-inch-width seat features 46 inches of pitch, 150 degrees of recline, a leg rest, in-seat power, and personal on-demand entertainment. In regular economy, the seats are in a 3-3-3 configuration.
The premium product is reminiscent of a domestic first class product offered on most legacy U.S. airlines. There are no plans for the budget airline to install the lie-flat seats that are common on international long-haul planes, said Norwegian Air Shuttle's Senior Vice President of Sales, Lars Sande.
"We serve a different market than British Airways and the legacy carriers," he said.
Budget-conscious travelers who fly Norwegian, Sande said, would not pay the premium for a flat-bed seat.
In-Flight Dining
Meals and beverages are included in the premium economy fare, but passengers flying in economy who want to eat in-flight must pre-order meals before departure on the airline's website. The same meal options are served to passengers in both cabins.
Snacks and beverages are offered for purchase in-flight, and passengers can bring their own food with them too.
Those invited to tour the airline's Dreamliner in Oakland were treated to either beef with mashed potatoes or curry shrimp with rice. The no-frills meals were comparable to those that would be served in economy class on international long-haul flights flown by legacy carriers.
Instead of on trays, Norwegian serves the entree, salad and dessert all at once in a cardboard box. Fresh bread is offered, along with an assortment of alcoholic and non-alcoholic beverages.
It's a basic meal — reminiscent of every other economy-class airline meal you've probably eaten — and Norwegian doesn't attempt to advertise it as anything other than that.
After all, Norwegian Air Shuttle is well aware who its customers are, and how much those passengers willing to spend on their next trip.