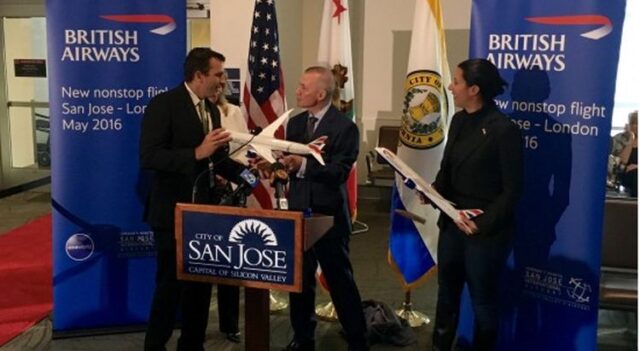 SAN JOSE, CALIF. — Cheers, applause and a British-themed celebration marked the launch of a long-sought non-stop flight between Silicon Valley and London on British Airways Wednesday evening.
"Not since the Beatles landed on 'The Ed Sullivan Show' has a British invasion had a greater impact on the United States of America than today," quipped San Jose Mayor Sam Liccardo as he welcomed the airline Wednesday.
The flight between Mineta San Jose International Airport and London's Heathrow Airport will operate daily. Flight 279 will depart London at 3:25pm and arrive in San Jose the same day at 6:15pm. Flight 278 departs San Jose at 8:05pm and arrive in London at 2:10pm the next day. The average flight time is 10 hours each way.
The link was long sought after by tech companies looking for a faster route between San Jose and London, according to city officials.
"London is the number one requested international destination from San Jose," Liccardo said. "We're pleased to now offer it to business and leisure travelers in the region."
British Airways will fly the route with the ultra-modern 216-seat Boeing 787-9 Dreamliner. The airline will offer four classes of service on flights to San Jose, including a newly-designed eight-seat First Class cabin and 42 lie-flat seats in its Business Class cabin.
The plane also features 39 seats in a premium economy cabin, called World Traveller Plus, and 127 seats in World Traveller, the airline's economy class.
A Tech Driven Route
British Airways officials said the route will primarily help link business travelers in the booming tech industry in the Silicon Valley and United Kingdom. The airline also serves nearby San Francisco International Airport with twice-daily flights, but believes a third flight to the Bay Area will also succeed.
"We've been able to serve the community with flights to San Francisco, but all the research we've done tells us people want the ability to fly direct from San Jose Mineta," said Willie Walsh, CEO of British Airways parent International Airlines Group.
Walsh, who arrived on Wednesday's maiden flight to San Jose, said demand for the route is equally high from U.K.-based businesses.
"The London high-tech community has always wanted a direct flight to San Jose Mineta," he said. "It was very high on our list of cities we wanted to serve."
"Door-to-Door" Flight
One of the biggest benefits of the San Jose service was the convenience of avoiding gridlock to get to San Francisco International Airport, passengers said.
"It's tremendous, I love it." said Jack Dhilinger, a San Jose resident who was flying the inaugural flight from San Jose to London. "I live 30 minutes away from SJC. If I have to fly out of San Francisco it'll take me 2 hours to get there. I'm saving 90 minutes."
Dhilinger said he flies regularly to see family in Belgium, and discovered the new service while shopping for flights online.
"The price is good," he said. "I'd even pay a little bit extra just for the convenience of being able to fly out of San Jose."
International Growth
Wednesday's British Airways launch is the first of four new international flights this summer at Mineta San Jose International Airport.
On May 9, Air Canada will begin twice-daily service from San Jose to Vancouver, B.C. On July 1, Lufthansa will launch service to its hub in Frankfurt, Germany.
Air China also recently announced it will begin flights this summer to Shanghai, China.