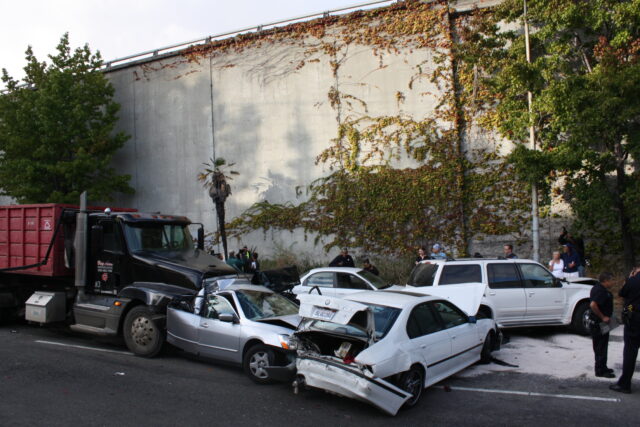 (9/8) — 18:54 PDT — OAKLAND, CALIF. — A runaway dump truck collided with a dozen cars and injured four people at the Grand Avenue exit from eastbound Interstate 580 in Oakland's Grand Lake District during the afternoon commute hour Wednesday.
Police said the driver of the dump truck reported that his brakes failed when he was exiting the freeway.
The truck plowed into a group of vehicles stopped at a red light at Grand Avenue and MacArthur Blvd. at 4:30 p.m., according to authorities.
The truck, owned by the Bay Area Debris Box Service, collided with a silver Honda sedan, which triggered a chain-reaction crash involving 12 other cars.
"It was very frightening," said Shelton McClinton, an Oakland resident whose car was damaged in the accident. "I saw it in the mirror, you know it's going to hit, but you don't know how hard it's going to hit you."
"I couldn't do anything because I was stopped at the light," he said.
Oakland Police said "several" people were transported to a local hospital for injuries but that no one had died in the incident. The dump truck driver did not suffer injuries.
The off-ramp remained closed at 7 p.m. for tow trucks to remove the wreckage. Traffic around the Grand Lake District was gridlocked as police investigated the collision.