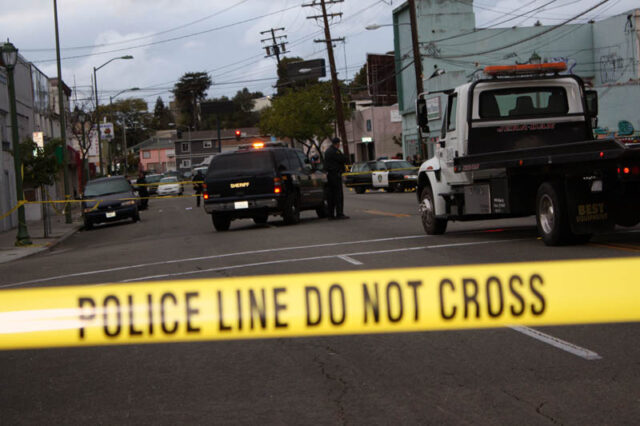 Oakland remains in a state of shock tonight after a lone gunman went on a shooting rampage, killing three police officers and leaving one in grave condition at a local hospital Saturday evening in a bloody rampage that left area residents shaken and the police department reeling from what one officer called "the darkest day in OPD history."
It began with a routine traffic stop by two Oakland Police officers at the intersection of 74th Street and MacArthur Blvd. in East Oakland at around 1:15 p.m. Witnesses said the driver of that vehicle opened fire on the officers, identified as Sgt. Mark Dunakin, 40, and Officer John Hege, 41, striking both of them.
Sgt. Daniel SakaiSgt. Ervin RomansLovelle Mixon
Officer John HegeSgt. Mark Dunakin
>>RELATED STORY: Reaction to killings of Oakland Police Sergeants somber, mixed
>>>SPECIAL COVERAGE: Oakland Police Killings Beat page
A witness said that one of the two officers was shot in the head by the driver, whom police identified late Saturday as Lovelle Mixon, 26, an Oakland resident with a criminal history who was wanted for a parole violation.
Sgt. Dunakin, a veteran of the Oakland Police force since 1991 died from his wounds. As of 10 p.m. Saturday, Hege was on life support at Highland Hospital. A police spokesperson said that he was in "grave condition," but several media sources, citing the Governor's office and the City Attorney's office, reported Saturday that the fourth officer had also died.
Mike Davis, 19, was sleeping in his house near the scene when he was awoken by a round of gunfire. He came out of his house and saw one of the motorcycle officers lying on the ground, mortally wounded by the assailant's gunfire.
He said the officer was "shot dead in the head."
Police then said Mixon ran into a nearby apartment complex, barricading himself inside while a caller gave dispatchers the first indication that two of its officers had been shot.
Oakland Police immediately sprung into action, cordoning off a huge swath of MacArthur Blvd. near 73rd Avenue, a busy intersection that is adjacent to a police substation at the Eastmont Town Center.
Police then received a tip that the shooter may have been barricaded inside an apartment on 74th Avenue south of MacArthur Blvd. Around 200 law enforcement officers and a police helicopter were called in to scour the area where witnesses believed the shooter had found refuge.
SWAT officers entered the apartment building at around 3:20 p.m. and began a search for Mixon, who was armed with several weapons, including a high-powered automatic gun.
As the officers were searching the complex, a gunfight ensued, and two Oakland Police SWAT officers sustained gunshot wounds. A third officer was grazed by a bullet in the second incident.
The two SWAT officers were Sergeants with the Police Department. Authorities identified them as Erv Romans, 43, and Dan Sakai, 35. Both officers died as a result of their injuries.
A witness who saw the entire raid on the apartment building said that he saw one of the SWAT officers being brought out of the building and into the rear of a police tactical vehicle. The witness said that the officer was bleeding profusely from the neck area.
A California Beat photographer on the scene when the rampage occurred reported that a number of ambulances rushed to the second location immediately, transporting the three injured officers to Highland Hospital and rendering aid to the suspect, whom SWAT officers shot and killed after he opened fire on them.
The photographer saw officers stationed on the perimeter of the search area rushing towards the intersection of 74th Ave. and MacArthur Blvd. responding to the second shooting incident.
Many officers were in a state of shock, appearing to realize that two more of their colleagues had fallen victim to the barricaded gunman. Police said that they believe he was acting alone and were not looking for any other individuals in connection with the incident.
At Highland Hospital, where all the officers were brought, their colleagues gathered, many cried, and all had grim faces. While the official information of the officers' passings had not been immediately confirmed to members of the news media, nearly everyone at the hospital suspected that not all four officers who were victims in the rampage by Mixon would survive.
At a Saturday night press conference, acting Police Chief Howard Jordan was visibly shaken by the day's tragic events.
"I wouldn't wish this on any of my other colleagues in police departments across the United States," he said. "I've been to many police funerals and this will be a very traumatic and daunting task for this department."
Governor Arnold Schwarzenegger offered his condolences to the police department and to the residents of Oakland. He ordered all flags statewide to be lowered to half-mast on Monday to honor the fallen officers.
California Beat Staff Writers Jennifer Courtney and Steven Luo contributed to this report.