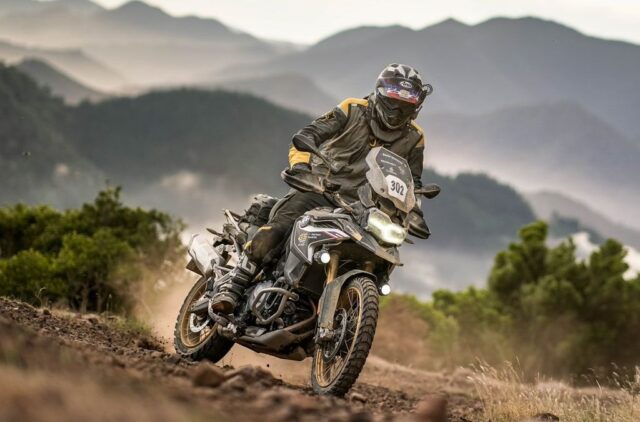 Passing your full motorcycle license gives you the freedom to choose any bike available. In fact, this is when it can get difficult as there are a lot of different bikes on the market.
You may already have a specific style in mind but you should spare a few moments to check out the array of bikes available at procycles.com.au and consider the adventure option.
Adventure bikes are built to go over all terrains. They are generally a little more forgiving than a sports bike but just as much fun. It's a great way to build experience while adventuring around your local area or even across the country.
Let's take a look at the best adventure motorcycles for beginners, you're certain to find one that appeals.
BMW G310 GS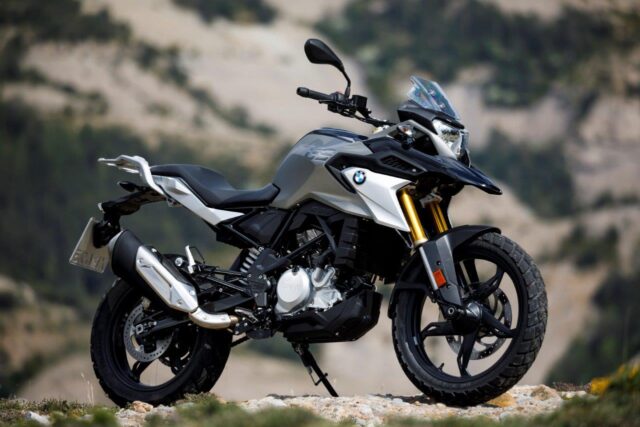 With a 313cc engine, this is a great choice for a beginner, enough power to get you out of trouble without enough to put you in trouble in the first place!
The 310 is the bay of the highly successful GS range. One of the biggest differences is the size of the engine. Not only is it a lot smaller its also not the standard boxer engine. It doesn't stick out on both sides.
You'll also note that the price tag is significantly lower than the big GS. But, you will benefit from stunning looks, great handling, and the build quality commonly associated with BMW.
It's fuel-injected, 6 speed, 34hp, weighs 379 lbs, with a seat height of 835mm.
DR Z400S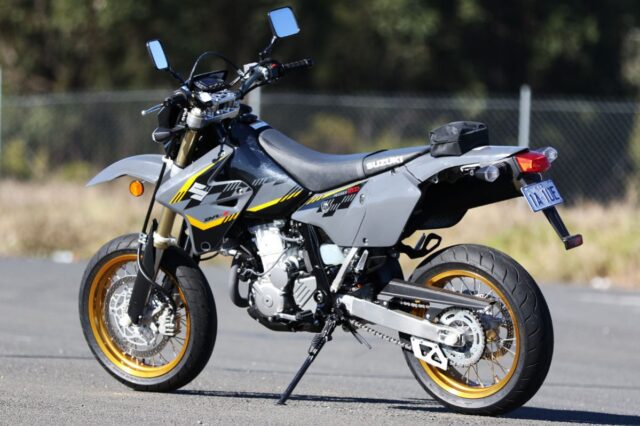 Suzuki is no stranger to the adventure motorcycle. However, instead of this being a scaled-down version of the larger bikes it s actually a road-legal version of the original dirt bike. It may only have a 398cc engine but it's effectively the top of its class.
You'll find the price is attractive compared to its competitors. You may also be intrigued to note it's one of the few adventure bikes that still uses a carburetor.  That does generally make it easy to repair when you're in the middle of nowhere!
This is a nimble bit of kit that looks pretty good. You can quickly change tires to go from adventure bike to a road supermoto.  It weighs just 319 lbs, has a 10-liter tank, 39hp, 5-speed box, and a seat height of 890mm.
KTM 500 EXC-F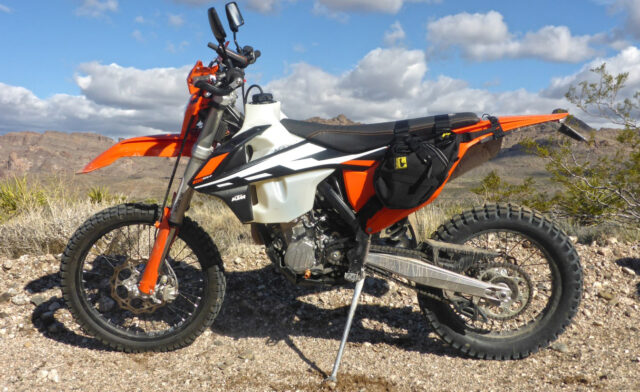 No adventure bike list is complete without an entry from KTM, potentially the founder of the adventure bike market. The 500 EXC-F has a whopping 510cc engine, making it one of the biggest beginner options. In fact, the various versions of this bike available all have the same engine.
It may give the look and feel of enduro but it's a great starting point for adventure riding.
Of course, KTM is known to be one of the more expensive players in the game and it does need plenty of maintenance, which is also costly as it can't generally be done at home.
But, it's a good-looking machine, weighs just 275 lbs, has a 9.5-liter tank, 6-speed box, 58hp, and a seat height of 970mm.
Motrac MG500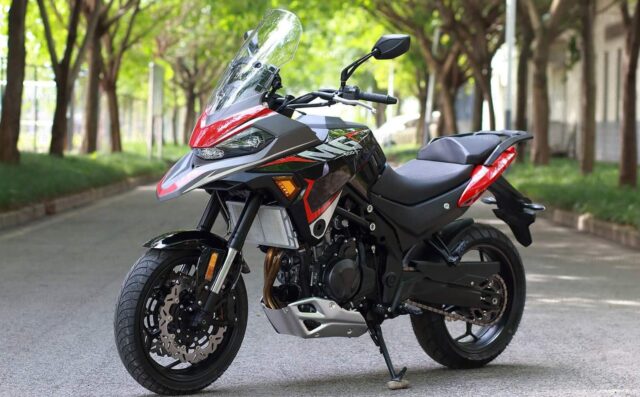 This offering comes from China but shouldn't be dismissed straight away, it has a lot of potential. The Motrac moves away from simply supplying a cheap copy of a Honda and is actually a good-looking and potentially wise choice for a beginner.
The general look is relatively close to BMW's offering, although at a fraction of the price. It weighs a hefty 434lbs which means it's going to be more difficult to handle at low speeds than some of the other options on this list. It is backed up by a 491cc engine that looks uncannily similar to Honda's 500cc offering.
With 46cc and a 6-speed box, it's an intriguing option, although you'll have to question the level of customer support and after-sales available.
Honda CRF 450 L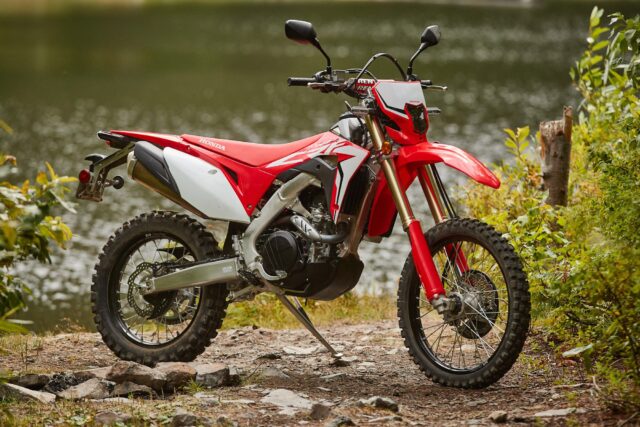 Honda has several potential adventure bikes but this one really stands out for the beginner. In fact, this is built as an off-road bike with just enough additions to make it street legal. That's actually why Honda added the 'L' to the title.
There is little doubt that this will be a reliable choice, Honda has an enviable reputation for reliability. With a 449cc engine and a weight of 289 lbs this bike also has a good power to weight ratio.  It's capable and forgiving when taken off-road. But, as an added bonus, simply change the seat, windscreen, and fuel tank, and you'll have yourself an around the world adventure tourer.
That makes it a pretty good investment. The engine gives 38hp, has a 6-speed box, 7.6-liter fuel tank, and a seat height of 942mm.
Yamaha XTZ 250 Tenere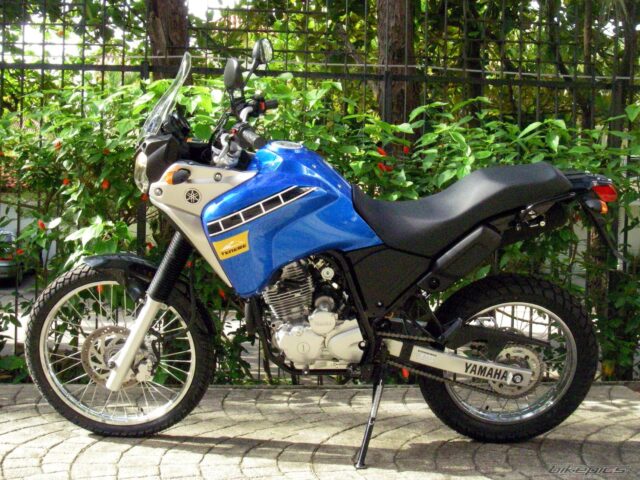 This is the baby version of the 660 Tenere and the 1200 Tenere but it is a popular and fun choice. The bike has just 249cc and weighs 333 lbs, potentially making it one of the more sluggish options. However, as a beginner, this simply makes it easier to handle and learn with.
It looks the part, rugged and reliable. What it lacks in speed it gives back in torque, helping you deal with anything the planet has to throw at you.
It has a whopping 16-liter fuel tank, 5-speed box, 21hp, and a seat height of 875mm.
Kawasaki Versys-X 300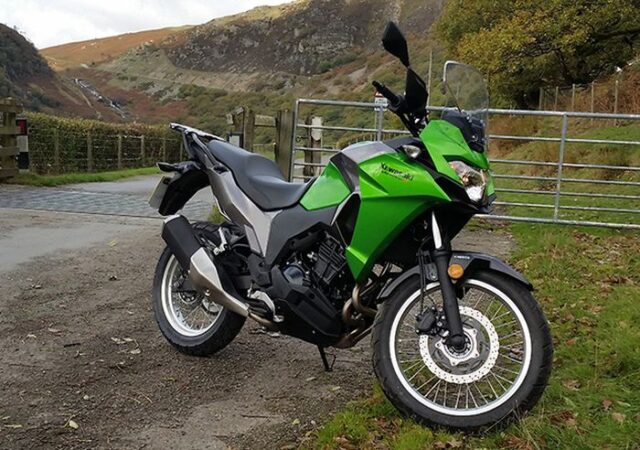 Kawasaki also has a reputation for making reliable bikes, although many of them are aimed at the sports bike market. This technology lends itself surprisingly well to the adventure bike arena. The X300 is a smart-looking bike.
The engine is just 296cc and the weight 386lbs, yet it is surprisingly nimble and well-balanced, making it a great beginner choice. The price is attractive and you'll find its one of the easiest adventure bikes to get started with.
It has a 17-liter fuel tank, 6-speed box, 39.3 hp, and a seat height of 815mm, making it an exceptionally good choice for shorter people.
There are other choices available but if you're in the market for an adventure bike it's definitely worth considering one of the above.