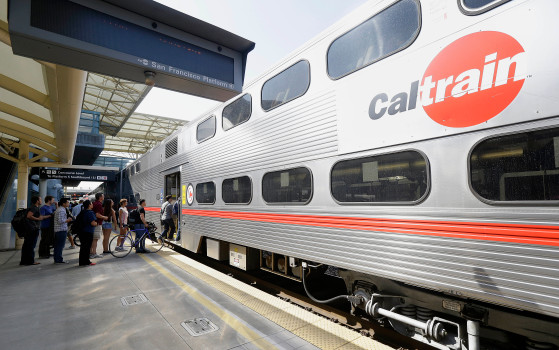 Caltrain passengers reacted with outrage this week after the agency unveiled a sweeping proposal, set to go into effect this summer, that eliminates more than half of existing train service, closes underused stations and raises fares for all passengers.
The agency warned of an ominous operating deficit of $35.7 million by the end of the 2012 fiscal year and told riders that it would be become impossible to afford to operate the current number of trains.
The Peninsula Joint Powers Board, which oversees Caltrain's operations, will hold a hearing March 3 to consider declaring a fiscal emergency, which would allow the agency to slash service and raise fares without conducting an environmental review.
The rail system lacks a dedicated revenue stream and relies on a combination of fare dollars and contributions from its three operating partners — MUNI, SamTrans and Valley Transportation Authority — to fund its operations. But available money for public transit has become scarce for nearly all operators — forcing unpopular service cuts and fare hikes that Caltrain riders fear could be enacted by the agency within months.
Many of them balked at a proposed timetable released this week that gutted the number of trains operated every weekday from 86 to 48 and put into question the future of the popular "Baby Bullet" service that currently gives passengers a faster ride between key stations along the route.
RELATED: Proposed Caltrain Timetable (off-site .pdf link)
RELATED: Proposed Caltrain Fare Increase Table (off-site .pdf link)
The proposed new schedule, set to go into effect on July 2, would only include limited stop commute-hour only train service operating from 5:45 a.m. to 9:30 a.m. and from 3:45 p.m. to 7:30 p.m. The last departure from San Francisco would leave the 4th and King St. Station at 6:30 p.m.
Included in the proposals being considered:
Eliminating daytime train service on weekdays and eliminating all service on weekends and holidays.
Shuttering seven stations that Caltrain officials deem as underused: Bayshore, South San Francisco, San Bruno, Burlingame, Hayward Park, Belmont, San Antonio, Lawrence, Santa Clara and College Park.
Eliminating rail service south of San Jose Diridon Station, which would close six stations: Tamien, Capitol, Blossom Hill, Morgan Hill, San Martin and Gilroy.
Raising base fares by 25 cents.
Ending special event services that carry riders to San Jose Sharks, Stanford Cardinal and San Francisco Giants games.
Who will serve the Peninsula?
If enacted, the service cutbacks would sever a lifeline for commuters who work off-hours or have no access to a car for long distance trips between San Jose, the Peninsula and San Francisco.
The region's bus operator, SamTrans, eliminated six of the seven commuter express bus lines that linked Peninsula cities with Downtown San Francisco in December 2009, during a round of service cuts triggered by a $28.4 million budget shortfall in the 2009-2010 fiscal year.
That forced many riders to switch to Caltrain, because there are few other public transit alternatives to commute between cities on the Peninsula and San Francisco.
The one surviving SamTrans express route is the KX route, which negotiates El Camino Real and Highway 101 to take passengers from the Palo Alto Caltrain station to the temporary Transbay Transit Center in Downtown San Francisco. From end to end, the bus trip takes 1 hour and 35 minutes, with buses leaving once every hour.
Another SamTrans route, the 292, takes just under 2 hours to go from the Hillsdale Shopping Center in San Mateo to Downtown San Francisco, including a jog around San Francisco International Airport's domestic terminals.
Employers take notice
Caltrain's highly-publicized money woes — along with those of most other California transit agencies — are forcing some of the Bay Area's largest and most prominent companies to get into the transportation business themselves to ensure that productivity doesn't suffer because their workers aren't able to commute to work.
Many of Silicon Valley's Internet titans have turned to private bus operators to provide company shuttles to carry employees from throughout the Bay Area directly to the workplace – mimicking a public transportation service with predetermined routes and scheduled departure times.
Employers bill the employee shuttles as another company perk that eliminates the long and often unpredictable waits at bus and train stations that are growing increasingly common as transit agencies slash service.
But private employee shuttles are still comparatively rare, since chartering buses and vans is too cost prohibitive for many companies outside of the prosperous tech industry. Those employers may be faced with a new dilemma if the proposed Caltrain cuts are implemented: with the last trains leaving each terminal at 6:30 in the evening, putting in longer hours for some employees may not be possible if they want a ride home.
Riders can weigh in
The Peninsula Joint Powers Board will hold four meetings at different locations in cities served by Caltrain to solicit feedback from riders on the proposed service changes and determine whether to move forward with the station closures, cuts and fare hike.
The meetings are scheduled for:
Monday, Feb. 14, 7 p.m.
San Jose City Hall, Council Chambers
200 E. Santa Clara St., San Jose
Wednesday, Feb. 16, 6 p.m.
San Francisco Municipal Transportation Agency, Atrium
1 South Van Ness Ave., San Francisco
Thursday, Feb. 17, 6 p.m.
Caltrain Headquarters, 2nd Floor, Auditorium
1250 San Carlos Ave., San Carlos
Thursday, Feb. 17, 6 p.m.
Gilroy Senior Center
7371 Hanna St., Gilroy
The Joint Powers Board meeting to determine whether Caltrain should declare a fiscal emergency is scheduled for March 3 at 10 a.m. at the Caltrain Administrative Office at 1250 San Carlos Ave. in San Carlos.