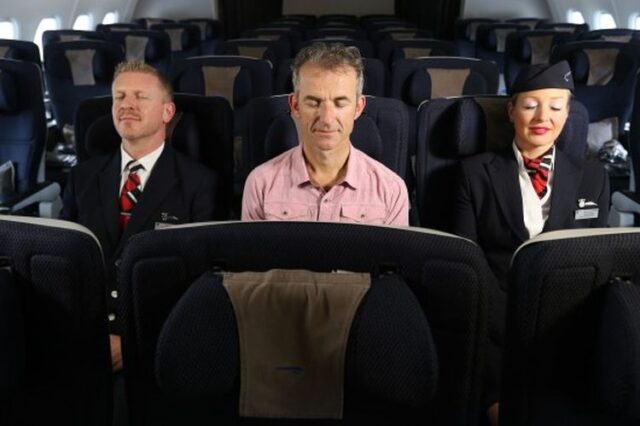 In the ever-so-stressful world of airline travel, British Airways has launched a new program to put the minds of its long-haul passengers at ease.
The man to help make it happen: Mark Coleman, a San Francisco-based mindfulness consultant who's been asked by the airline to provide fliers on its newest Airbus A380 and Boeing 787 Dreamliner jets with meditation techniques for a relaxed and positive state of mind.
Along with blockbuster hits and short TV programs, passengers flying long-haul on select British Airways flights can now watch Coleman's tips on how to prepare for the flight, relax during it, and unwind afterwards through the plane's in-flight entertainment system.
The Mindfulness Program videos are also available online through the airline's website.
"British Airways has extensive on-board entertainment options and wellness advice for flying, but mindfulness adds the benefit of helping customers prepare themselves before a flight and the adventure that awaits them on arrival," Coleman said.
Coleman's job is not easy.
But his message resonates with British Airways — which has already included well-being exercises, therapeutic audio playlists and a Flying with Confidence video in the personal in-flight entertainment selection — all methods to help its long-haul passengers relax.
The Mindfulness Program, though, is unique to British Airways and a first for the airline industry.
"The beneficial nature of mindfulness is increasingly being recognized by business professionals and we wanted to give our customers the opportunity to continue practices when they travel," said Caroline Titmuss, British Airways's Vice President of Marketing for the Americas. "Whether you are traveling for work or pleasure, mindfulness will help you be present and embrace the experience."
Airline representatives said it's too early to say what passengers think of the innovative program. With the March launch of its Airbus A380 service between London Heathrow and San Francisco, British Airways saw the perfect opportunity to bring the Mindfulness Program to Coleman's home audience.
Coleman believes getting ready for a stress-free flight starts at the gate.
"When you are waiting for your flight to take off, find a comfortable place to sit so you can center yourself," he said. "If you are in a busy section of the airport with a lot of movement or conversation, lower your gaze or close your eyes. At this point, you can begin to focus on your breathing, focus your mind on where you are going, and work with any stress or discomfort in a skillful way."