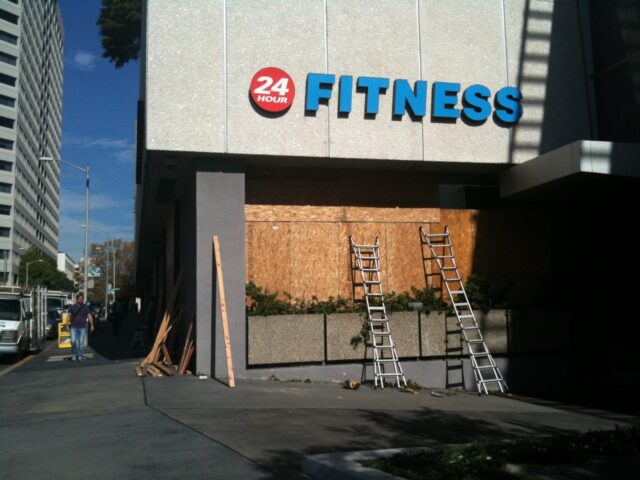 OAKLAND — Numerous downtown businesses took no chances and covered storefront glass with plywood Thursday afternoon in preparation for Friday morning's sentencing of former BART Police Officer Johannes Mehserle.
A handful of shops, including the 24 Hour fitness branch on Webster and 20th Avenue covered windows with boards and secured doors for what some shop owners fear could be another violent reaction from the public to the emotionally charged case.

Mehserle, now 28, was convicted of involuntary manslaughter by a Los Angeles County jury in July for the shooting death of Oscar Grant at the Fruitvale BART station on Jan. 1, 2009. Los Angeles County Superior Court Judge Robert Perry is expected to issue the former officer's sentence in his downtown Los Angeles courtroom sometime after 8:30 a.m.
The verdict touched off periods of rioting and vandalism throughout Downtown Oakland, leaving business owners in Oakland uneasy about what each development in the case could bring to their store fronts.
"We are prepared and are coming with enough resources to handle any potential problems," Oakland Police Chief Anthony Batts told KTVU Television Thursday morning.
Batts said the department was ready to handle any outbreak of rioting or violence that might occur after the sentence is issued in a Los Angeles County courtroom.
The Oakland Police Dept. was coordinating with other local law enforcement organizations in case they needed extra officers to quell potential violence on city streets.
A number of building owners in Downtown Oakland have told tenants and employees to be on alert in case they needed to evacuate the downtown area early. A mass exodus of Downtown Oakland office workers occurred when a Los Angeles jury returned a verdict on July 8.
A 2 p.m. rally at Oakland City Hall has been organized by the ONYX community group.