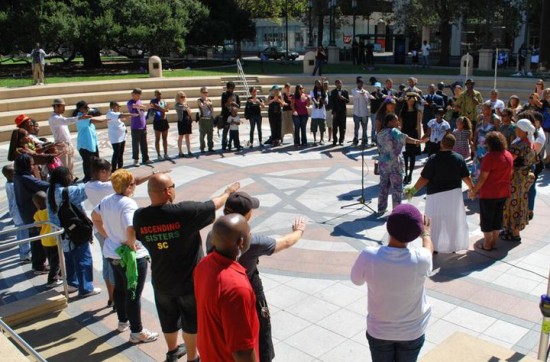 OAKLAND — A raucous public demonstration against the minimum sentence delivered to Johannes Mehserle turned into a nighttime march through the streets of Oakland Friday night, resulting in more than one hundred arrests and leaving two people injured, including a police officer.
Police estimate approximately 500 people gathered in front of Oakland City Hall at Frank Ogawa Plaza to decry Los Angeles County Superior Court Judge Robert Perry's decision to assign the former BART Police officer a two-year sentence with a 292 day credit for good behavior for the shooting death of Oscar Grant at the Fruitvale BART station on January 1, 2009.
"It's just outrageous," said Stan Woods, an Oakland resident who attended the event. "This just shows how the Bay Area isn't that different than the Deep South or Kern County. When it comes down to the question of protecting the police, it doesn't matter if it's Alabama or Los Angeles, they literally get away with murder."
The crowd, which assembled at 2 p.m. — approximately 90 minutes after the sentence was delivered to a packed courtroom in Downtown Los Angeles — reacted angrily towards Perry's decision to be lenient on Mehserle and to dismiss a gun enhancement charge that  jurors added to the involuntary manslaughter charge they convicted the former officer of.
"I think he should have gotten the maximum sentence," said Dr. Abu-Asad Amon, a research professor at U.C. Berkeley and Oakland resident. "If a black officer shot a white boy, he would have been fried."
After the rally ended, the crowd marched east on 14th Street towards Lake Merritt where some protesters said they were going to protest through the streets of Oakland to the Fruitvale BART station where Grant was shot to death.
BART, after learning of the plans to terminate the protest at the site, temporarily closed the station and set up a bus bridge to ferry passengers between the Coliseum Station and the shuttered Fruitvale Station, according to the agency.
A massive police response — which included officers from San Jose, Monterey County and other agencies — corralled the group of approximately 300 protesters near Laney College before they could proceed towards the station.
According to police, a splinter group broke from the main protest march and led officers into the area of 6th Avenue and East 17th Street, a residential neighborhood east of Lake Merritt. The group, numbering at least 150 in size, was quickly cornered by hundreds of riot gear-clad police officers who declared the gathering an unlawful assembly and the area a crime scene, and arrested 152 protesters who failed to disperse, according to police.
The individuals who were arrested were taken to the Santa Rita Correctional Facility in Dublin where they will be booked on charges that include unlawful assembly and disturbing the peace, according to the Oakland Police Dept.
"I am extremely disappointed again that people marched through the city and wanted to tear it up," Oakland Police Chief Anthony Batts told reporters during a Friday night press conference.
Minor vandalism to an AC Transit bus and seven businesses along the route marchers took were reported, Batts said.
One officer was accidentally struck by a car as he patrolled the streets at 7th Avenue and East 17th Street, Batts said, resulting in an minor injury to his knee. Another officer had his service weapon ripped from his holster and pointed at him nearby, the police chief said. Other officers detained the man who took the officer's gun and made a decision to end the gathering.
Downtown Oakland businesses boarded up storefront windows with plywood in preparation for the protest. Previous disturbances triggered by Mehserle case developments escalated into violent riots after protesters went on vandalism sprees through the business district.
Employees at many downtown office complexes were also ordered to leave their buildings early after news spread that a sentencing decision was imminent.