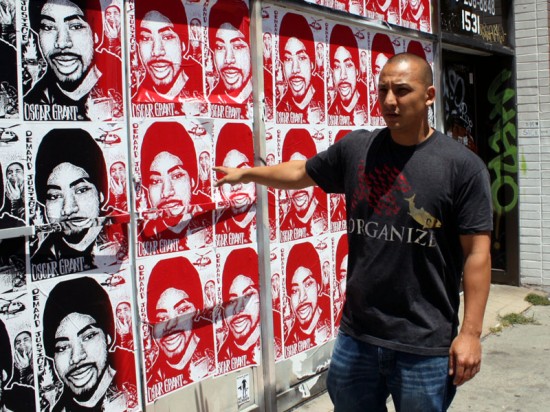 As a Los Angeles County jury begins to deliberate the fate of former BART Police Officer Johannes Mehserle, unprecedented steps are being taken to avert vandalism in the city where the entire saga began.
All day Thursday, business owners throughout Oakland prepared for a potentially violent response to what could be an unpopular verdict in the murder trial.
In Oakland's Fruitvale District, crews placed plywood over glass windows at Fruitvale BART station: the location where Mehserle shot Oscar Grant, an unarmed train passenger, on January 1, 2009.
Mehserle, 28, is white; shooting victim Grant was black.
At the gigantic Fruitvale Village development adjacent to the station, workmen were drilling screws into sheets of plywood at the De Colores Childcare Development Center.
The Cesar Chavez branch library located nearby Fruitvale BART Station announced it will be closed today, July 2 due to safety concerns.
On International Blvd., storefront windows were being covered at the T-Mobile store, and at a neighboring record shop.
Business owners said they weren't taking any risks.
"It's a shame we have to do this," said Mike McDonnell, as he hammered nails to pieces of wood covering windows at Oakland Auto Body at 11th and Madison Sts. "We're a family owned business. We've been in Oakland for over 50 years. I'd never thought we'd have to do this."
Other businesses in Downtown Oakland, Chinatown and Uptown Oakland are also taking precautions against any violence by boarding up windows, closing early the day the verdict is announced, or displaying posters that say "Justice for Oscar Grant."
Owners said the measures are necessary to avoid a repeat of what happened in the days immediately following the shooting last year: riots left cars ablaze and at least 40 businesses throughout downtown Oakland vandalized, causing hundreds of thousands of dollars in damage. About 100 people were arrested, more than 70 percent of which were not Oakland residents, according to the Oakland Police Department.
Sorell Raino-Tsui, who owns People's Choice Silkscreen and Embroidery Printing on Webster Street, plastered his storefront with Oscar Grant posters and scenes from last year's riots.
He said the mural both shows support and will hopefully deter any vandalism should rioting occur.
He printed 200 posters, he said, and after putting up about half on his storefront, he is giving the rest out to neighboring businesses.
"We might close down and have a party of people camped outside to make sure the building does not get vandalized," he said.
If city officials receive advance notice that a decision has been reached a couple of hours before the verdict is announced publicly, they will pass that information along to "key businesses," said Karen Boyd, Mayor Ron Dellums's spokesperson.
Boyd said concerns businesses have are related to transportation, not safety, as they may wish to send employees home early if they expect thousands of protesters making their way downtown.
"We're not expecting huge problems," Boyd said. "We're prepared. It's our job to be prepared."
But there's no immediate public safety threat, she said, and "everybody needs to stay calm."
Rumors that Dellums is urging downtown business owners to close early the day of the verdict are false, she said.
Grant family, city officials, civic leaders call for peace
Grant's uncle Cephus Johnson told the Beat that the family and its supporters have always stood for peaceful means of protesting.
"We know people are tired of police brutality," he said. "We know they're tired of people consistently dying and the police continuing to walk. But we as a family stand for nonviolence."
If Mehserle is not convicted of murder, Johnson said the community will continue its fight. "Even if it's an acquittal the movement for justice will not end — there's no need to destroy Oakland to keep pursuing justice. There are many people who have businesses in the community who have supported us. They don't need to have their property destroyed regardless of what the verdict is," he said.
The Black Elected Officials and Clergy of the East Bay released an open letter to the community Wednesday calling for peace on the day of the verdict. "We know that emotions may run high depending on the outcome of Johannes Mehserle's criminal proceedings," the statement read. "As such, we are asking that you work with us to shut down anyone who would engage in destructive behavior in our community."
The authors added they are prepared to work with all state and federal agencies to achieve justice for Grant if "an unjust verdict is rendered."
The group includes Oakland Councilmember Desley Brooks, Alameda County Supervisor Keith Carson and Minister Keith Muhammad, who has been inside the Los Angeles courtroom with Grant's family during the trial.
Councilmember Jean Quan sponsored a peace vigil Thursday in a pocket park in the Dimond district, near the Farmer Joe's supermarket where Grant worked before he was killed.
Activists, community groups prepare events
Sealli Moyenda, President for the International People's Democratic Uhuru Movement, is helping to organize a rally at 14th and Broadway in Oakland at 6 p.m. the day the verdict is announced.
Moyenda characterized the rally and subsequent march down Telegraph Avenue as "peaceful but militant" and said the organization is "by no means trying to instigate any violence."
There are fears of riots similar to those in Los Angeles following the Rodney King verdict, in which none of the four officers caught on videotape beating King were found guilty. Moyenda said those riots were "just a rebellion."
"There was no political outcome for the black community in LA," he said. Instead Moyenda said they want to provide a positive direction to channel people's frustrations.
"We understand when you're fed up with something, you're fed up with something," he said.
Yvette Falarca, Northern California coordinator for By Any Means Necessary, said if the court system will not provide justice to Grant, community members should be able to do so themselves in the streets of Oakland. She said they are participating in the 14th and Broadway rally and are planning a protest at the Fruitvale BART station the day of the verdict as well.
Several nonprofits and churches, including Arroyo Viejo Recreation Center, East Bay Asian Youth Center, Mosswood Recreation Center and Urban Services YMCA, are opening their doors the day of the verdict to invite the community to voice their opinions.
Youth Uprising is holding an event at 5 p.m. the day of the verdict, and said it is promoting peace out of respect for Grant's family. "Violence is not justice!" a flyer for the event reads.
There will be an open mic, music performances and live streaming of broadcast news coverage of verdict day.
Oakland Police, city government prepare for verdict trouble
The Oakland Police Department says it is doing its part to prevent the type of violence that occurred last year and has undertaken preparations they call "Operation Verdict."
Police will be out in force at public gatherings on the day of the verdict "to make sure people are peacefully protesting," said Oakland Police Public Information Officer Holly Joshi.
The department has constructed a temporary staging area for police and fire operations near the Port of Oakland — a critical "check-in" point for agencies around the Bay Area should mutual aid be needed.
On June 18, Oakland Police along with agencies around the Bay Area simulated a riot-like scenario at the staging grounds to allow officers to refresh crowd-control skills and prepare for different situations they may encounter.
The start of jury deliberations also equates to 12-hour shifts for all Oakland Police officers, Joshi said. Vacation for officers in the department have been called off, and surrounding law enforcement agencies have been put on stand-by mode should mutual aid be needed to quell potential violence stemming from the verdict.
Joshi said police are not anticipating riots, but because the situation is an emotional one, "fear is normal."
Late last week, city officials sent out tips for merchants and residents to keep their properties and vehicles safe should such violence occur.
The community bulletin issued last Friday advised residents to park cars in a secure location, remove large trash receptacles from the curb and report any vandalism or destruction they see by calling 911.
The merchant bulletin included phone numbers for businesses that help board up storefronts and advised letting employees know that they can close if they feel their safety is at risk.
"We will not tolerate destruction or violence," the joint message from Dellums and Police Chief Anthony Batts read. "We are united as a city and a community, and we are dedicated to ensuring the safe expressions of emotions during this difficult time."
The city's website warned against getting involved with "outside agitators" who will try to incite violence in Oakland.
"If a 'not guilty' verdict comes down in the Mehserle-Oscar Grant murder trial, we know many young people will feel a sense of outrage, anger and injustice," the message reads. "But the question is what do we do with our anger? Do we use it to make change or do we use it to destroy each other and our community?"
The Oakland Unified School District said it is erring on the side of caution and deploying additional staff from OUSD central offices and police services to school sites beginning tomorrow. In a statement the district said it cannot force students to stay in school and urged parents to communicate with their children to stay safe.
The Peralta Colleges have notified students not to come to class if rioting occurs.
BART is also preparing for possible violence to impact train service in the Bay Area. The transit agency is preparing to shut down stations in Oakland if it becomes unsafe for passengers to board or disembark trains, according to BART Chief Spokesperson Linton Johnson.
BART Police is among the agencies that will provide mutual aid to Oakland Police should the need arise.
In a statement, BART board President James Fang said the agency has taken steps to improve its Police Department and called for peace.
"Whatever the verdict, those of us who live and work in Oakland and who love this city must direct our energies and our emotion into constructive actions for change and progress," Fang said.
This past weekend about 11 messages written in red spray paint were found in the Lake Merritt area. The graffiti threatened violence if Mehserle is not convicted of murder, and contained messages as "Mehserle must die too," "Oscar's revenge: Mehserle's kid," "L.A. better get it right or else" and "No justice, no peace." By Tuesday the graffitti had been removed.
It is not known what individual or group is responsible for the tagging.