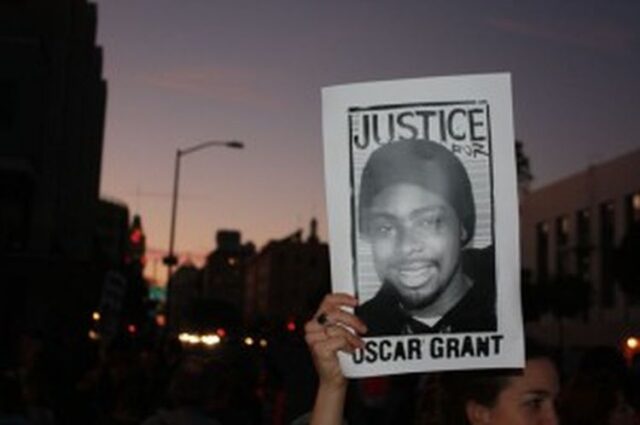 A 3 p.m. protest is being held at Fruitvale BART Station in East Oakland to demonstrate against the release of former BART Police Officer Johannes Mehserle on Monday. Mehserle, 29, shot and killed unarmed train passenger Oscar Grant on January 1, 2009, at the transit station.
A march will follow the protest to 14th and Broadway Streets in Downtown Oakland where a 5 p.m. rally will take place.
Mehserle is scheduled to be released from a Los Angeles County Jail Monday where he has been incarcerated for 11 months. This will be our live blog covering Sunday's protests in Oakland. Check back frequently for updates.
THIS LIVE BLOG HAS CONCLUDED.
UPDATE 1947 PDT — The crowd in Downtown Oakland has peacefully dispersed. There are only a handful of people left at 14th & Broadway Sts., mostly media. That's it for our live coverage of the protest. We will have a recap story up online shortly along with an expanded photo gallery of today's events.
UPDATE 1910 PDT — Protest organizers have called an end to the demonstration. They have asked marchers to leave the Downtown area. Oakland Police officers dressed in riot gear have come in and are encouraging demonstrators to leave.
UPDATE 1907 PDT — AC Transit buses have been brought in to shuttle the demonstrators back to Fruitvale BART Station for free. Broadway Street is closed from 12th to 17th Streets. Fourteenth Street is closed from Jefferson to Franklin Streets.
UPDATE 1857 PDT — Oakland Police have officially put the crowd estimate at 200 people. They report one arrest but said the event has been thus far peaceful. There is still a crowd gathered at 14th & Broadway Sts. with a large contingent of police monitoring them.
UPDATE 1808 PDT — A crowd of approximately 250-300 people has now moved into the intersection of 14th & Broadway Streets. Police are on the sidelines watching the demonstration.
UPDATE 1747 PDT — The protest in downtown Oakland, located at Broadway and 14th Street has grown in size.
UPDATE 1730 PDT — The protest march from Fruitvale BART Station has arrived at Frank Ogawa Plaza where they have joined hundreds of other demonstrators for a scheduled rally in front of Oakland City Hall.
The event has been peaceful so far, with only two arrests of men who are suspected of vandalizing a building on International Blvd.
UPDATE 1708 PDT — Oakland Police have detained a protester near International Blvd. and 2nd Avenue. Police suspect the man vandalized some buildings in town.
UPDATE 1655 PDT — The protest has been peaceful so far with no reports of arrests or vandalism. AC Transit has rerouted numerous bus lines in the Downtown Oakland area because of traffic delays being caused by the group of 150-200 marchers.
A complete list of AC Transit bus line reroutes can be found here.
UPDATE 1628 PDT — Protesters are entering the Downtown Oakland area after marching from Fruitvale BART Station. They will hold a 5 p.m. rally at Frank Ogawa Plaza.
"Of course he didn't serve enough time," said Danusia Lewakowsi, an Oakland resident. "It needs to be fair and just."
"Since Oscar's death I've been involved.. with at least 10 police shooting [cases], many of them questionable, some of them in the valley," said John Burris, the attorney retained by Grant's family in the civil suit against BART.
"But it's up to all of us to spread that message, to get that message further out from this community but out into other communities."
UPDATE 1603 PDT — A crowd of approximately 150-200 people is now marching away from Fruitvale BART Station en route to 14th & Broadway Streets. Organizers say they'll march along International Blvd. to Downtown Oakland.
Nearly all of them were critical of Mehserle's short term and early release.
"Mehserle definitely did not serve enough time," said Dominic Nicholas, an Oakland resident. "He took a life, he should have served life. If we let things slide they're just going to keep happening."
UPDATE 1556 PDT — Loud chanting of "We are all Oscar Grant!" is the rallying cry at Fruitvale BART Station. The group of 150 people is preparing to march to Downtown Oakland for another rally momentarily.
Beat Reporters at Fruitvale Station said there was a significant police presence monitoring the crowd of demonstrations.
UPDATE 1531 PDT — A number of speakers, including members of Grant's family, is addressing the crowd of protesters at Fruitvale BART Station. The group plans on marching to 14th and Broadway Streets soon to stage a 5:30 p.m. rally at Frank Ogawa Plaza.
We're hearing that a number of businesses around the Fruitvale and Downtown Oakland areas have closed early on Sunday in preparation for the protest.
UPDATE 1508 PDT — Approximately 100 people have gathered at the BART station as part of the Mehserle release protest. They are carrying signs and posters of Oscar Grant, the man slain at the station on New Year's Day 2009.