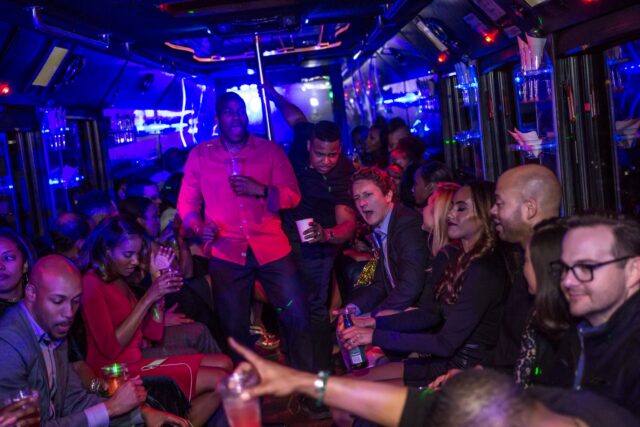 A bachelor party should be unforgettable. It is the chance to enjoy the night with your friends and celebrate before you become a married man and focus on family life. There are so many different ways to spend your perfect bachelor night and more and more people decide to hire a party bus. If you are not sure why should you do it, we have done the research, and here is what we have found out.
1. The convenience is guaranteed
When it comes to having the party of your life, it is necessary to have the convenience you need. If you already have in mind several locations you want to go to, you will need a ride. Since finding a taxi for all your friends may become pretty challenging, a party bus may be just what you need. This way, the bus will be outside, waiting for you and your friends to enjoy the party and proceed to the next one when you are ready. This will give you peace of mind and help you enjoy the party to the maximum. There will be no stress whatsoever, just a good mood and enjoying the party with your best friends.
2. The safety will be on the greatest level
Bachelor parties often involve lots of alcohol, so you can never be too careful when it comes to these things. Having the time of your life should also come with a certain caution. Protect your friends from getting in trouble because worrying about problems should be crossed off your list. Driving when you are drunk is definitely not an option and considering that professional chauffeurs drive the bus, you can be sure that you and your friends will be in good hands. You will be able to enjoy the night to the fullest without even thinking about anything else.
3. You will be able to enjoy a private party
Considering that party buses have lots of room inside, your friends will have plenty of room for socializing, talking, dancing and simply enjoying a nice time. There are also numerous opportunities for decorations, so you can fully participate in the way the bus will look. Personalize the party to the greatest extent and enjoy every minute of it. Not only you will have the lights of your choice, but you will also be able to enjoy the music and the drinks you want, which will certainly warm up the atmosphere.
4. You will completely avoid stress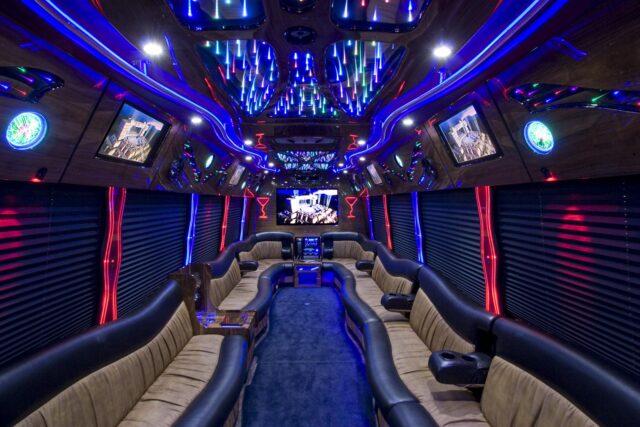 When you have several places planned out to visit, think about the organization. You will need to find a safe place to park and that will be repeated numerous times until the party is over. Who would want that at the moment when such an important event is going on? Well, we certainly can't think of anyone. If you rent a party bus, you can be sure that you will have someone reliable to take care of that for you, while you are focused on enjoying the night.
5. You can carry with you anything that you'd like
Party buses are huge. That is a great advantage since you will be able to take with you all the clothes you want. You may want to start partying fully dressed up in a suit and being as stylish as you want, but as the night progresses, you will probably want to change to something more comfortable and enjoyable.
Besides, some of your friends may have a health condition that requires constant care and regular medications. It is necessary to think about providing the greatest comfort to all your friends and enable them to have a great time. They will be able to carry all the important things and be completely relaxed knowing that their personal belongings will be safe while they are out partying.
6. There will be no confusion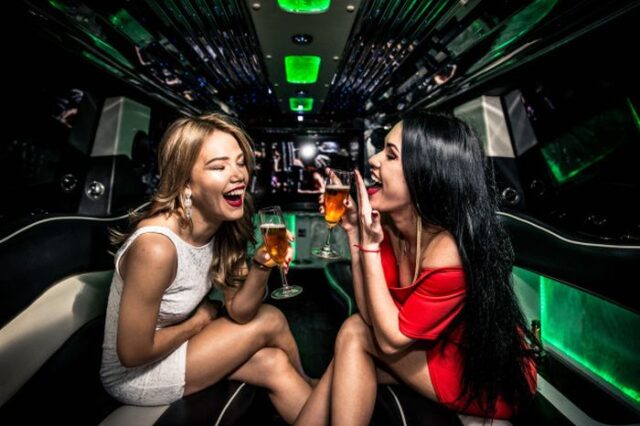 When you are organizing a party and inviting people to join, some of them will probably be confused about the locations you are suggesting. It can be quite challenging to find all the places you want your friends to come to. This way, when you rent a party bus, you will be able to pick up your friends from home and then hit the locations you have planned out. There will be no waiting for anyone, calling to see where they are and looking for them around the city. If you rent a bus, you will have all your friends in one place, so there will be no waiting or stressing out because they are not able to find the taxi to come to the agreed location.
7. You will be able to invite lots of people
As mentioned before, buses have plenty of room, so you will be able to invite up to 30 people, which is great. Otherwise, you would need to cut down the list of people who should join you and that is certainly not pleasant. A bachelor party should be all about enjoyment and having a great time, so having the people you love around you can make the evening unforgettable. It will be a perfect opportunity for making memories and simply making the most out of it.
These are the most important factors to consider when thinking about renting a party bus for your bachelor party. If you would like to find out more about it, click here for more information libertypartybus.com. It is definitely the option worth exploring and since so many people so far have enjoyed it, it is no wonder why its popularity increases. It is a chance for you to organize an incredible party and don't worry about things such as finding a good parking place or meeting up with friends. The fact that you will be together on the bus will make it much easier for you to just keep going and make sure that everyone is enjoying the night you will remember your entire life!