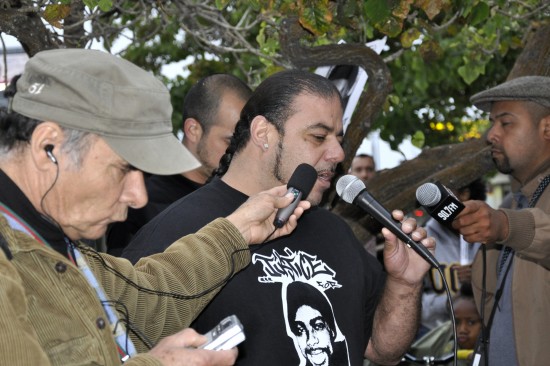 The response in Los Angeles to the involuntary manslaughter conviction of former BART police officer Johannes Mehserle was largely peaceful.
Mehserle was charged with second degree murder by the Alameda County District Attorney's Office for fatally shooting unarmed BART passenger Oscar Grant last year, but after six and a half hours of deliberation the jury found him guilty of involuntary manslaughter Thursday.
News of the impending verdict came Thursday about 2:30 p.m. and security cleared the Clara Foltz Criminal Justice Center and increased its presence around the building. When the decision was announced protesters outside the courthouse — many of them having demonstrated regularly throughout the trial — looked visibly upset, intensifying their chanting before organizer Aidge Patterson emotionally addressed the throng of media representatives present.
Patterson told the Beat finding Mehserle guilty involuntary manslaughter was "a complete injustice and mockery of this supposed justice system."
"If it was one of us who shot somebody in the back while they were lying on the ground, unarmed, unprovoked, we would be in jail most definitely for murder, probably for life," he said.
The standard sentence for involuntary manslaughter is two to four years in state prison. However, since the jury also found Mehserle personally used a firearm during the crime, three, four or ten years could be added to the sentence. The date for his sentencing hearing was cancelled and has not been reset.
Demonstrators made their way to Leimert Park in south Los Angeles, where about 75 people gathered to lament Grant's death and voice opposition to the verdict. Mehserle deserved a harsher sentence and Grant's death is part of a larger struggle against policy brutality, many of them said.
While most protesters chanted and listened to speakers, members of the Black Riders Liberation Party, which identifies with black bloc tactics, marched in formation as they took their message from the courthouse to the park.
Summer Reiss, director of the Pacifica Foundation National Board, travelled to Los Angeles as a reporter but said she attended the rally as an activist.
"I think that a fair evaluation of the evidence — watching that videotape — I expected a fair jury to come in with a voluntary manslaughter verdict. I didn't think they'd find second degree murder but I didn't think they could possibly find involuntary manslaugter. I was really surprised," she said.
"There was nothing involuntary about his actions; he voluntarily pulled his gun and shot Oscar Grant," she added.
Jack Bryson, whose sons Nigel and Jackie Bryson were were friends with Grant and witnessed his shooting, addressed supporters at the rally, thanking them for coming out and supporting the family.
Bryson told the Beat that though he first felt no satisfaction at watching Mehserle being taken away in handcuffs following the judge's orders, he now sees the precedent-setting case as "somewhat" of a victory since the ex-cop was not acquitted.
"[Mehserle's] thinking about it right now in his cell. He's thinking about it and he's regretting it," he said.
But in the end, he said, the situation has been devastating for everyone involved. "No one really wins. No one," he said.
Cuate Juarez of the October 22nd Coalition to Stop Police Brutality called the verdict "confusing."
"On the one hand it's like you feel this burst of joy because it's the first time that a cop gets tried for murder and a guilty verdict comes out," he said. "But then you really start looking at it systematically and realize it's their system. They manipulate it in a way where they leave these jurors so very little to work with."
He said he thought more of Mehserle's past should have been discussed as evidence since Grant's 2006 Taser incident was allowed into court record. View court records on this page.
It's been a point repeatedly brought up by Grant's family and other activists.
The rally lasted past sundown, with many still present after 10 p.m.
In Oakland, peaceful protests turned violent after nightfall when a group of about 50 people threw bottles at police, smashed windows, looted businesses and tagged graffiti downtown.
Police agencies from neighboring cities responded to Oakland to provide mutual aid.
In LA, several protesters said they would not decry people who express their anger through vandalism.
Though Patterson said law enforcement was staged throughout the area in case violence erupted, less than ten officers kept hands-off visible watch of the gathering at Leimert Park.