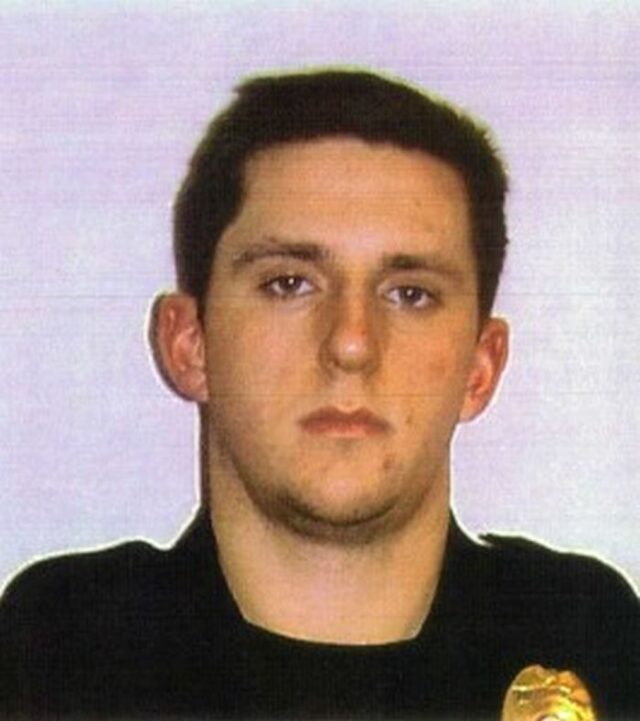 LOS ANGELES — A Los Angeles County Superior Court judge sentenced former BART Police Officer Johannes Mehserle to two years in state prison Friday for the killing of unarmed train passenger Oscar Grant in 2009.
He will get 292 days of credit for time served and good behavior, which could translate to a prison sentence of a little more than a year for the former police officer. It's possible Mehserle could be eligible for parole after serving half of his sentence — slightly more than seven months.
Mehserle, who appeared in court with his attorney Michael Rains for his sentencing date, will be remanded to the custody of the California Department of Corrections of Rehabilitation where he will be assigned to a state correctional facility to serve his term.
It was unclear Friday afternoon when the transfer of custody would happen.
Judge Robert Perry, who presided over Mehserle's trial this summer, issued the sentence before a packed courtroom of family members, press and community members.
"My decision today will not be received well by many people, and I'm sorry for that," Perry told the court after the sentence was read. "All I can say is I did my best."
The judge said he believed the defense's argument that Mehserle mistook his gun for his Taser.
"The evidence that this was an accidental shooting […] is simply overwhelming," he told the courtroom.
Perry cited a list of factors, including his belief that "Mr. Grant was resisting," and that former BART Police Officer Anthony Pirone was in the line of fire when Mehserle used his weapon, as evidence that the shooting was accidental.
Perry denied various defense motions for a new trial, but overturned the jury's finding that Mehserle intentionally used a firearm during the shooting, citing his belief that the shooting was accidental. The firearm enhancement could have added up to 10 years to Mehserle's prison term.
In discussing the potential of a new trial given new defense evidence of a Kentucky court case involving a police officer mistaking his gun for his Taser, Perry said evidence already submitted at trial was sufficient to prove the jury's verdict of involuntary manslaughter and that the new evidence would not have provided additional insight to jurors.
The sentence so angered members of Grant's family that most present walked out of the courtroom during the reading of the sentence.
At a press conference afterward, Grant's mother Wanda Johnson did not speak, but Grant family attorney John Burris said she and other family members arrived at the courthouse today with "a degree of resignation."
Burris said the decision not to impose at least a four-year aggravated term was shocking, but not surprising, and sent a message that "Oscar Grant's life is not worth very much."
Grant's uncle Cephus Johnson said he also wasn't surprised. "I believe it's a racist criminal justice system," he said.
But Mehserle's defense attorney Michael Rains wasn't entirely pleased either. "Johannes Mehserle is still in custody," he said to a group of reporters, adding that "I can't be happy" until Mehserle is free.
Rains promised to appeal Mehserle's involuntary manslaughter conviction.
The prosecution is also expected to appeal the gun enhancement dismissal, but Deputy District Attorney David Stein has not spoken since today's sentencing was announced.
Grant family members, Mehserle speak about the impact of the shooting
Before the sentence was passed, Grant family members and Mehserle himself spoke regarding the impact the shooting has had on their lives.
Wanda Johnson told the court she still thought about her decision to tell Grant to take BART on New Year's Eve. "What if I had never told Oscar to take BART?" she tearfully asked.
"I live every day of my life in pain," she said, because "the very people who are supposed to protect and serve […] took his life."
Addressing Perry, she said "I beg you to impose the maximum sentence."
Cephus Johnson expressed anger at Perry's earlier admission that his instructions to the jury regarding the firearms enhancement may have been in error. Raising his voice, he told Perry, "I am hurt to hear you say you failed."
"We're all doing the best we can under difficult circumstances," Perry replied.
Mehserle, his voice breaking, expressed regret for the shooting. "I'm not proud of what happened," he said. "Regardless of my intentions, I failed. As a result, a father and daughter will never know the joy of growing up together."
"I with all my heart always have been and will always be sorry" for taking Grant's life, he told the court.
He tried to assure the court that his actions were not racist. "I personally experienced a great deal of teasing […] because I was different" as a child, he said, saying that he acted as he did toward Grant because of Grant's behavior on the platform.
That explanation did not sit will with the Grant family. "He did not take responsibility for his actions," Cephus Johnson said at a press conference afterwards. "He put it back on Oscar. He put it back on the young men on the platform."
Perry expressed disappointment with both Mehserle and Grant supporters as he read excerpts from many letters and postcards he received, including more than a thousand asking that Mehserle be given the maximum possible sentence. Perry said he was troubled by how polarized the community was and by the misinformation many believed.
Many seemed to view the case how they wanted to, without taking all actual facts into account, Perry said.
Burris said this ruling "will only contribute further to that polarization."
Protesters waiting outside the courthouse immediately expressed disappointed after hearing news of the verdict.
"I just can't believe [Mehserle] can take someone's life and just go to jail under the best circumstance possible and get out a couple months after sentencing," said Freedom Rios with the LA Coalition for Justice for Oscar Grant.
"I hope he remembers what he did and can't escape his conscience."
The former officer was convicted of involuntary manslaughter with a weapons enhancement on July 8 by a Los Angeles jury for the shooting death of Grant, an unarmed train passenger, at the Fruitvale BART station on January 1, 2009 in Oakland.
The incident was captured on numerous video recorders and disseminated throughout the world. The video sparked widespread protests and rioting throughout Oakland in the days following the shooting. Later, protests broke out in response to the jury's decision to convict Mehserle of involuntary manslaughter with a weapons enhancement — and acquit him of murder — in July.
Mehserle is white, while Grant was black. The controversy over the killing took on racial overtones and unleashed long-held animosity between many city residents and law enforcement.
The former officer, now 28, has been jailed at a Downtown Los Angeles jail since the day the verdict, awaiting today's sentencing for the crime.