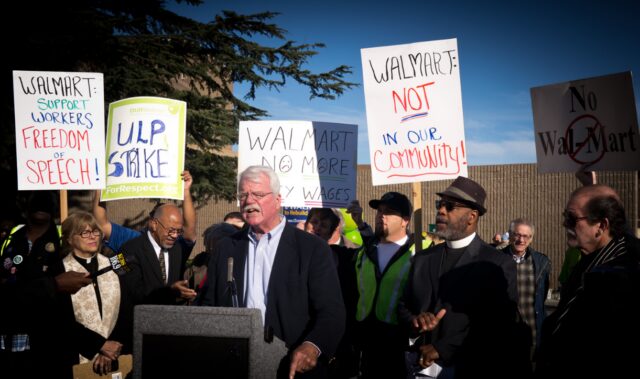 Amid the Black Friday shopping frenzy, workers, protesters, labor groups launched what they called a nationwide strike against big-box retailer Walmart in protest of the company's treatment of employees.
The company said the strikes, which took place at select stores around the country, were "made for TV" events attended largely by non-Walmart employees.
"The number of associates that have missed their scheduled shift is more than 60 percent less than Black Friday last year," said David Tovar, Vice President, Corporate Communications for the company.
But the group Organization United for Respect at Walmart (OUR Walmart) — an association formed in response to what some Walmart employees call troubling working conditions at stores — is calling for better pay, hours and treatment of workers.
"I'm not working today to protest against Walmart's attempts to silence and retaliate against associates who have spoken out against things like Walmart's low take-home pay, unpredictable work schedule, and unaffordable health benefits," said Raymond Bravo, who
joined a group of 150 strikers at the Walmart store on Hilltop Mall Rd. in Richmond. "I believe in a better Walmart and that attempting to silence and retaliate against associates who want to make Walmart a better place to work takes the company in the wrong direction."
The Richmond store protest was one of four in the Bay Area organized by OUR Walmart, but the events also brought out long-held sentiments about the nation's largest big-box retailer and its impact on local communities.
"When we shop here, we are subsidizing a multi-billion dollar corporation," California State Senator Loni Hancock said. "It isn't about survival for them, it's about greed."
The retailer said late Friday it had its strongest Black Friday sales ever, buoyed by early store openings on Thanksgiving Day and a new "one-hour guarantee" for shoppers that locked in a price on several doorbuster deals so long as shoppers were in the store late Thursday.
"It was proven last night – and again today – that the OUR Walmart group doesn't speak for the 1.3 million Walmart associates," Tovar said in a statement. "We had our best Black Friday ever and OUR Walmart was unable  to recruit more than a small number of associates to participate in these made for TV events."