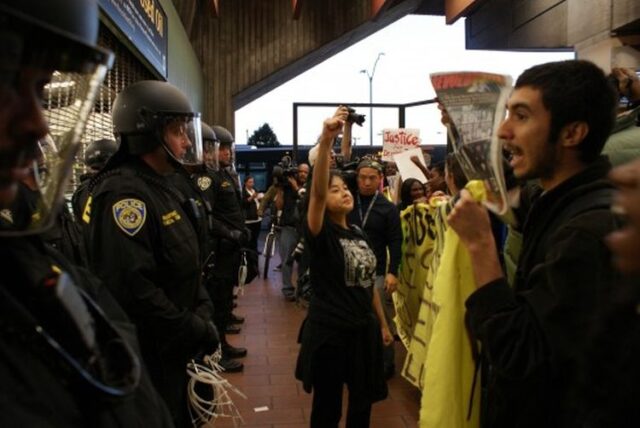 OAKLAND — A protest organized in response to the fatal officer-involved shooting of an Oakland barbershop owner by two city police officers forced the temporary closure of the Fruitvale BART station. The station reopened shortly after 6 p.m. when the rally ended.
The protest originated this afternoon at Derrick Jones's barber shop on the 5800 blocks of Bancroft Ave. and ended at the BART station — the site of where another unarmed man, Oscar Grant, was shot and killed by former BART Police Officer Johannes Mehserle in 2009.
Jones, 37, was shot and killed by two Oakland Police officers who said he was reaching for a weapon during a foot chase near his shop. Police said no weapon was found.
The crowd is estimated to include 50-75 protesters in size and has remained vocal but peaceful.
Police, from BART and Oakland, are monitoring the rally at the station.
Train service was bypassing Fruitvale Station as of 5:30 p.m. A bus bridge was being set up to ferry passengers to and from the station. AC Transit bus service was also diverted from the loading zones at the station.