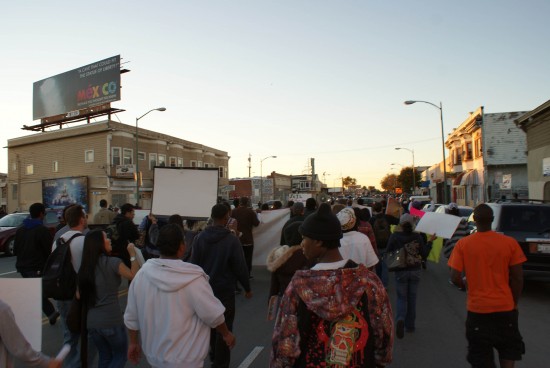 Nearly one hundred people marched to the Fruitvale BART station today to protest the fatal shooting of an unarmed East Oakland barber by Oakland Police earlier this week.
Derrick Jones, 37, was fatally shot in the chest by two Oakland Police officers Monday evening after authorities responded to a domestic dispute call between Jones and his ex-girlfriend at a corner laundromat next door to the barbershop he owns on Bancroft Avenue.

The police department says that when officers approached him at about 9:40 p.m., Jones fled on foot to nearby Trask Street, where he repeatedly reached for his waistband, prompting officers to fire at him. But Jones was unarmed, and while police say a metal object was found on him, they have not yet released what that object was.
The march began at Kwik Cuts, his barbershop on 5815 Bancroft Avenue, where friends and family of Jones, as well as community organizers, spoke to the crowd to decry what they see as another unjust killing of a black man at the hands of police.
The shooting came three days after a judge sentenced former BART Police Officer Johannes Mehserle to two years in prison for fatally shooting unarmed train passenger Oscar Grant at the Fruitvale BART station in 2009.
Protesters remained calm and peaceful along the route, turning right onto Seminary Avenue before heading up International Boulevard, eventually taking over the entire street as they made their way to the Fruitvale BART station, which officials temporarily closed while a rally was staged there.
Authorities say Jones beat his ex-girlfriend so badly he tried to kill her. But friends and family don't buy it — they say not only was Jones patient with the woman even though she had been harassing him for several hours that day, but such violence was out of character for him.
Jones's uncle Sam Jones, a minister, said he was "perhaps the most mild mannered" one out of six brothers and sisters. He said Derrick Jones supported his family and was well-known in his East Oakland neighborhood.
He grew up on 79th Avenue and had been cutting hair since he was 17; it was his passion since high school and he later opened up his own business. "That barbershop was his life," Sam Jones said.
While Sam Jones said his nephew had dabbled in drug use in the past, in terms of "using violence and using aggression — what we think of as real criminal activities — that was not Derrick."
Ronald Mack, Derrick Jones' neighbor and friend, said Jones was a loving father who often babysat his daughter while he cut hair.
"He was an entrepreneur who loved what he did and loved his customers and his family," he added.
Mack said the woman's 911 phone call was "bogus" and she used the system to her advantage to try and get Jones in trouble since she knew he was on parole.
Mack was in the barbershop that afternoon from 3 to 7 p.m. and witnessed the woman damaging the shop, threatening Jones and refusing to leave, he said.
She even struck Jones in the face, hit him with a cane and brandished a kitchen knife Jones kept in the shop for the times he would barbecue on the sidewalk for customers and friends, Mack said, and "he still did not react. He was a real man."
Camelia Mencui, who dated Jones for five years and is the mother of his two-year-old daughter Demi, said he was not a violent person and had never hit a woman.
She speculated that he might have ran from police because he did not want them to find marijuana that he had in his possession.
She and other members of Jones' family and friends believe the police department is trying to smear Jones in an effort to cover up their mistake in drawing a firearm on him.
The family said they won a harassment case against the police department in the 1980s that resulted in the investigation and firing of two officers. Police had accused Derrick Jones of stealing a motor-scooter parked in front of his house, which his father had given him, the family said.
Tanya Jones-Saheli, Derrick Jones' older sister, said "If you knew Derrick, you knew what kind of person he was."
Police said Jones was on parole for a gun conviction, but the family says he committed no crime that warranted his death.
"It's irrelevant. It is not a license for him to be shot, killed and the evidence covered up," Jones-Saheli said. "It will be a huge embarrassment [for the Oakland Police Department] when the facts do come out."
Mencui also said the reason Jones possessed a gun was for self defense, obtaining the firearm after he had been robbed multiple times, including while she was pregnant. When police found it, he was handed a 10-month prison sentence, she said.
Ammar Saheli, Jones' brother-in-law and pastor of the West Oakland Church of Christ, said the killing was "an absolute tragedy."
"People can talk about making a mistake, but at the end of the day Derrick is not coming home," he said. "A son is gone, a father is gone, a nephew is gone, a friend is gone."
Jones-Saheli said the family will fight to bring justice for her brother. "I went to law school because of this. I have a black husband and black children who I need to protect," she said. The family has already been in contact with John Burris, the Oakland civil rights attorney who is currently representing the Grant family in a civil suit against BART.
The officers who killed Jones are currently on paid administrative leave while police homicide and internal affairs investigators as well as the Alameda County district attorney's office review the incident to see if it warranted using deadly force.
Jones' death marks the third fatal officer-involved shooting in Oakland this year.
Organizers with the civil rights advocacy group By Any Means Necessary (BAMN) are planning another rally for tomorrow at 3 p.m., also in front of Jones' barbershop.
UPDATE November 12 — 13:15 PDT: Police said today that Jones did in fact have a glass jar containing marijuana in his pocket at the time he was shot. They also said the "shiny" metal object found on him was a small electronic scale, commonly used to weigh drugs.
The San Francisco Chronicle reports unnamed sources have identified the officers involved in the shooting as Omar Daza-Quiroz, who has been with the department for four years, and Eriberto Perez-Angeles, who has three years on the force and is a member of the SWAT team. The police department has not officially released their names.