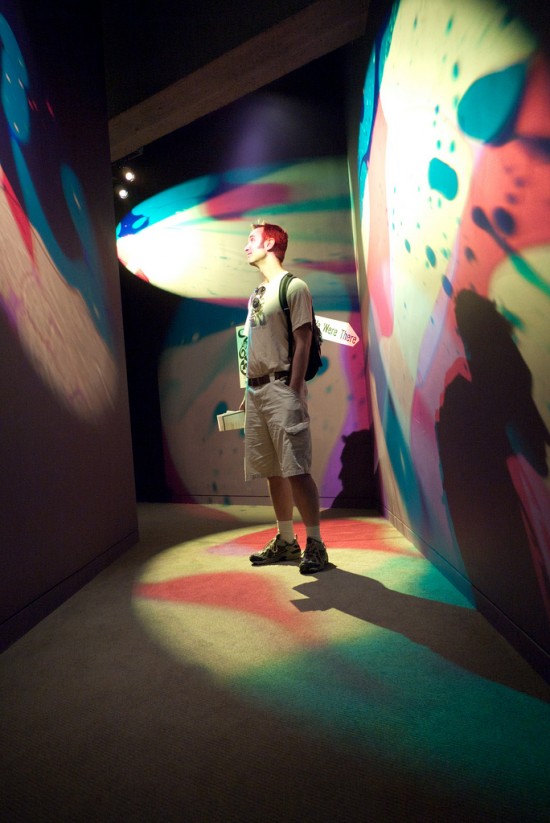 After a major $62.2 million two-year transformation, the Oakland Museum of California reopened its doors to the public this weekend.
The consensus amongst museum visitors was clear: the renovated museum is impressive.
This weekend's grand reopening celebration featured 31 continuous hours of free events and activities that started at 11 am Saturday lasting through 6 pm Sunday.  Informative lectures, lively entertainment, games, activities, and food were all part of the festivities.
Inside, visitors were treated to a myriad of displays and old favorites that returned to the museum in its latest incarnation.
There are also many new innovative exhibitions including a number of OMCA's new interactive art and history exhibits. Exhibitions that reflect the experiences of different migrant groups supported by multi-lingual wall text in English, Spanish and Chinese.
A variety of new acquisitions will be on display throughout the redesigned galleries.  Additions to the art department will be featured later in the Art "Open Space" galleries.
The gallery of California Art showcases more than 800 works from OMCA's collection-one of the largest holdings of California Art in the world.
The California History gallery is based on the theme of coming to California-an idea that evokes coming to terms with the influence of California on our individual and collective identities.  It showcases more than 2,200 historical artifacts, works of art, ethnographic materials and original photographs from the OMCA's permanent collection — the largest, finest, and most comprehensive collection of California cultural material.
Canned Spinach, a work by celebrated landscape architect Walter Hood welcomes visitors at the new entrance on Oak Street.  The new mono-crop of spinach planted in a field of galvanized "cans", will grow overtime and supply the new museum cafe with plenty of greens. The interactive piece references Oakland's history as a western center of fruit and vegetable canning.
The gallery of California Natural Sciences will open in 2012.  The gallery will focus on several specific locations in California, reflecting the enormous breadth of California's habitats, featuring current scientific research and conservation initiatives underway in these places. The insight from museum scientists may inspire visitors to learn more about California environments and get involved in protecting them.
OMCA's popular Friday night programming will move to the second Friday of each month starting June 11.  Admission is free on the first Sunday of every month beginning in June.