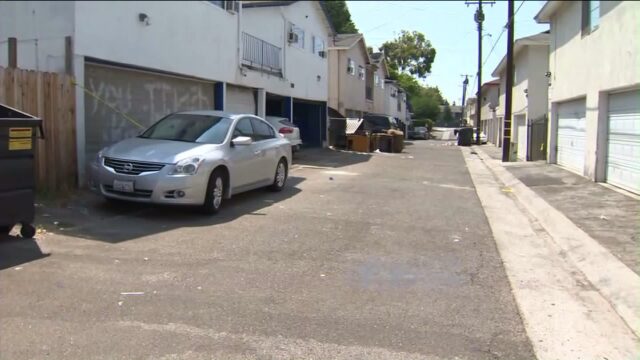 The violence capped off a UC Berkeley fraternity party this past Saturday morning after a student was attacked and stabbed once in the abdomen by three men who have since been arrested by police.
Berkeley and University of California Police Officers responded to the 1:15 a.m. incident to find the UC Berkeley junior suffering from a stab wound at the intersection of Channing Way and Piedmont Ave near the Cal campus.
The victim had been attending a party at the Kappa Sigma fraternity when he was attacked, according to published reports that provided more details about the incident.
The UC Berkeley student newspaper, The Daily Californian, reports that the victim "lifted his shirt and blood poured out" when he was trying to tell a nearby witness what had happened.
Police quickly responded to the incident. They arrested three people that night: Carlos Guzman, 22, Fernando Ramos-Hernandez, 21, and Christian Woodward, 21.
Woodward, a resident of San Francisco, is being charged with assault with a deadly weapon in the attack, according to published reports.
The Berkeley Voice reports that the victim was transported to Highland Hospital in Oakland and is expected to recover.
Saturday morning's incident was not the first time that violence has marred Berkeley's fraternity row.
On May 3, 2008, a UC Berkeley senior and member of the Sigma Pi fraternity house was stabbed to death outside the Chi Omega sorority house after confronting another man who was feuding with fellow frat members. There were several parties occurring in the area that early Saturday morning around 2:45 a.m. which attracted large groups of people.
After heated language was exchanged, the suspect brandished a knife and then stabbed the aspiring Nuclear Engineer.
Christopher Wooton, 21, died at a local hospital from a knife wound to the upper chest.
An outpouring of condolences poured from throughout the campus community after his death which rocked the UC Berkeley Greek community and raised questions about safety and security of frat row events which tend to attract large groups of outsiders and nonstudents to the popular parties.
A UC Berkeley student who oversees fraternal life at Cal tells the student newspaper: "Those that hold unregistered parties should be fully aware that they have to do security on their own," Kabir Seth said. "They should be vigilant."
A Berkeley City College student, Andrew Hoeft-Edenfield, 21, was arrested in connection with Wooton's stabbing death days after the killing, and it does not appear that the three men who were arrested in Saturday's night stabbing incident had any connection to the UC Berkeley community.
It's leaving heightened concerns about how to keep people safe on frat row.
UC Berkeley student Brandy DeOrnellas, Wooton's girlfriend, is one of those who feel the lasting effects of violence near the Berkeley campus.
"I've learned to have faith that you are not gone, however, just off in a distant place where I cannot join you yet," she writes on his MySpace.com profile. "With a clearer mind, greater faith, and greater understanding, I realize this is far from reality. You have not left me."
"You are with me. A part of me."