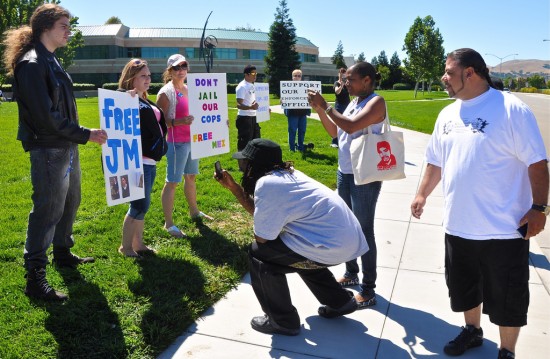 A crowd of about 20 advocates for Johannes Mehserle gathered in Dublin yesterday to show their support for the former BART police officer in jail for killing an unarmed train passenger last year.
The rally was held in front of Dublin City Hall; it was the third public demonstration in Mehserle's defense since July 8, when a Los Angeles jury found him guilty of involuntary manslaughter for fatally shooting Oscar Grant.
Organizers say such demonstrations will continue until Mehserle's release, and are one component of a campaign recently launched by a small group of activists working closely with the Mehserle family to reverse his criminal conviction and free him from custody without a prison sentence.
Previous rallies were held in Walnut Creek and San Jose.
Mehserle's sentencing is scheduled for November 5 at the Los Angeles Superior Court.
Giving Mehserle prison time would be a mistake, said several of those present at yesterday's rally, many who declined to give their last names out of fear of retaliation by Grant supporters.
"I personally would support him having no time in prison," said Dublin resident Michelle. She said she felt probation would be "more than stringent enough for Johannes."
"I think Johannes has suffered a great miscarriage of justice. He was thrown under the bus by the district attorney" due to political pressure from the Oakland community, Michelle said.
The Alameda County District Attorney's Office charged Mehserle with murder in January 2009, weeks after violent protests rocked Oakland, demanding Mehserle face criminal charges.
For many presents, the case holds weight because of its implications for law enforcement officers across the state.
"It's not only showing support for Johannes, it's showing support for our officers," said Tanya, who has relatives in law enforcement. "Our officers are often not recognized for the work they do. All of our officers have a stake in this verdict."
Tanya was instrumental in creating a new website in support of Mehserle, www.justice4johannes.com.
The site is quickly becoming another vehicle for Mehserle supporters to reach out to the public. It provides a link to a petition addressed to Judge Robert Perry, who presided over the former officer's murder trial, that requests "that former BART Police Officer Johannes Mehserle be set free immediately and that all charges are overturned."
According to Tanya, the petition has more than 450 signatures.
Other features of the site include a donation fund for Mehserle and his family and a photo gallery of the ex-officer with his young son, born the same day Grant lost his life.
"Our goal is to get his side out to the public so they can get to know who he is as a person," Tanya said.
But not all who showed up for the rally shared her empathy for Mehserle.
Four Grant supporters made a brief appearance to photograph those at the rally and challenge their point of view. Among them was Jack Bryson, the father of two of Grant's friends present on the platform with Grant when he was shot in the back and who are pursuing charges against the transit agency.
"You're supporting a murderer," he said to the attendees as he walked down the sidewalk of Dublin Boulevard where they were lined up.
It was about the only dialogue between the two sides, and Bryson and his group left after about 10 minutes.
"We didn't get to dialogue the way we wanted to," Bryson said later that evening.
He said he and the other Grant supporters left shortly due to the small size of the rally.
"Fifteen people? Come on now. If they really had support, they would be out there in big numbers," Bryson said. "And why won't they come out to Oakland? The crime happened in Oakland. Instead they go out in front of all these white communities and police officers to try to drum up support."
But pro-Mehserle ralliers insist that any racial tensions are originating with the Grant supporters.
"First of all, [Bryson] came out here wearing a 'La Raza' shirt which shows me who the racist is," said Don, a Mehserle supporter. "Secondly, if the guy [who got shot] was named John Smith and had blond hair and blue eyes I don't think this same guy would be out here protesting."
Race has been a major point of contention throughout the case. Many Grant supporters believe the shooting would not have occurred if Mehserle were not white and Grant not black.
Mehserle supporters like Don disagree.
"If Mehserle chose the wrong weapon, he chose the wrong weapon. It was an accident," he said. "It has nothing to do with skin color."