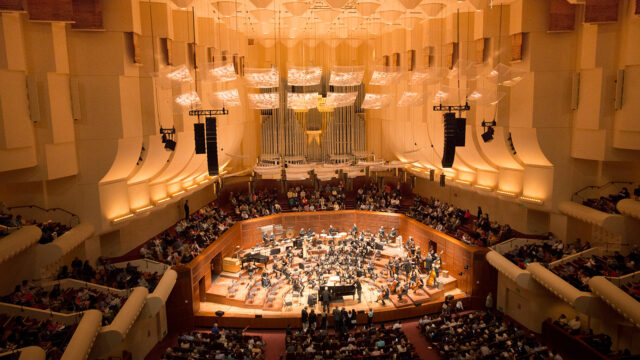 The San Francisco Symphony's 6.5 Series continues to offer an eclectic blend of old warhorses and new compositions. Held on selected Fridays at 6:30 pm, the shows offer a comfortable medium for patrons interested in a more adult affair than the Music for Families series, but a more relaxed atmosphere and dress code than a formal Symphony Concert.
This Friday's concert featured Edwin Outwater conducting Gounod's Ballet Music from Faustalong with more contemporary fare like Vivier's Zipangu and Duncan Sheik's Song Suite from Whisper House.
Deviating slightly from previous entries in the 6.5 series, the Concert opened with the old favorite: Gounod's light and melodic fare was perfect for whetting the musical appetite. Sheik's work was a surprising departure from the usual contemporary pieces: pop vocals mixed with a Broadway musical sensibility made for a wonderfully harmonic experience. Special kudos to the arranger Simon Hale, who not only blended the Symphony effortlessly into the work, but also contributed to the performance on electric guitar.
After the intermission, the Concert returned to standard form with Vivier's aggressively modern Zipangu, and the evening finished out with Poulenc's Suite from Les Biches. The final piece brought back a more classical, playful harmony that balanced out the intentional dissonance of the previous work, closing out the night on a relaxed note.
To read more about the 6.5 Series, check out http://www.sfsymphony.org/season/default.aspx?id=39612.