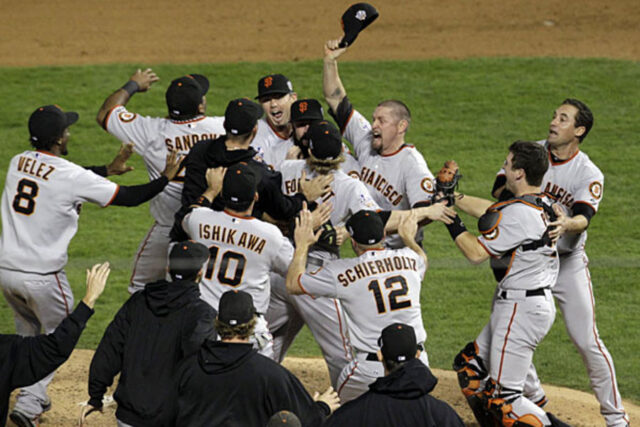 If you didn't party enough last November when the San Francisco Giants brought home the city's first World Series championship, today is your chance to live it up some more.
The reigning champs, fresh off a road trip through Los Angeles and San Diego, will greet its fans on home turf for today's season opener at AT&T Park.
The hundreds of thousands of fans who lined San Francisco streets at packed Civic Center Plaza Wednesday to cheer on the World Series Champion Giants baseball team were relatively well-behaved, the San Francisco Police Department said.
No major incidents evolved from the ticker-tape parade, but several people were taken away in ambulances throughout the event, including a teenager who fell from a Market Street light pole after trying to snag a Giants flag attached to a light post.
SAN FRANCISCO – Hundreds of thousands of San Francisco Giants fans crowded a downtown parade route Wednesday to honor the 2010 World Series championship baseball team in an old-fashioned ticker-tape parade. Many were still partying in the Civic Center area well into the early evening, celebrating the team's first series crown since moving to the city in 1958.
A ticker-tape parade to celebrate the San Francisco Giants World Series championship is scheduled for 11 a.m. Wednesday morning, city officials announced.
The parade will begin at Montgomery and Washington Sts. in San Francisco's Financial District. It will proceed south on Montgomery to Market Street. The parade will head south on Market to McAllister St. where it will veer west towards City Hall.
(Videos Courtesy of Jonny Arguello)
09:45 PDT UPDATE: San Francisco Mayor Gavin Newsom told KTVU this morning that police arrested 6 people following the celebrations. Newsom told Channel 2 that the vast majority of fans celebrated peacefully.
In the Mission District, there was scattered damage including broken windows at several businesses after police had to call in dozens of officers to contain a rowdy celebration. A 14-Mission MUNI bus was commandeered by the crowd and vandalized near the 16th Street/ Mission BART station.
A citywide celebration that has been 53 years in the making is unfolding throughout San Francisco and across Northern California Monday night on the heels of a spectacular World Series Championship by the San Francisco Giants ball club.
Giants fans celebrated the win every way possible: at bars, in living rooms, at watch parties and in front of AT&T Park. Crowds flooded San Francisco streets to dance on top of MUNI buses and along with complete strangers after the game ended.
It's been a long time coming — 53 years, to be exact.
The San Francisco Giants won the World Series — their first since the team moved to San Francisco in 1958 — with a 3-1 win over the Texas Rangers in Game 5 Monday night at Rangers Ballpark in Arlington, Texas.
Tim Lincecum baffled a dangerous Rangers lineup through 8 innings, and veteran shortstop Edgar Renteria once again struck the decisive blow, a 3-run home run off Rangers ace Cliff Lee in the top of the 7th inning.
For days, sports commentators have been saying that the Texas Rangers' explosive lineup would give them an edge in the World Series over the supposedly light-hitting San Francisco Giants.
But Wednesday, it was the Giants who showed the Rangers what offensive power looks like, banging out seven extra-base hits, including a three-run home run by Juan Uribe in the fifth, and powering their way to an 11-7 win in Game 1 of the World Series.