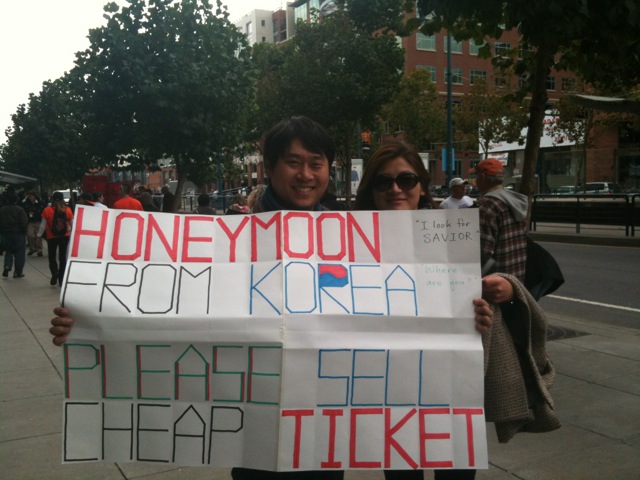 Hyuk Sung Cheo and Su Yeon Kim have married two Saturdays ago in their native South Korea.
On Tuesday, the two newlyweds spent their morning in San Francisco pacing Willie Mays Plaza outside AT&T Park carrying a homemade sign: Honeymoon from Korea, Please sell Cheap Tickets.
"I want tickets to see the Giants victory," Cheo said in his limited English. "I just want to see them in the World Series."
FOLLOW US ON TWITTER: Complete Orange October Coverage from @CaliforniaBeat
Many other Giants fans found themselves in the same predicament as Cheo and Kim. The hottest ticket in town was also the scarcest and the most expensive.
"Do you think we'll get them?" Cheo asked a Giants fan who crowded the plaza early in the morning.
"Nope," the fan told them.
Such is the appeal of the "mercenaries and misfits" who find themselves playing in Major League Baseball's fall classic for the first time since 2002.
Wednesday morning, hundreds of fans crowded sidewalks and walkways around AT&T Park hours before the scheduled first pitch in Game 1 of the series against the American League champion Texas Rangers. They showed up early — very early — to absorb the pulsating energy that buzzed through much of the South of Market area.
"I've been here since 2 a.m." said Anthony Memelo, a Sunnyvale resident.
Memelo, along with roommates and friends, camped outside the free viewing area outside McCovey Cove for a slot to watch the first three innings of Game 1 through the outfield fence in right field.
Memelo was the second person in the queue. The lucky fan who was first in line started his wait at 10 p.m. Tuesday night.
"We had the blankets and pillows out here, along with the big jackets," Memelo said. "We were ready to sleep, but we've been partying ever since we got here."
By 2 o'clock in the afternoon, three hours before the first pitch, the line to watch through the outfield fence for free had grown to more than 500 people. It created a sea of orange and black along the McCovey Cove boardwalk and created an incredible mass of fans who said they wanted to be as close to the action as possible.
"I've been a life-long Giants fan forever," Memelo said. "This is going to be our year, and I'm here to support our team."
The sentiment was evident throughout San Francisco and many quarters of the Bay Area, with an overwhelming number of fans diagnosed with the full symptoms of Giants fever.
In the Financial District, business people sported jerseys and baseball caps in support of the team. Across town in the Richmond District, several sports bars along Geary Blvd. flew gigantic black Giants flags and welcomed crowds of local residents who cheered on the team between sips of cold brew.
"It's just incredible," said Giants fan Adam, who declined to give his last name after calling in "sick" to work. "The best news is, we get to do this all over again tomorrow."