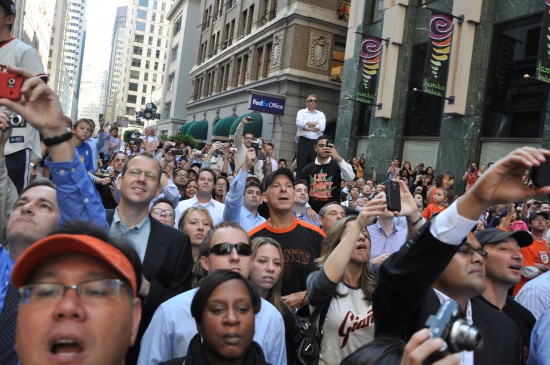 SAN FRANCISCO – Hundreds of thousands of San Francisco Giants fans crowded a downtown parade route Wednesday to honor the 2010 World Series championship baseball team in an old-fashioned ticker-tape parade. Many were still partying in the Civic Center area well into the early evening, celebrating the team's first series crown since moving to the city in 1958.
Those who came out braved unseasonably warm temperatures, immense crowds and traffic delays on many public transit routes. Giants officials estimated more than one million people were there to commemorate the team's win Monday night over the Texas Rangers.
Parade-goers lined Montgomery Street in the Financial District and Market Street along the city's downtown core. The players waved to fans from San Francisco-famous cable cars — and yes, Aubrey Huff did in fact display his good-luck thong to the crowd. The event moved to Civic Center Plaza, where the entire area and several surrounding streets were blanketed in people.
The athletes had a chance to speak to their supporters. Politicians including Mayor Gavin Newsom and Governor Arnold Schwarzenegger also addressed the crowd, and a key to the city was presented to Giants CEO Bill Newcomb.
BART officials said they transported 72,000 extra riders into downtown San Francisco this morning, and said ridership likely topped the 400-thousand mark, which could set a new ridership record for the transit agency. Official numbers won't be available until 11 a.m. Thursday.
A Caltrain spokesperson said the rail system took an additional 19 thousand fans into San Francisco. Many trains were standing room only into the city, and express service was eliminated some parts of the day to carry the excess riders.
The crowds also forced a brief closure of the Westfield San Francisco Shopping Centre on Market at 5th Street. Mall security guards hurried shoppers out of the mall and kept others from entering the huge shopping megaplex for about an hour on Wednesday afternoon.