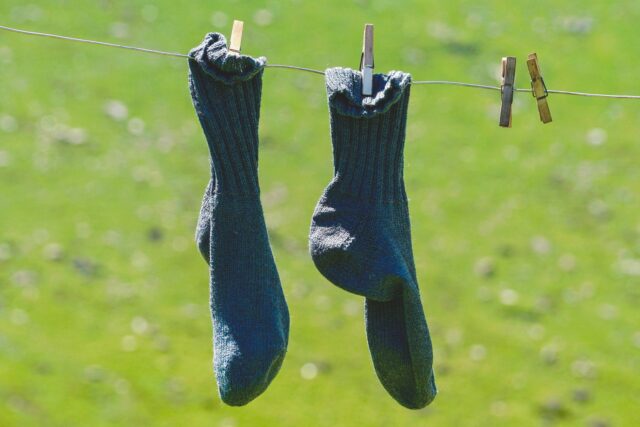 Even though shopping for such a simple piece of clothing as waterproof socks may not seem like too much of a task, finding a pair that will keep its users dry and comfortable on the hottest and the dampest of days requires one to invest a little bit of effort. Not only do the socks you choose have to meet all the necessary quality and safety standards, but they also must be durable and breathable and sit comfortably on your feet.
According to Clever Wander – a trusted online resource for survivalists – a pair of waterproof socks perfectly suited for taking trips into the wild should consist of the protective, waterproofing, and moisture-wicking layers and be reinforced at the heel and toe zones. The following recommendations will help you make a good shot at picking waterproof socks for hiking.
Five Crucial Tips to Follow When Purchasing Waterproof Hiking Socks
The five most essential parameters to consider when deciding which waterproof hiking socks to buy are material, design, waterproof rating, antibacterial properties, and price. To buy the perfect socks for yourself, you can click here and get an in depth idea. We review each of these components in more detail below.
Material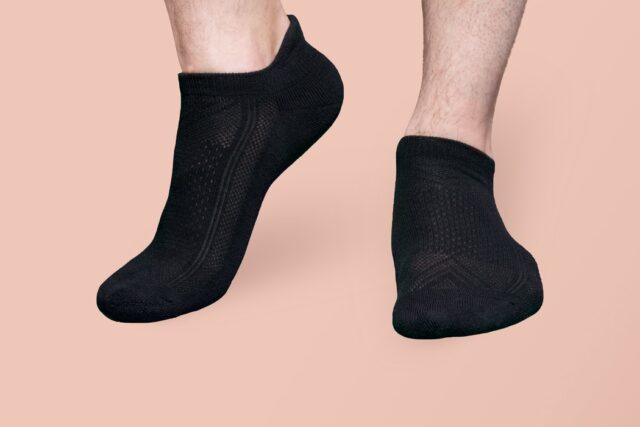 First off, you need to decide if you want to go organic or if a synthetic fabric will do. The material you pick ultimately defines other essential qualities of your hiking socks, such as breathability, natural resistance to bacteria, and overall comfort.
The choice of sock materials available today is rich. Here are some of the most widely used options and their benefits:
Bamboo is one of the softest natural fibers out there. It is highly breathable and possesses superb antibacterial and moisture-wicking properties. Bamboo socks offer consistent thermal protection and control, keeping your feet cool on a hot day and warm when it is cold.
Cotton socks are soft and breathable. The excellent hypoallergenic properties of cotton make it a trusted choice of sock material for sensitive users.
Wool can absorb and retain more moisture than other materials while remaining completely dry, comfortable, and odor-free. Thanks to its fantastic insulating properties, the fabric is a popular year-round choice of waterproof sock material for hikers.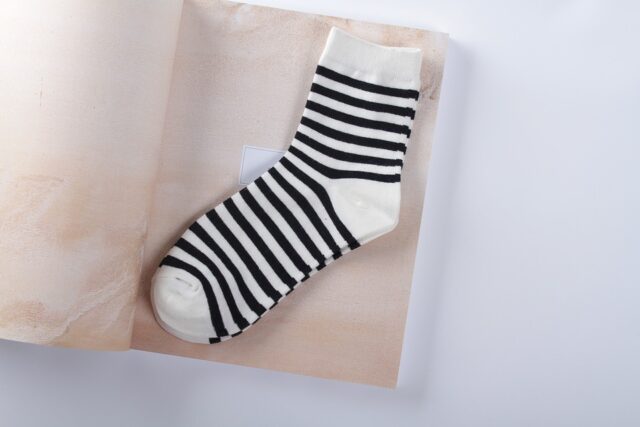 Nylon is a synthetic material often used in the protective outer layer of waterproof socks. It is stretchy and durable and reliably covers the waterproof layer in the middle to prevent it from damage.
Polyester is a quick-drying, water-resistant synthetic material that can efficiently withstand mildew, shrinking, stretching, and premature wear-and-tear. Socks made of polyester are best used in cooler weather since they tend to get a little bit too hot in summer.
Elastane is widely used as a supporting material in the production of waterproof hiking socks. Nothing beats this synthetic fabric when it comes to adding extra stretch and providing a snug fit.
Neoprene is a perfect pick of a waterproof sock material for winter hikes. This synthetic rubber is stable, flexible, water-resistant, and has top-notch insulation qualities. However, neoprene socks are not recommended for use on summer hiking trips as they lack breathability and may cause your feet to overheat quickly.
Which material to trust depends heavily on the season you intend to use it in, your physiological characteristics, and personal preferences.
Design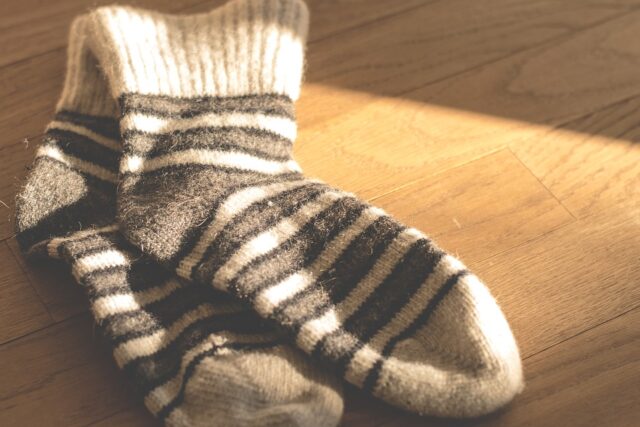 The design of your socks determines how well they will sit on your feet and how comfortably they will make you feel. When choosing waterproof socks for hiking, go for stretchy and preferably seamless three-layer models reinforced at the toe and heel areas.
Furthermore, always double-check to see that you got the size right. Socks that are too big will let water in, while one-size-too-small socks will add unwanted pressure on your feet, causing blisters and injuries.
The length of the socks is another significant factor to consider. To ensure the needed level of protection, pick a pair that is mid-calf or longer.
Waterproof rating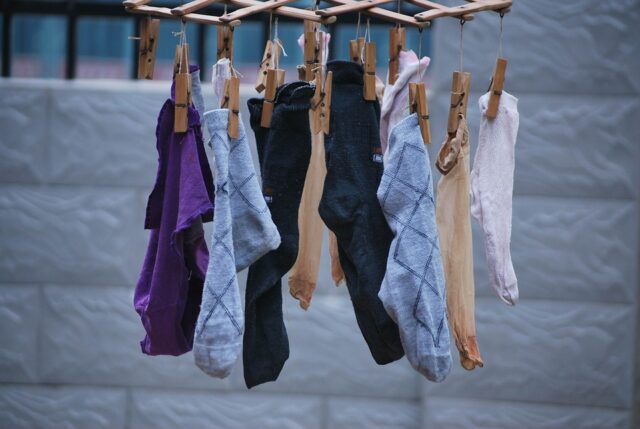 All waterproof hiking socks can resist water to varying degrees. Here are some of the indications you can see on sock labels, as well as their meanings:
0: the product is not waterproof.
1-1K: the product can resist water.
1K-5K: the product is highly waterproof but cannot endure heavy storms.
5L-20L: the product is mostly waterproof but can soak wet in case of a prolonged submersion.
20K-40K: the product is entirely waterproof in shallow water.
40K+: the product is fully and unconditionally waterproof.
To buy a product whose quality fully meets your requirements, always check with the said waterproof rating of the materials first.
Antibacterial properties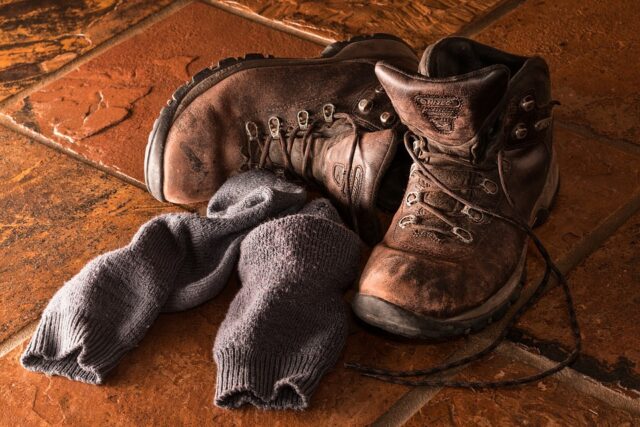 Hiking is an activity associated with a high risk of injuries. Even if you are lucky to avoid breaks and sprains, painful blisters and cuts are almost guaranteed. A good pair of hiking socks should be able to not only keep your feet dry and comfortable but also ensure their maximum hygiene throughout the entire experience.
The fabrics with excellent antibacterial properties will help keep your open wounds from getting infected or festered during the trip. The natural, breathable materials will also ensure your injured feet are getting enough airflow to initiate the healing process.
Price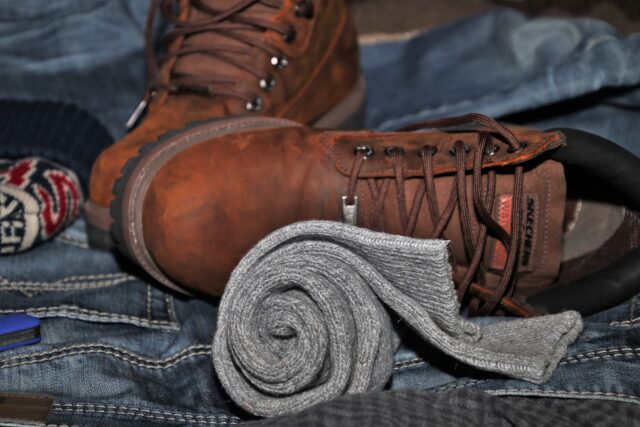 One last thing to consider when shopping for waterproof hiking socks is their price, which can vary greatly depending on the brand and the materials used. If your budget is tight, it is best to go for synthetic fabrics, which are durable, practical, and affordable. If chosen well, these items can even serve you for much longer than their all-natural counterparts.
Final Verdict: Your Day-to-Day Socks Are Not Enough
Choosing the perfect waterproof hiking socks is not that hard if you know what to look for. Follow the above tips, and you are guaranteed to zero in on the one product that meets and exceeds your every expectation.
Feel free to share your ideas on how to choose the right waterproof socks for hiking. Which parameters are crucial for you? We appreciate all feedback and hope to hear back from you in the comments section below.