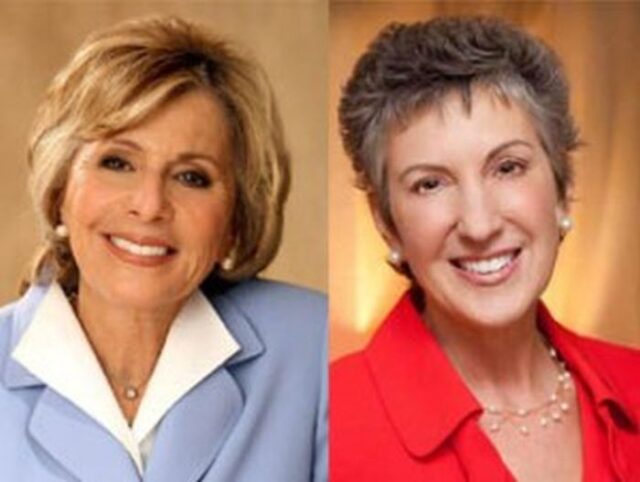 Former eBay CEO Meg Whitman and state Attorney General Jerry Brown will face each other in the race to succeed termed-out Governor Arnold Schwarzenegger, while state voters approved a major change to the way California elections are conducted tonight.
Former HP CEO Carly Fiorina completed a historic duo of Silicon Valley women at the top of the November GOP ticket by winning the race for the right to challenge incumbent Democratic Senator Barbara Boxer.
Statewide primaries mostly end in landslides
Whitman defeated Republican opponent Steve Poizner in a landslide — with all precincts now reporting, Whitman led Poizner 64-27.
In her victory speech, Whitman thanked Poizner, saying that "I am a stronger candidate tonight" because of the competition he offered. "I'm ready to give Jerry Brown the toughest" election fight of his life, she said.
Whitman has spent more than $70 million of her fortune in her bid to become governor, while her opponent, the state's insurance commissioner and a former Silicon Valley executive, has spent $24 million of his own money.
The two candidates traded barbs on taxes and illegal immigration, amongst other topics, while trying to appeal to the relatively conservative electorate that votes in California GOP primaries.
Brown, who cleared the Democratic race of serious competition months ago, drew a commanding 84 percent of votes in the primary.
"I believe that I can fix" Sacramento, Brown told supporters at his victory celebration Tuesday night. Unlike Whitman, Brown has the experience necessary to "challenge the status quo," he said.
Fiorina, who drew the support of 56 percent of voters, crushed former South Bay Congressman Tom Campbell, who managed 24 percent, and conservative Assemblyman Chuck DeVore, who held 18 percent of the vote. Democratic opponent Barbara Boxer is considered a top Republican target as the GOP seeks to cut into Democrats' large Senate majority this fall.
Quoting Boxer, Fiorina told supporters that "this election offers the clearest choice in the nation."
San Francisco District Attorney Kamala Harris, who was backed by 33 percent of voters, beat former Facebook executive Chris Kelly and five others in the Democratic race for attorney general. She will face Los Angeles District Attorney Steve Cooley, who drew 47 percent of the vote in the Republican primary.
San Francisco Mayor Gavin Newsom, a Democrat, and recently-appointed Lieutenant Governor Abel Maldonado, a Republican, both handily won their parties' primaries for lieutenant governor and will face off in the general election.
Voters enact open primary measure
Proposition 14, a ballot measure which would institute an "open primary" in California, passed with 55 percent support amongst voters.
Under the measure, placed on the ballot as part of last year's budget deal and backed by the governor, voters could vote for any candidate regardless of party affiliation in primaries, and the top two candidates — regardless of party affiliation — would advance to the general election.
The measure was fiercely opposed by all of California's political parties, who regarded it as a threat to the party system.
Proposition 14's passage meant that Tuesday was the final traditional partisan primary in California, barring a legal challenge to the measure.
But voters rejected Proposition 15, which proposed a pilot system for public financing of campaigns for Secretary of State, the state office in charge of elections. The measure won the support of just 43 percent of voters.
Proposition 15 would have created a tax on lobbyists to fund its voluntary public financing scheme. If successful, the measure's backers envisioned expanding public financing to cover other elected offices.
Two ballot measures with heavy corporate backing appeared to be headed for defeat Tuesday night. Proposition 16, a PG&E-backed measure which would require a 2/3 vote before local governments could form public electric utilties, drew 47 percent of the vote, while Proposition 17, the Mecury Insurance-backed measure to allow auto insurers to offer discounts to continuously-covered drivers who switch insurers while raising rates for those whose coverage lapses, drew 48 percent support.
Both measures trended downward as the night went on and votes from the generally more-liberal coastal counties, which are usually slower to count votes than lightly-populated areas of the state, trickled in.
Proposition 13, an uncontroversial measure to eliminate a property tax disincentive for performing earthquake retrofits, was a big winner, drawing the support of 85 percent of voters.
Santa Clara voters approve 49ers stadium project
Voters in Santa Clara approved Measure J, allowing the $937 million proposed stadium for the San Francisco 49ers to proceed. With 100 percent of precincts reporting, the measure was receiving the backing of 59 percent of voters.
The 49ers, who say their existing stadium in San Francisco is old and run-down, have been seeking a move to Santa Clara, despite efforts by San Francisco leaders to keep the 49ers in the city.
And with 90 percent of precincts reporting, Republican attorney David Harmer held a 36-29 lead over Brad Goehring in the race for the right to challenge Democratic Representative Jerry McNerney in the 11th Congressional District in November.
McNerney, who beat a veteran Republican incumbent in the swing seat in 2006, is considered a top Republican target in November as the GOP seeks to regain control of the House. Harmer unsuccessfully challenged John Garamendi in a 10th Congressional District special election in 2009.
Voters also appeared to back 20 of the 22 tax increases and bond measures on the ballot in the six inner Bay Area counties, including all 15 of the measures supporting schools, community colleges, and libraries. Local governments hit hard by state budget cuts, have been increasingly tempted to seek additional funding at the ballot box.