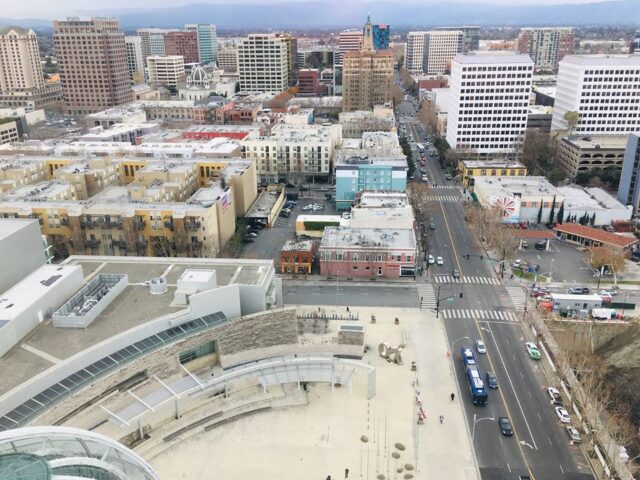 Bay Area voters will confront a lengthy list of local measures, including measures to cut city workers' pensions and benefits in San Francisco and San Jose, and more than 70 different tax increases and bond measures to benefit cash-strapped local governments, in Tuesday's midterm elections.
Voters in Oakland will also choose from a long list of candidates to replace Mayor Ron Dellums, in a race where results could be delayed because of the new voting system in use.
And some East Bay and South Bay voters will help decide a Congressional race that could potentially swing control of the House to Republicans, currently in the minority in both houses of Congress.
Sign of the times: local governments look to fill budget gaps by raising taxes, clawing back employee benefits
With city, county, and school district budgets all squeezed by the state budget crisis, and Bay Area voters having shown a measure of generosity in approving tax hikes in the past few elections, it's perhaps not too surprising that a flood of measures asking voters to raise taxes are on the ballot Tuesday.
56 measures asking voters to approve new taxes or increase or extend existing ones are on the ballot in the six core Bay Area counties — San Francisco, Alameda, San Mateo, Santa Clara, Marin, and Contra Costa.
Voters in all six counties are being asked to approve an increase in the vehicle license fee in order to fund transportation projects, and in some cases public transit projects as well. San Francisco's Proposition AA, Alameda County Measure F, Santa Clara County Measure B, San Mateo County Measure M, Marin County Measure B, and Contra Costa County Measure O each need majority approval to pass.
Many municipalities are seeking to raise taxes which only require majority approval from voters, with sales taxes, taxes on utilities such as telephone and cable television service, and cannabis club taxes appearing on ballots throughout the Bay Area.
Hotel taxes, which are usually not paid by the local residents voting on them, appear on the ballot in San Francisco, Campbell, and Pacifica. But San Francisco's Proposition J is fiercely opposed by the city's large tourism and hospitality industry, which says it would hurt business — and has placed a competing measure, Proposition K, on the ballot. If both are approved by voters, the one with more yes votes would take effect.
Half of the proposed tax hikes, though, are parcel taxes — property taxes whose rate does not depend on the value of the property — and must be approved by a two-thirds supermajority. Several of the parcel taxes, including measures in the Oakland, Berkeley, Fremont, and West Contra Costa Unified School Districts and San Jose's East Side Union High School District, support school districts. Parcel taxes are popular with school districts because unlike other property tax revenues, parcel tax revenues can be used to supplement existing state funding instead of replacing it dollar for dollar.
Schools aren't the only ones asking for parcel tax hikes from voters, though. Oakland, which is struggling to find money to keep its police force staffed at voter-mandated minimum levels, is seeking a parcel tax to prevent further police and fire layoffs. But the police union-backed Measure X has seen heavy criticism from many, including mayoral candidate Don Perata, who say the $360 per parcel tax is simply too high.
And 15 different Marin County districts have asked voters to approve extensions and/or increases in existing parcel taxes to support paramedic services.
The 56 tax hikes are joined by 17 bond measures asking voters to approve borrowing money to make capital improvements, such as building new schools or making renovations to existing buildings. Most of the proposed bonds would be funded by increases in property taxes.
16 of the measures are school bonds and require 55 percent approval, with the other — San Francisco's Proposition A, which would borrow money to help fund earthquake renovations — requiring a two-thirds vote to pass.
Meanwhile, in their search for money to close budget shortfalls, some officials in San Francisco and San Jose have turned to the pension and health benefits of city employees, which can substantially exceed those of workers in the private sector. San Francisco Public Defender Jeff Adachi is the main backer of San Francisco's Proposition B, which would require city workers to contribute more to their health and pension plans, while San Jose Mayor Chuck Reed is supporting San Jose's Measure W, which would create a "two-tier" pension system offering lower benefits to future city employees.
The measures are fiercely opposed by labor unions and their backers — including most San Francisco supervisors — who say such measures need to be negotiated through the collective bargaining process. In San Francisco, opponents of Proposition B also say it would make health care unaffordable for many city workers.
Menlo Park voters will also be asked to decide on a measure that would establish two-tier pensions, while Reed is also backing San Jose Measure V, which would cap how much an arbitrator could award city employees during binding arbitration over labor contracts.
And San Francisco voters are being asked to repeal a section of the city charter which guarantees that Muni operators will be among the highest-paid in the country.
Oakland residents might have to wait to discover who their next mayor is
It's possible the 10-way race to replace Oakland Mayor Ron Dellums, who chose not to run for reelection after being savaged for perceived inaction and disinterest in the job, might not produce a winner for days.
At least four of the candidates in the field have a shot: former state Senator Don Perata, the longtime legislative leader who touts his experience in Sacramento; City Councilmember Jean Quan, a progressive who also sports a long record in local politics; Councilmember Rebecca Kaplan, a relative newcomer who has received the Oakland Tribune's endorsement; and Joe Tuman, a San Francisco State University professor and frequent political analyst in the local media.
In a first for the city, voters will get to rank up to three choices instead of voting for just one candidate. But the ranked-choice voting process — where first-choice votes are tallied, the lowest vote-getter is eliminated and their voters' second-choice votes are then added to other candidates' totals, and so on — has made the race very difficult to predict, because a candidate who isn't the first choice of the most voters could win through second and third preferences.
The counting process itself could last until Friday, according to the Alameda County Registrar of Voters, so voters will be kept in suspense unless one candidate can establish a clear majority on election night — unlikely in a 10-way race.
Local Congressional race could help decide who controls House
Pleasanton Democrat Jerry McNerney, elected to the House in 2006 on the back of an anti-Bush wave which swept Democrats into power into both houses of Congress, is now in danger of being swept out of office in an anti-incumbent Republican tide fueled by high unemployment and voter discontent with the direction of the country.
McNerney faces Republican attorney David Harmer, the son of a former state lieutenant governor who was the unsuccessful GOP candidate in a 2009 special election for Ellen Tauscher's vacated Congressional district. But in the more conservative 11th Congressional District, which stretches from Danville in the north to Morgan Hill in the south and includes most of the Tri-Valley area and San Joaquin County, and in the midst of an expected Republican wave, he stands to give McNerney a formidable challenge.
Harmer, running to represent an area that includes rural regions hit especially hard by the economic crisis, has blasted McNerney and the Democratic House majority for not doing enough to create jobs, while McNerney has criticized Harmer's previous work for Wall Street firms and an old op-ed in the San Francisco Chronicle in which Harmer argued for the abolition of public schools.
While national polls suggest it's likely Democrats will lose the House regardless of the outcome of this race, the seat could become critical if Democrats outperform those expectations on Tuesday night.
Other local races of note:
San Francisco Mayor Gavin Newsom and Police Chief George Gascon, among others, are backing Proposition L, which would prevent people from sitting or lying on city sidewalks between 7 a.m. and 11 p.m. The measure is intended to target aggressive panhandlers, but opponents argue that it targets the poor and could lead to unfair profiling.
In a rematch, Democratic State Assemblymember Joan Buchanan faces San Ramon Mayor Abram Wilson in the 15th state Assembly district. Buchanan, a former Delta Dental executive, won a close race in 2008 to replace Guy Houston, formerly the Bay Area's only Republican assemblyman, in a district which includes much of the Tri-Valley area and parts of Contra Costa County.
Polls are open from 7 a.m. to 8 p.m. Tuesday, with the first results expected shortly after. Absentee ballots which have not yet been mailed in can be returned to any polling place in your county before polls close.