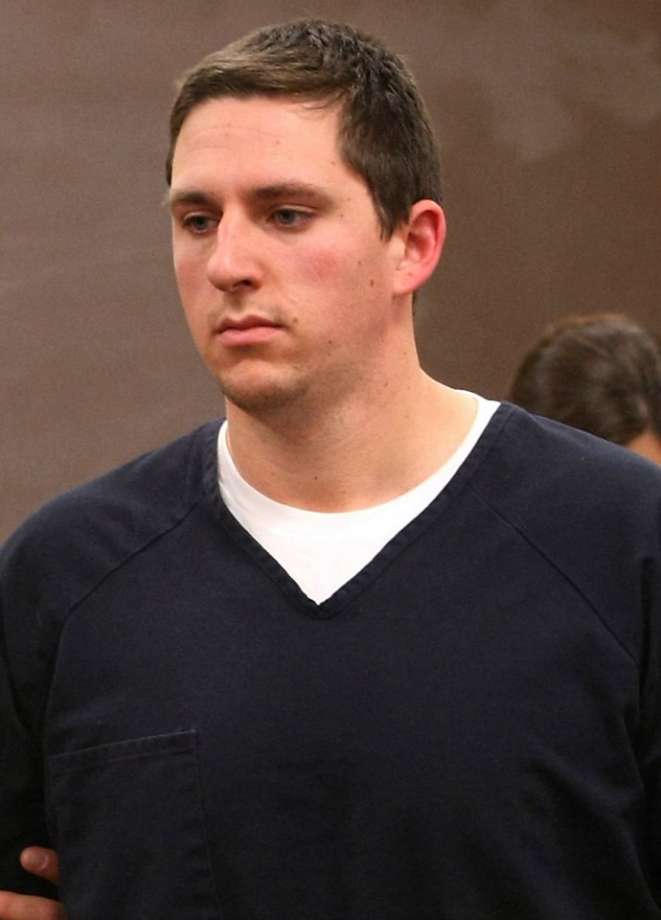 The prosecution in the second-degree murder trial of former BART Police Officer Johannes Mehserle will be allowed to present into evidence a cell phone photo Oscar Grant took which depicts Mehserle holding a Taser moments before pulling out his gun and shooting Grant.
The image can be presented due to a ruling Judge Robert Perry made to permit Grant's girlfriend, who received the photo, to testify.
Deputy District Attorney David Stein said the photo was evidence Mehserle must have "re-holstered his Taser, then taken out his firearm" before shooting Grant in the back — thus demonstrating that he knew the difference between his gun and his Taser.
The defense intends to argue that Mehserle mistook his gun for a Taser and shot Grant accidentally as a result.
At today's hearing, defense attorney Michael Rains admitted Mehserle used a Taser on Grant to get him onto the ground before officers proceeded to kick him.
"It's important to understand that this picture was taken after Grant had been physically assaulted by the police — specifically by Officer Pirone," Stein said. "The picture clearly shows the defendant with a Taser out, pointing it at Grant."
Judge Robert Perry also struck down three key motions the defense filed in an attempt to exclude key pieces of evidence from the case.
In one, which defense attorney Michael Rains filed June 5, Rains argued Sophina Mesa, Grant's girlfriend and the mother of his child, should not be permitted to testify because other witnesses could provide the same information.
But Stein argued in a rebuttal filed Monday that Mesa could provide unique insight into Grant's state of mind, since he called her on the phone while detained on the Fruitvale platform by BART officers. Stein also wrote that Mesa would shore up evidence from other witnesses whose credibility Rains would "undoubtedly attempt to attack."
Mesa has said Grant sounded "nervous" and "scared" on the phone and is expected to testify that he would have been frightened by Mehserle pointing a Taser at him minutes before the shooting.
Rains said that such descriptions of Grant's emotional state would amount to hearsay, but Judge Perry said her testimony is still relevant to the case.
Because Mesa is in possession of the cell phone photo Grant took of Mehserle, it is expected to be entered into evidence when she testifies.
In a separate ruling, Judge Perry said Stein will be permitted to present at trial evidence of former BART Police Officer Tony Pirone's use of a racial slur about a minute before Mehserle shot Grant.
Rains argued "there is no indication that Mr. Mehserle heard the statement," and permitting it into evidence is therefore irrelevant in determining Mehserle's state of mind.
Rains said two of Grant's friends present during the incident, Carlos Reyes and Jackie Bryson, made statements to Stein that they had not heard the statement either. But Judge Perry said the court reviewed audio of the recorded incident and heard the slur used multiple times.
Judge Perry said to omit the slur would be "misleading."
"I agree with [the prosecution] that the jury should be allowed to determine" if the slur contributed to the chaotic environment on the platform and whether that affected Mehserle's judgment, he said.
Grant's aunt Tracie Cooper was particularly happy to see the statement allowed into evidence. "The judge was more favorable today," she said.
Lastly Judge Perry said the prosecution's synchronized video compilation of the incident, which compares different videos side by side, would be allowed into evidence.
On Monday Rains submitted a motion to omit the prosecution's video, writing that not only is did the image quality become compromised in the process, but "some of the key images are so badly out of synchronization […] that they no longer comprise a reasonable representation of the true events."
Instead, he wanted only the video prepared by his own expert, forensic image analyst Michael Schott, to be allowed into evidence.
Various cell phone videos filmed by passengers on the platform have been used by both sides to create two distinct video compilations.
"You're going to have dueling synchronized videos," Judge Perry said. "Experts are going to differ […] as much I hate to go there I think we're going to have a battle of the experts."
Jack Bryson, whose sons Nigel and Jackie Bryson were detained on the platform alongside Grant, said he was happy with Judge Perry's rulings. "Today was a good day. The truth is coming into the trial," he said.
Opening statements are scheduled for tomorrow, June 10, in Los Angeles, where the trial has been moved due to concerns over whether Mehserle could receive a fair trial in Alameda County.