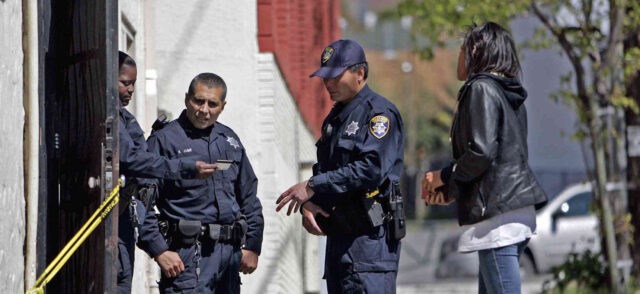 (7/18) — 21:43 PDT — OAKLAND — An anti-government 45-year-old parolee — armed with three guns and wearing body armor — engaged 10 California Highway Patrol officers in a frightening overnight gun battle on Highway 580 in Oakland early Sunday morning that witnesses said lasted more than 30 minutes.
The gun battle left the parolee, identified as Byron Williams of Groveland, California, a town near the western edge of Yosemite National Park, wounded by CHP gunfire and sent two officers to the hospital for non-life threatening injuries after they were hit by shattering glass during the shootout.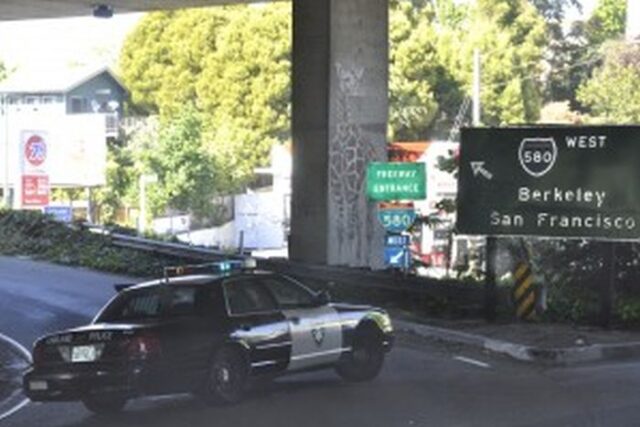 A witness recorded video of the shooting incident and posted it onto YouTube. Twitter user MannyBlack recorded dozens of gunshots exchanged by Williams and the Highway Patrol from his Oakland Avenue apartment.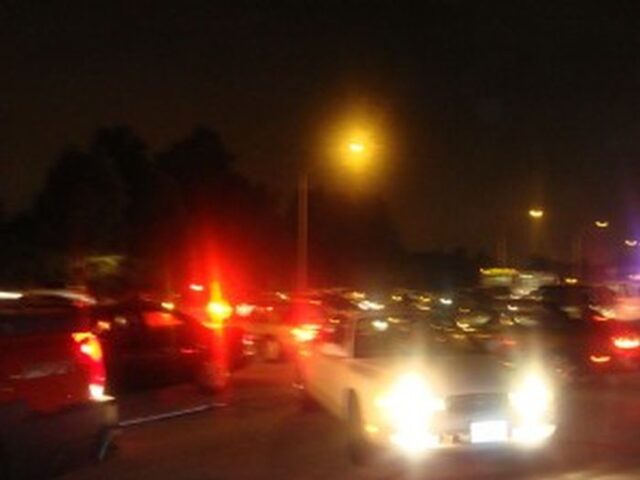 they observed his white Toyota Tundra pickup truck speeding and swerving erratically in the westbound direction at approximately 12:30 a.m. Sunday morning.
Williams pulled over to the shoulder of the freeway near Grand Avenue. According to authorities, when CHP officers approached the vehicle, they saw several firearms, including a handgun and rifles.
The officers began retreating back to their patrol car as Williams opened fire on the officers, who radioed an emergency call for back-up, the Highway Patrol said.
Ten CHP officers returned fire and wounded the man, who was wearing a bullet-proof vest. He was transported to Highland Hospital in Oakland and is currently listed in serious but stable condition.
Officials said Williams has an extensive criminal history, and is currently on parole after being convicted of two felonies. Criminal records show he has been convicted of assault, a hit and run, property destruction, theft and driving under the influence. He was drunk and driving with a suspended license at the time of the incident, they said.
Dozens of officers responded from throughout Alameda and Contra Costa counties to the CHP call for assistance.
About 60 gunshots were fired in all in an altercation that witnesses say lasted about half an hour.
Interstate 580 was closed in both directions until about 8 a.m., when all eastbound lanes were opened. Later in the afternoon the freeway was again closed on both sides because authorities suspected the vehicle might have contained explosive devices.
"Due to the potential threat to public safety it is important to shut down both sides of the freeway," California Highway Patrol spokesman Sgt. Trent Cross explained.
The hard closure resulted in extensive traffic congestion through the Oakland area. Traffic on the Nimitz Freeway through Oakland was especially heavy because of drivers seeking an alternate route around the freeway crime scene.
Eastbound 580 was shut down at the Interstate 980 interchange, and westbound 580 was closed at Highway 13 to allow the Alameda County Sheriff's Dept. bomb squad to investigate items in the Toyota truck.
Investigators from the Federal Bureau of Investigation were also called in to start their own probe Sunday afternoon.
On request from Oakland Police Homicide investigators, the bomb squad detonated several suspicious items that were removed by a robot. Other items, including a white binder with the word "CALIFORNIA" printed on its cover, were also removed from the truck.
CHP confirmed later that no explosive devices were found in the truck.
All lanes of westbound 580 were reopened after 9:30 p.m. Sunday evening. Traffic is now flowing smoothly in both directions, and the incident should not affect Monday morning commuters through the area.
Contact Jennifer Courtney at [email protected].