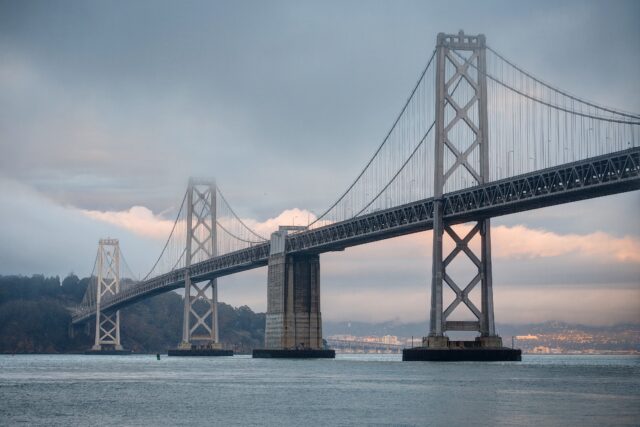 After years of planning and months of warnings, the Bay Bridge will close for four days starting Thursday evening, severing direct transbay auto access between Oakland and San Francisco.
BAY BRIDGE CLOSURE TWITTER UPDATES: Follow @californiabeat for up-to-the-minute updates during the Friday morning commute through the Labor Day weekend for traffic and construction updates.
At 8 p.m. on the dot, Caltrans will cone off access to the approaches to the bridge in West Oakland and San Francisco's South of Market Area. That means for the first time since the 1989 earthquake, Friday commuters will have no access to the Bay Bridge.
The bridge is scheduled to reopen by Tuesday at 5 a.m.
While the bridge is closed, Caltrans crews and construction firms will replace a section of the Oakland side of the bridge right before the Yerba Buena tunnel with a new connector segment that will divert traffic to a temporary bypass that is being built right next to the existing eastern portal of the Yerba Buena tunnel.
Bay Area transportation officials said all toll plaza lanes at the Richmond-San Rafael and Hayward-San Mateo Bridges would be open to accommodate the additional motorists who would need to rely on those routes to cross the bay.
BART will provide 24-hour service until Monday night. Trains will operate hourly from midnight to 5 a.m. serving select stations in the system. Riders are advised to check which stations are being served to avoid being stranded late at night.
The closure of the bridge has been years in the making. Crews juggled the delicate task of performing the engineering miracle of hoisting an old portion of the bridge out of the way and sliding in a new segment that would route drivers through a temporary bypass.
The question was: could it be done in a little over four days? And what would the traffic impact be on the Bay Area?
Caltrans officials hope to answer the former with an emphatic yes. And the latter remains to be seen as the workhorse of the Bay Area bridges closes off to through traffic Thursday evening.
Motorists and commuters who rely on the bridge are advised to find alternative routes and check with transit providers about getting transbay without the use of the bridge.
The California Beat will have continuous updates on the bridge closure via our twitter service. Follow @californiabeat for up-to-the-minute information on the closure.