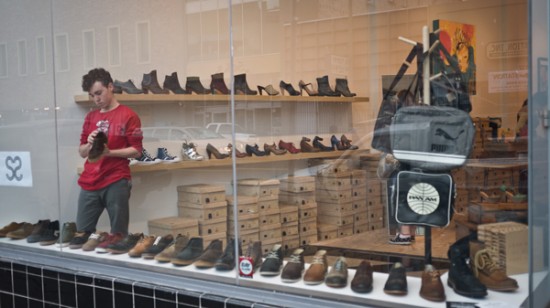 Hundreds of East Bay volunteers working to get President Barack Obama re-elected showed up at the campaign's Oakland office to get marching orders during the election.
If they visit now, though, they could be taking home some stylish footwear needed to win the next race.
The space at 1714 Telegraph Ave. that was home to the Obama for America campaign office has been converted to a eclectic shoe store appealing to the growing hipster population in Uptown Oakland.
But not to worry, owner Jeffrey Perlstein says there's enough footwear to go around for all fashion tastes.
It's the same spot that Occupy Oakland protesters vandalized during a march that coincided with Uptown Oakland's monthly First Friday music and art street fest. Despite the vandalism and stigma associated with space, Perlstein says it's a great location and hopes the shoe store will do well here.
SoleSpace opened Nov. 2, during this month's First Friday celebration, which typically draws thousands of people into Uptown.
"800 people walked through the door, people are really excited," Perlstein said.
Perlstein was also looking for a space to build community. The new shoe store will also be an art gallery and host performances.
SoleSpace sells a variety of shoes, including imports from Brazil, ones made from recyclable materials, and vegan shoes made without any animal byproducts.